Azul Beach Resort Riviera Maya All Inclusive Vacations
Situated on a half-mile of pristine beach is the all-ages Azul Beach Resort Riviera Maya. This luxury resort offers all inclusive vacations in Mexico and one-of-a-kind experiences to anyone who craves relaxation and seaside fun. You'll be just 20 minutes from Cancun International Airport so you can make every moment of your getaway count.
Azul Beach Resort Riviera Maya all inclusive vacations invite you to enjoy the best of paradise, including:
Modern accommodations suitable for groups of all sizes
Gourmet meals, specialty snacks, and premium drinks
Activities for every type of traveler
Wedding packages for romantic destination weddings
And so much more!
Ready to jet off on your beach vacation? Browse through hundreds of discounted all inclusive packages and SAVE BIG at All Inclusive Outlet >>
More information on Azul Beach Resort Riviera Maya all inclusive vacations
What's Included?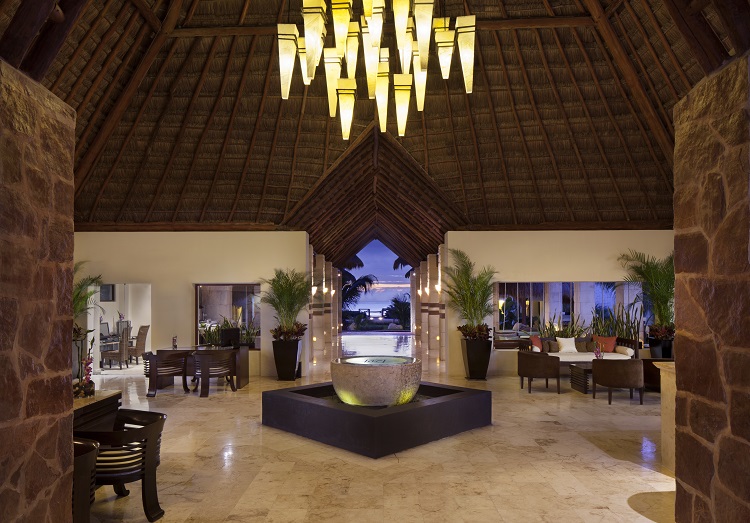 As a guest at Azul Beach Resort Riviera Maya, you get to experience a Gourmet Inclusive® beach vacation. That means everything you'll need to feel as comfortable and relaxed as possible is included with your stay. From accommodations with luxury amenities to delicious meals and daily activities, it's all yours to enjoy. You'll have access to free Wi-Fi, plus all taxes and gratuities are worked into the total cost of your trip.
Luxury Accommodations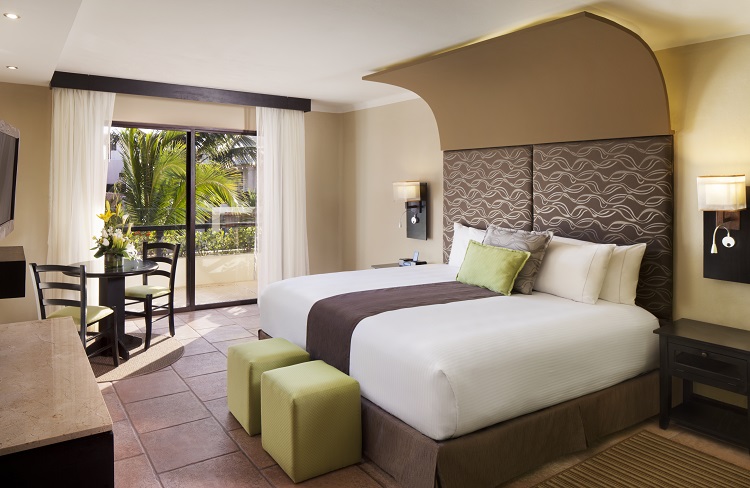 Azul Beach Resort Riviera Maya offers 148 intimate guest rooms. Choose from a selection of tropical-inspired rooms and suites designed to bring relaxed elegance to your stay. Amenities include a mini bar, rainfall shower, small dining area, personal concierge service, and more. Order room service 24 hours a day if you're ever in the mood to stay in.
Swim-up suites offer a unique experience with direct pool or lazy river access from the terrace. For an elevated level of service, your own personal Majordomo attends to your every need if you're in one of the Connoisseur Suites.
Activities and Amenities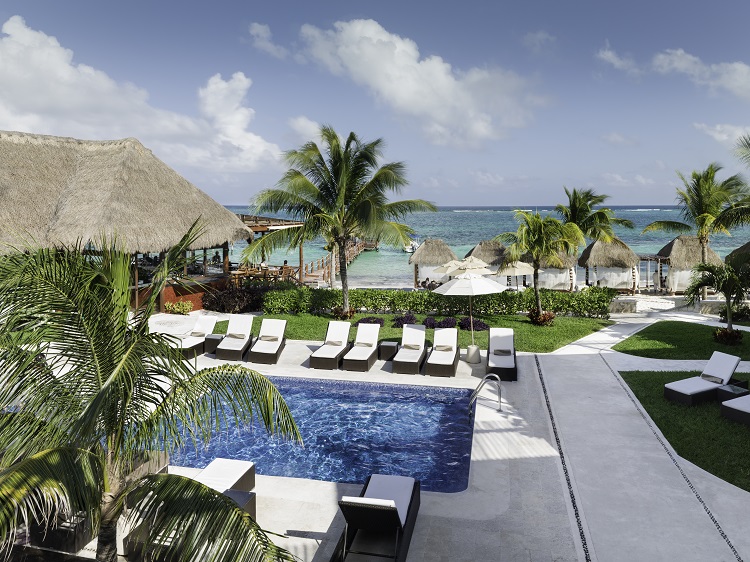 Amenities include everything needed for the perfect seaside escape. Guests can enjoy a day at the beach with king-size beach beds, perfect for privacy and relaxation. Take a dip in the pool or partake in water sports like snorkeling kayaking, and boogie boarding. When you're not splashing around, you can try other activities like yoga, beach volleyball, cooking classes, and more. You'll also have access to excursions around the area to all of the exciting landmarks and sites.
Indulge your senses at Vassa Spa. Ease any tension you've been holding onto, pamper your body from head to toe, and release your worries. This beautiful oasis offers water rituals, body scrubs, massages, facials, and more. There's even a spa menu for children ages 5-17.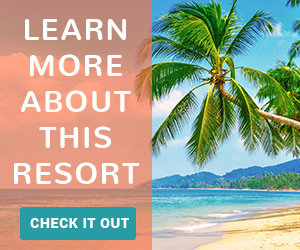 RELATED: Azul Beach Resort Negril All Inclusive Vacations
Gourmet Inclusive® Restaurants and Bars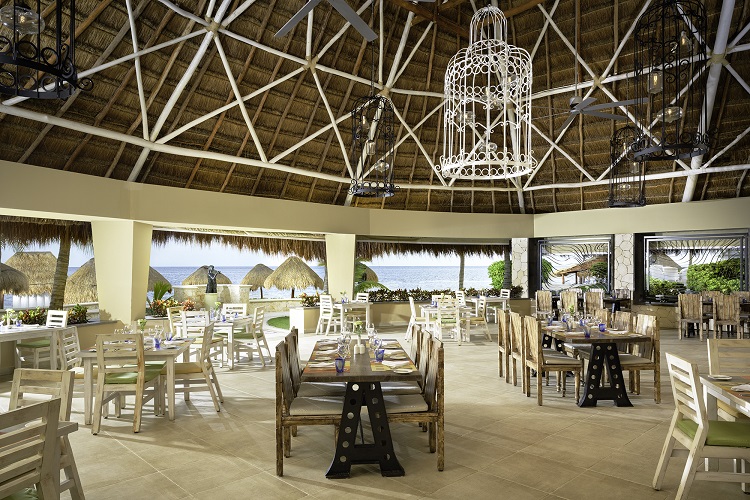 Guests are welcome to explore a variety of eclectic restaurants and bars. From fresh, local seafood and tender meats to contemporary Mexican dishes and Asian-inspired cuisine, there's no shortage of delicious offerings. Dine in elegant settings or on open-air terraces for a memorable experience.
Restaurants at Azul Beach Resort Riviera Maya include:
Blue–Take your pick from an international-themed menu while the warm tropical breeze eases you into relaxation.
Tainan– Here you'll find exotic flavors and Asian-inspired cuisine served in generous portions to satisfy your appetite.
Roma – Sit down to enjoy your favorite glass of wine and a meal prepared with the finest ingredients of Northern Italy.
Chil – This laid-back restaurant offers a relaxing vibe where you'll enjoy the flavors of Mexico and amazing ocean views.
Latino – An energetic vibe and delicious Mexican cuisine are the perfect combo for a good time.
Scoop Gourmet Corner – Enjoy Paninis, savory crepes, and a great selection of ice cream and toppings.
Additionally, there are several bars and lounges around resort property. Sip on premium cocktails and other refreshing beverages in relaxed settings, whether you're outside by the pool or indoors cooling off.
Just for Kids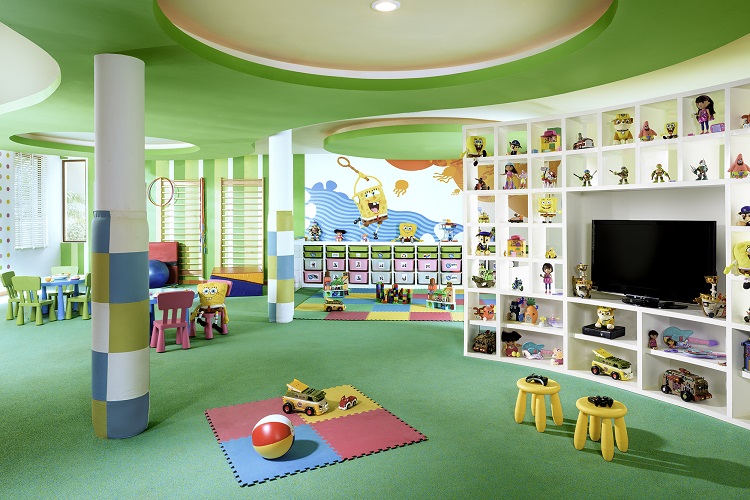 Azul Beach Resort Riviera Maya makes sure even their youngest guests are taken care of. Children ages 4-12 have a world of their own which includes a kid's pool, playground, and planned activities at Azulitos Playhouse. They'll be supervised by trained professionals who make sure everyone stays safe and has fun. Parents can also rest assured knowing the resort offers baby amenities like cribs, bottle warmers, strollers, pack n' plays, high chairs, and more.
Weddings and Romance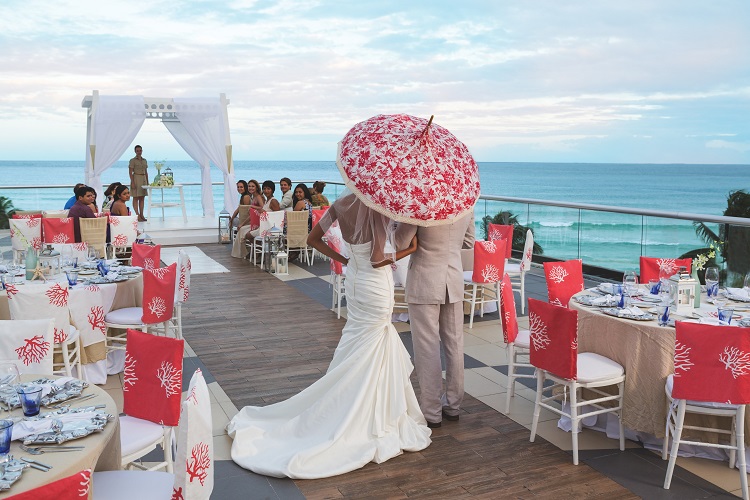 Plan your perfect destination wedding at Azul Beach Resort Riviera Maya. A Personal Wedding Attendant is there to assist with anything you need to create the perfect ambiance for your big day. Choose from a variety of locations for your ceremony including an urban rooftop terrace, an elegant ballroom, or right on the beach. Dedicated Wedding Guest Concierge takes care of your family and friends so you don't have to worry about a thing. You'll also receive services like a free wedding website and honeymoon registry for guests.
Not all couples are the same. Azul Beach Resort Riviera Maya offers a collection of wedding packages catered towards different tastes and budgets. Whether you choose the tranquil décor of Costal Bliss or the shimmering details of Pure Glamour, there's something to suit your style.
Honeymoons and anniversaries are also celebrated at Azul Beach Resort Riviera Maya. You'll be treated to romantic moments and special perks like 15% discount on spa services, chilled bottle of champagne, and more.
Related to: Azul Beach Resort Riviera Cancun All Inclusive Vacations
Let's recap Azul Beach Resort Riviera Maya all inclusive vacations
Are you ready to book your dream vacation in Mexico? Visit All Inclusive Outlet and take a look through the best discounts to your favorite destinations so you can plan your perfect stress-free getaway.