Featured Resort of the Week: Sandals Emerald Bay
On a mile-long beach and featuring unlimited activities, Sandals Emerald Bay is a romantic all inclusive Caribbean paradise! Located in the Exuma district of the Bahamas, this resort boasts renowned turquoise waters alongside modern entertainment from pristine golf courses to decadent spas and water sports to help you make the most of your personal beach. With Bahamian flair and an unmatched intimate setting, Sandals Emerald Bay is ready to please for any occasion!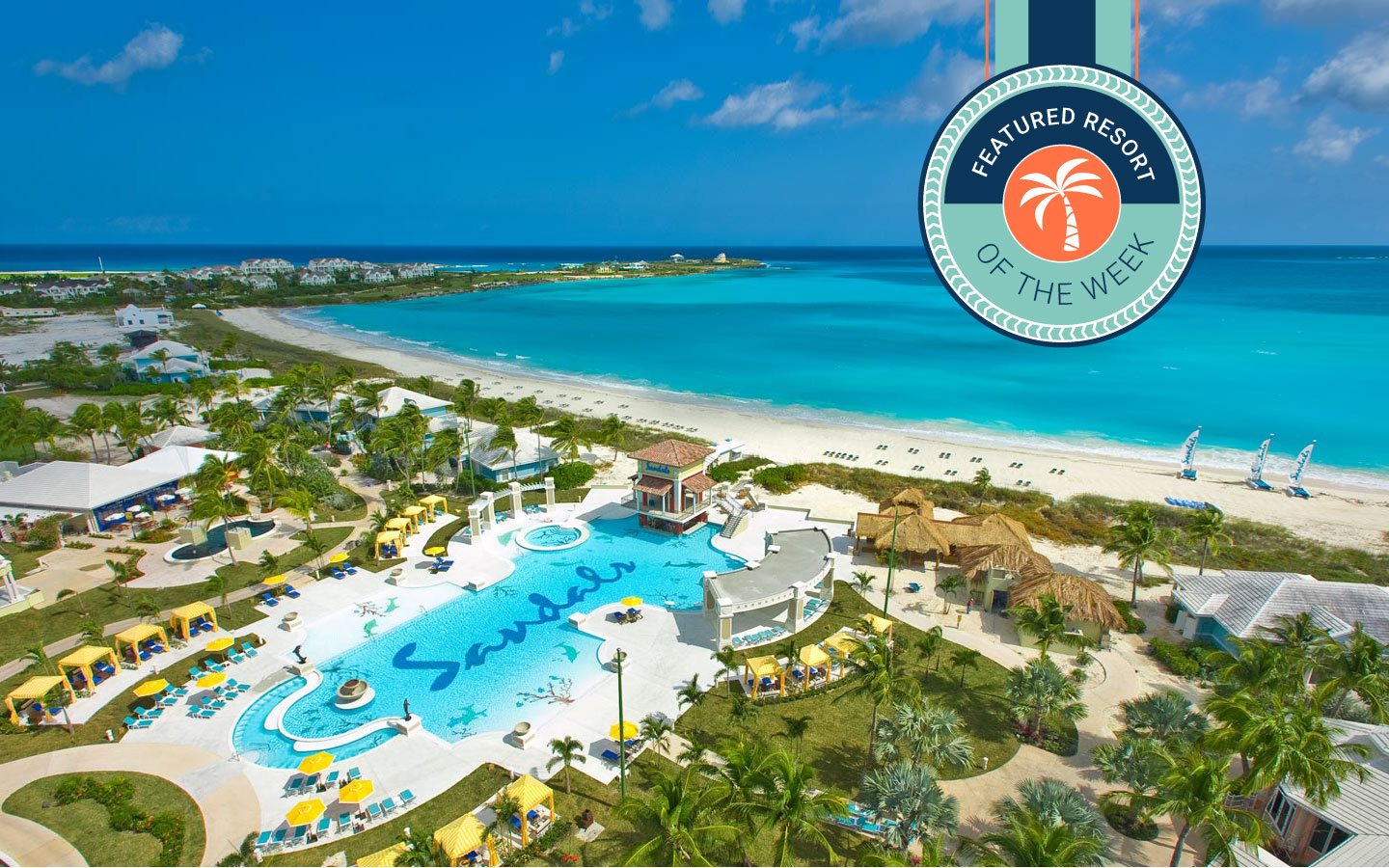 Bahamian Rooms with Intimacy and Style
Each of the 249 rooms at Sandals Emerald Bay comes with a fantastic ocean view along with locally inspired Bahamian designs. The pastel pink and blue buildings lead into tastefully decorated rooms with soft-tan walls, mahogany furnishings, and comfortable couches and patios to assure you feel truly at home. The Beach House section features rooms in various tiers each fashioned in an Old World style combining luxury with tropical surroundings. You'll enjoy direct access to the main pool and fire pit, and revel in the ocean-front balcony that connects to your own private garden on the first floor. The Beachfront section of the hotel features expanded rooms with granite tiles, beachfront access, and romantic views to enhance any wedding or honeymoon. The Royal Estate building provides two-story rooms with a private pool, direct beach access, plus even more enhanced inclusive benefits such as butler service, VIP check ins, private parties to the exclusive Club Sandals lounge and more!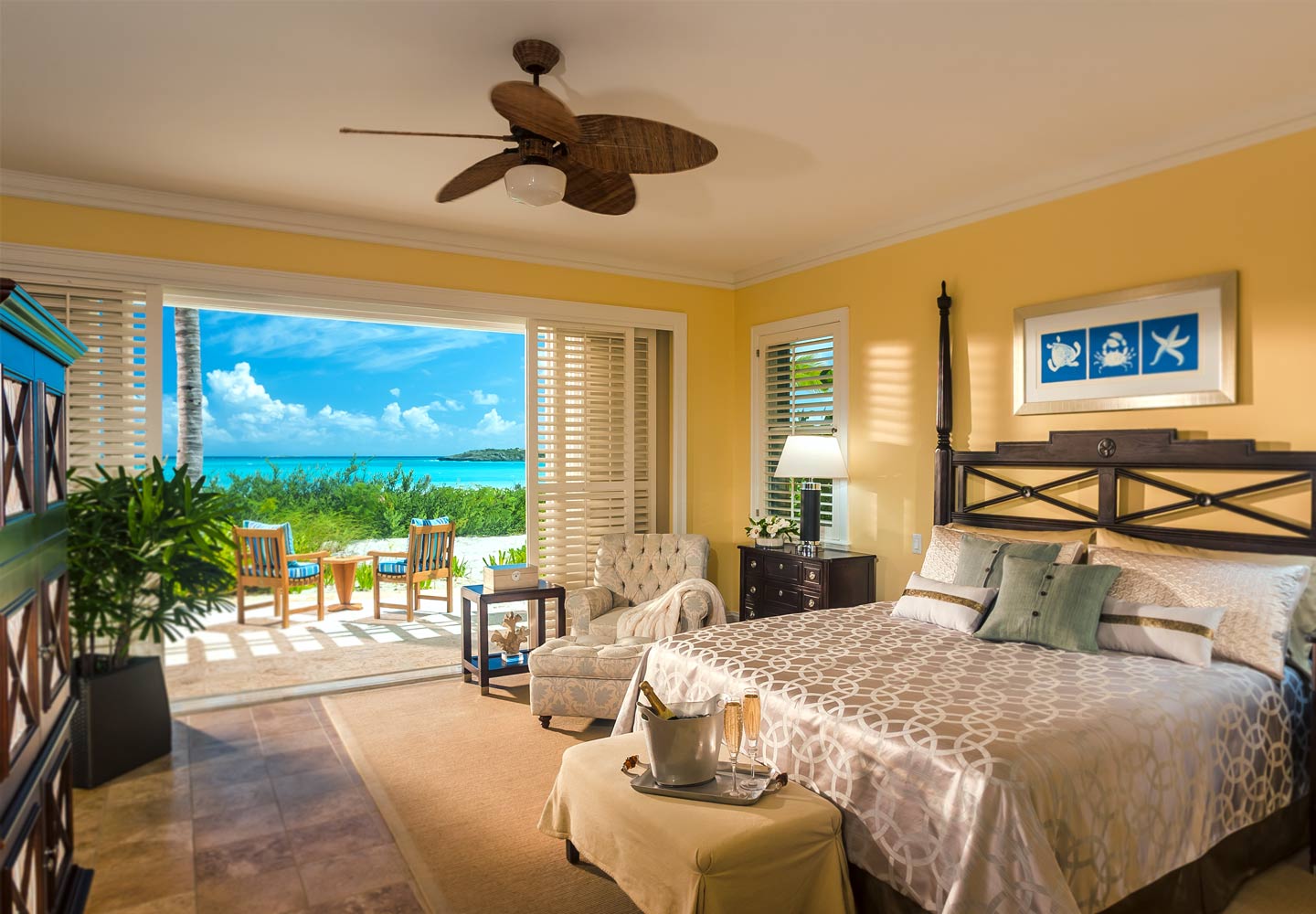 Onsite Caribbean Immersion and Activities
One of Sandals Emerald Bay's prime features is its renowned scuba diving program featuring world-class instructors and the latest diving equipment. Get certified in a quick, yet comprehensive training session, then dive into some of the world's greatest reefs with vibrant fish and coral. If diving sounds too intense, you can try snorkeling… who wouldn't want to spend an hour or two gazing down at the colorful marine life while floating in the lovely temperate waters! Across the mile-long beach, you have endless options from tanning and resting on the warm sand to kayaking and paddle-boarding. Head out on the Sandals Fleet for an amazing boat tour of the island, or enjoy a tranquil Private Cabana with your own private butler and relaxing amenities.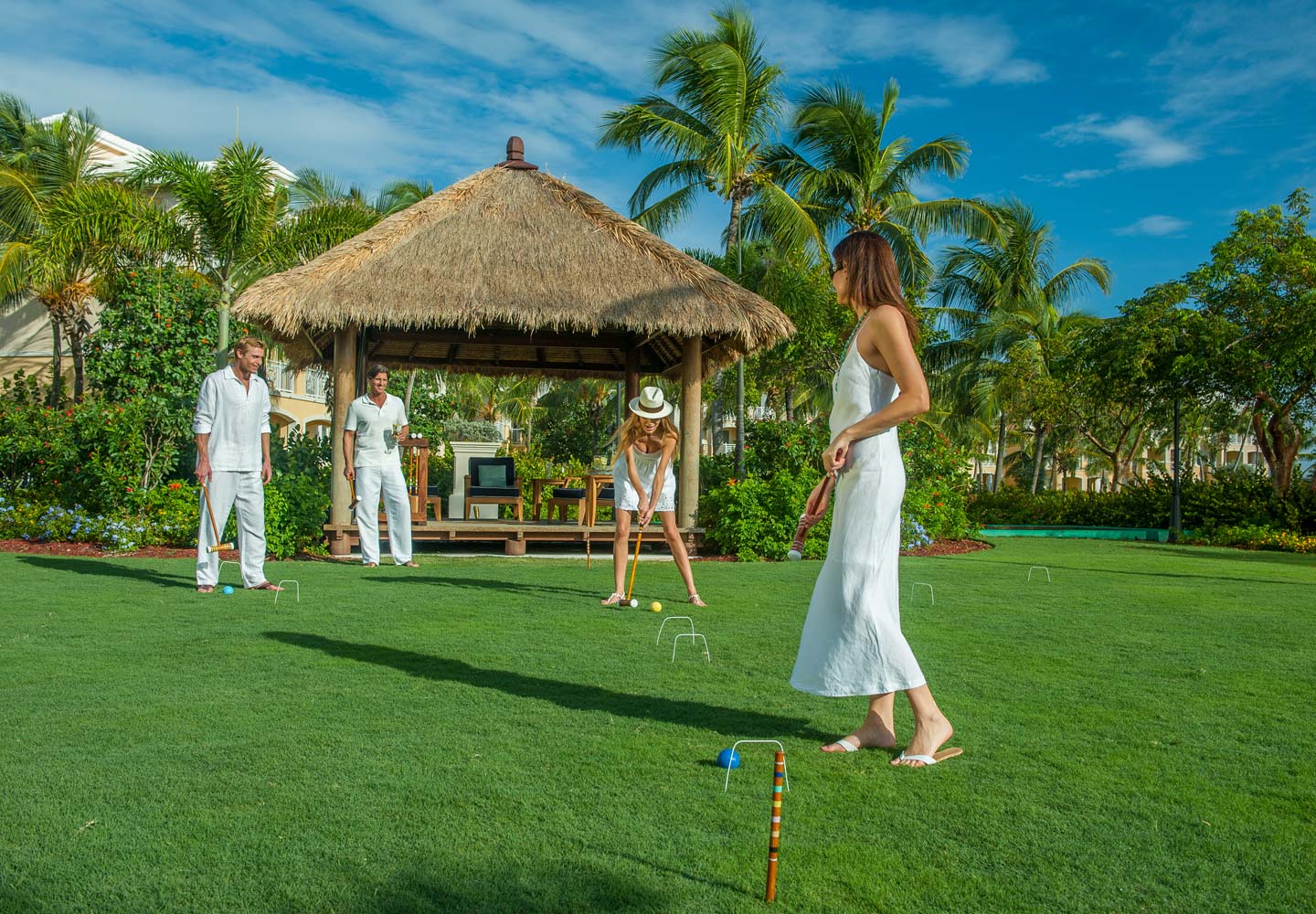 The onsite golf course has won numerous accolades and is prized as one of the best courses in the Caribbean. Tee off alongside magnificent views, and then cool off in one of the walk-in pools nearby. Sports enthusiasts can also enjoy day and nighttime tennis, beach volleyball, billiards, and a number of tabletop and board games to keep them busy for hours!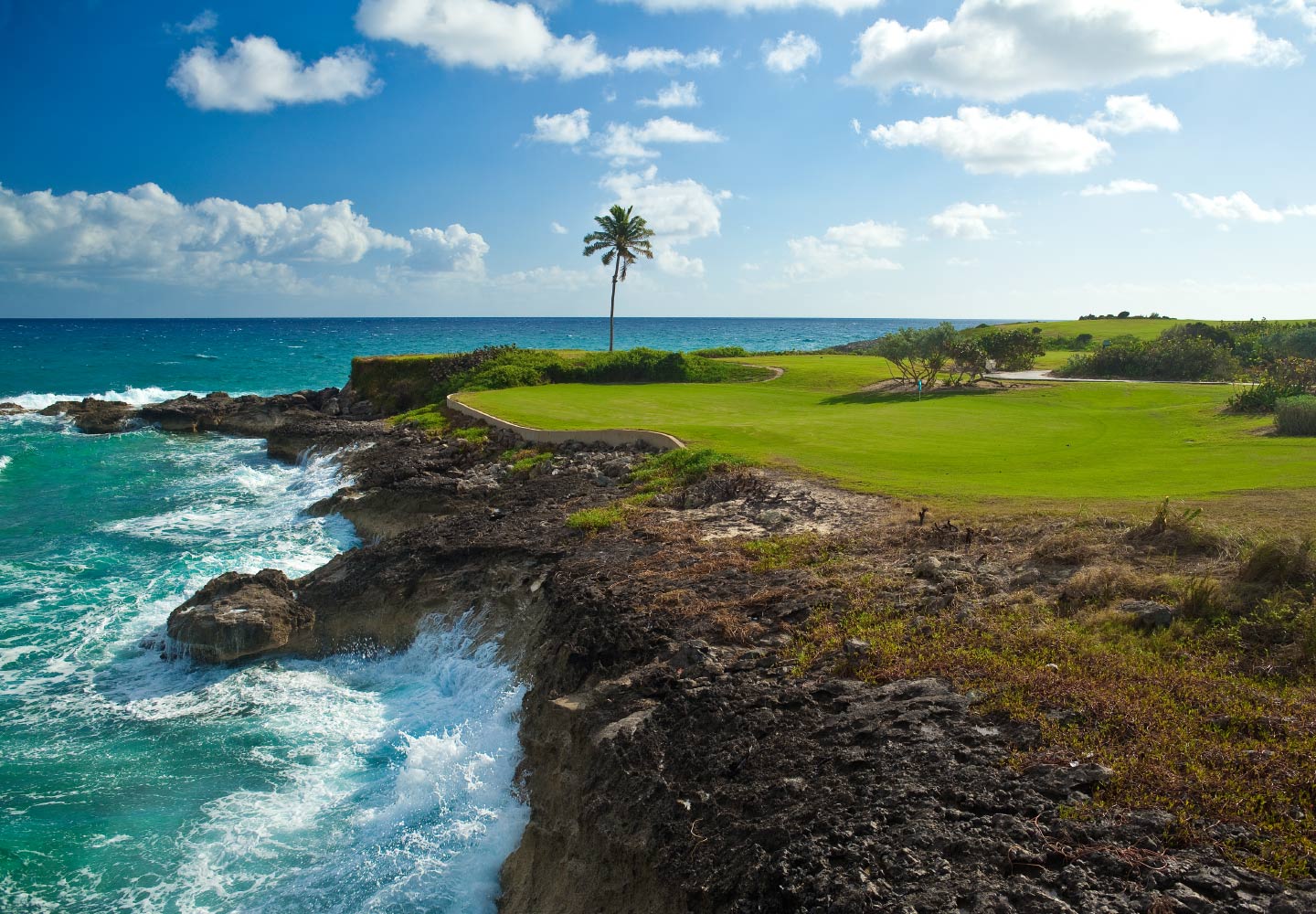 The Red Lane Spa features everything you need to unwind, offering massages, steam rooms, hot baths, and aerobic classes including yoga and pilates. Enjoy serenity in one of the private gardens, or walk along the manicured paths to find your own personal paradise.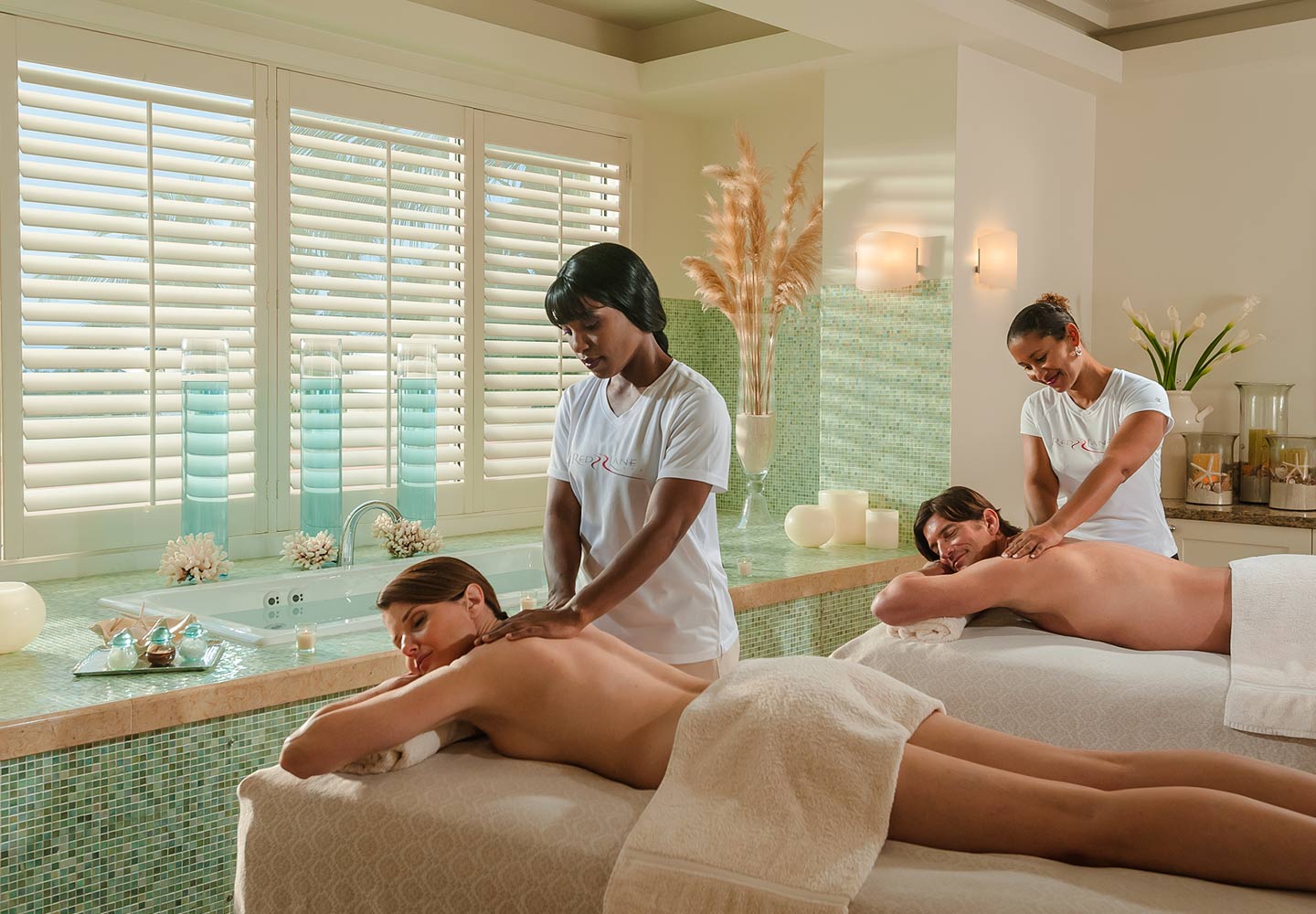 Seven Delightful Restaurants and More!
There are seven unique all-inclusive restaurants that offer local and international cuisine in memorable settings. Enjoy the freshness of the Caribbean at Bahama Bay with local seafood dishes along with island fruits, or experience French cuisine at Parisienne or the simpler Cafe de Paris. The Drunken Duck is a low-key English pub with hearty soups, fried dishes, and a lovely drink menu. Get dressed up and savor Italian dishes at Il Ciello, or stay in your swim suit at Barefoot by the Beach for a relaxed yet tasty excursion. There are multiple swim-up bars available to brighten your mood at any hour, and you can indulge in a private candlelit dinner on the beach for an unforgettable evening. You can also savor seasonal wine and rum tastings to expand your pallet and enhance the night.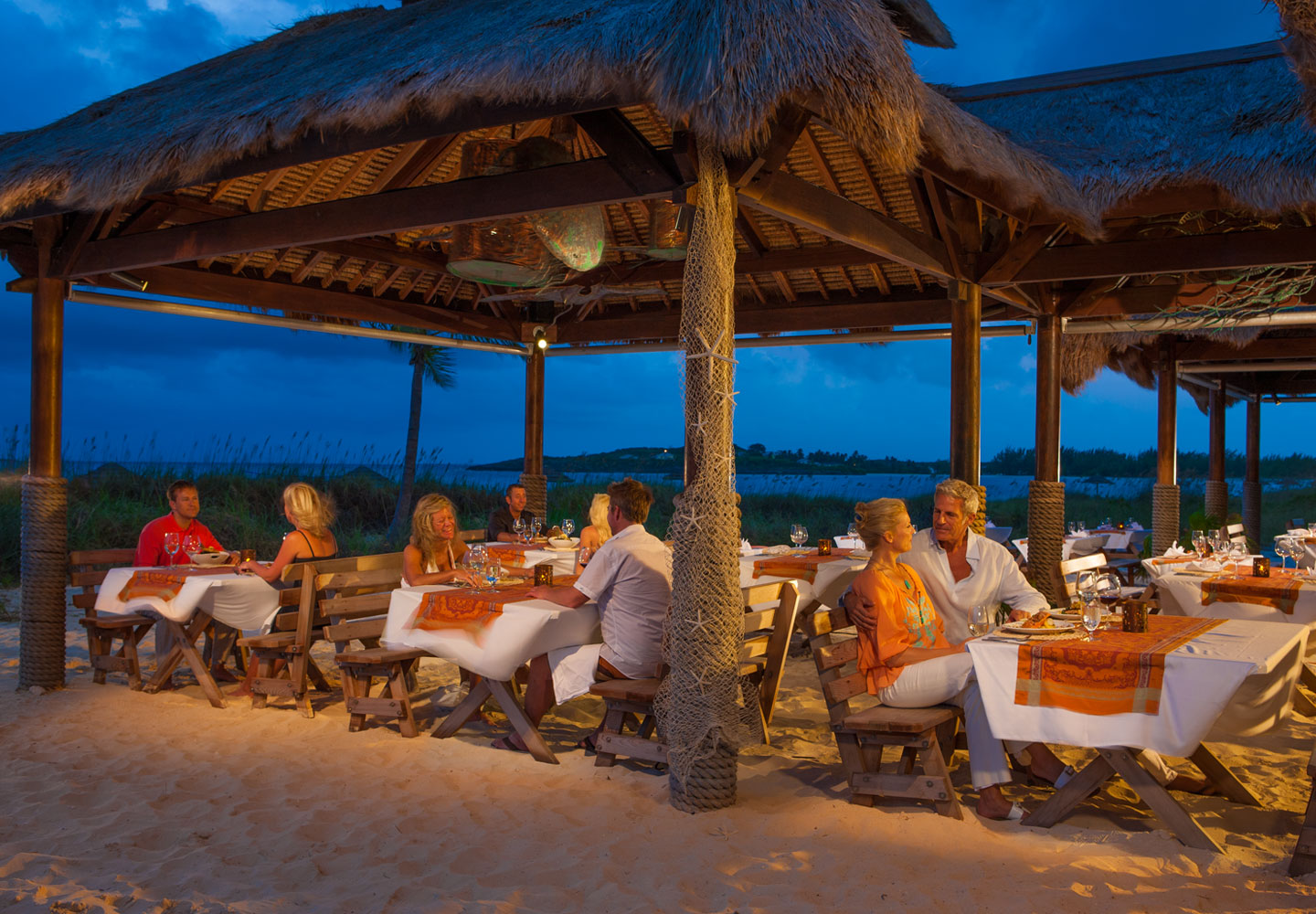 With grand architecture, a picturesque locale, and unlimited luxury always at your fingertips, Sandals Emerald Bay is a great choice for adults looking to experience the finer things in life in an unparalleled tropical setting!