Reflect Krystal Grand Cancun All Inclusive Vacations
With a whole lot of Vitamin D (and Vitamin Sea!) to offer, travelers of all ages will be swept into paradise during a visit to Cancun, Mexico! Stunning beaches, intriguing history and culture, and thrilling excursions blend together to create an unforgettable vacation on the Yucatan Peninsula.
Beautiful resorts are also part of the experience and finding one that will satisfy you and your family's needs is important. Reflect Krystal Grand Cancun all inclusive vacations are perfect for anyone in search of a beachfront getaway where the luxury and fun never stop!
During your stay at Reflect Krystal Grand Cancun, you'll experience:
Comfortable and inviting accommodations
Delicious food options and endless beverages
Four heated swimming pools
Indoor and outdoor activities for all ages
Dreamy wedding and honeymoon packages
And so much more!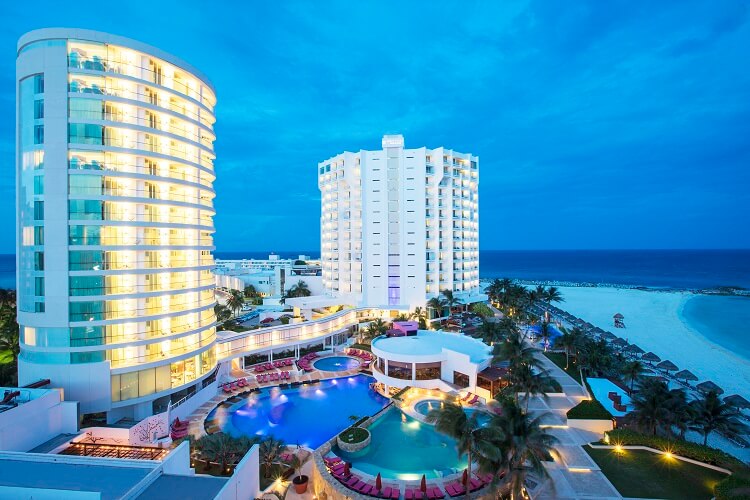 Ready to jet off on your beach vacation? Browse through hundreds of discounted all inclusive packages and SAVE BIG at All Inclusive Outlet >>
More information on Reflect Krystal Grand Cancun vacations
Accommodations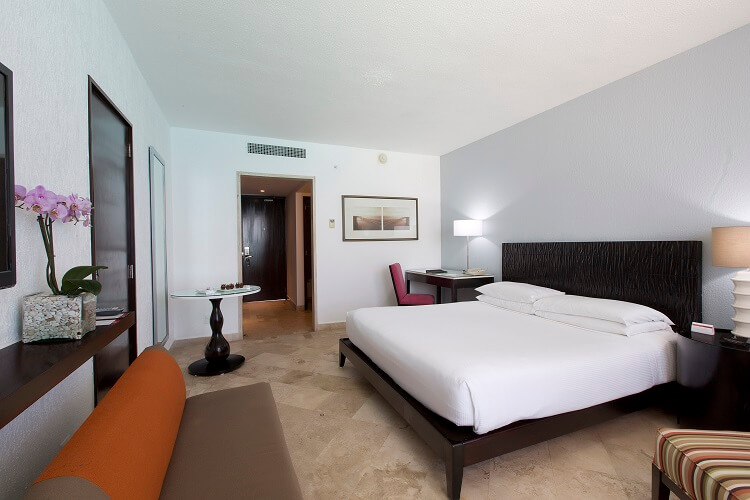 Rooms and suites at Reflect Krystal Grand Cancun welcome you to unwind in your own quiet oasis! Depending on your needs, you can choose from a cozy deluxe room to a spacious and extra romantic honeymoon suite. Take in scenic views overlooking the gorgeous resort grounds or the sparkling blue ocean from your private balcony or terrace before falling back onto your comfy bed to kick-start your relaxation!
Guests also have the option of upgrading to one of the resort's Altitude Club suites to enhance their experience. You'll enjoy access to the Altitude Club lounge, private check-in and check-out, adults-only swimming pool, and more!
Restaurants and Bars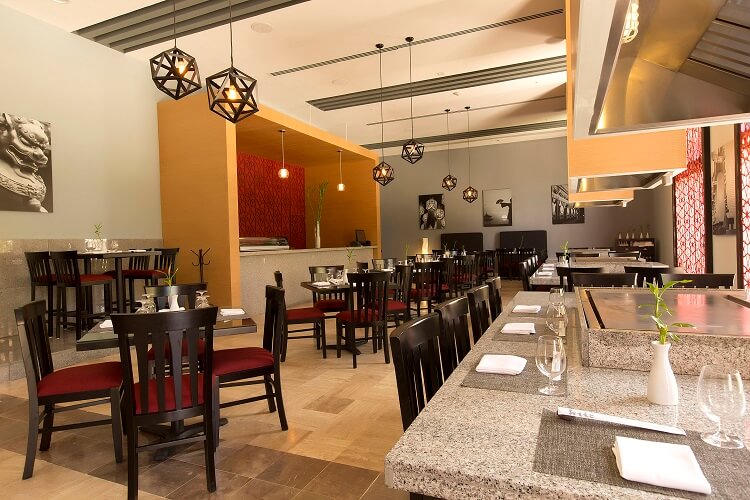 Reflect Krystal Grand Cancun has all tastes in mind so you're promised a satisfying meal at any point during your stay. The Mexican, Italian, and Asian restaurants are full of flavor, but if you're not feeling a specific dish, an international buffet will be just as fulfilling. There's also an a la carte dining option along with a café and a snack bar for times when you just need something quick in between activities!
Five bars and lounges, including a swim-up bar and a private bar for Altitude Club guests, are located throughout the resort for unlimited top-shelf beverages. Stop by whenever you please to enjoy your favorite drink, whether you're lounging by the pool or taking in beautiful views at sunset!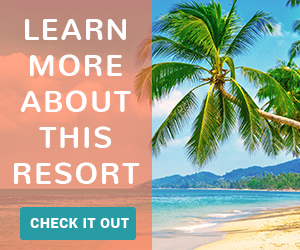 RELATED: Best Places to Stay in Cancun, Mexico
Activities and Amenities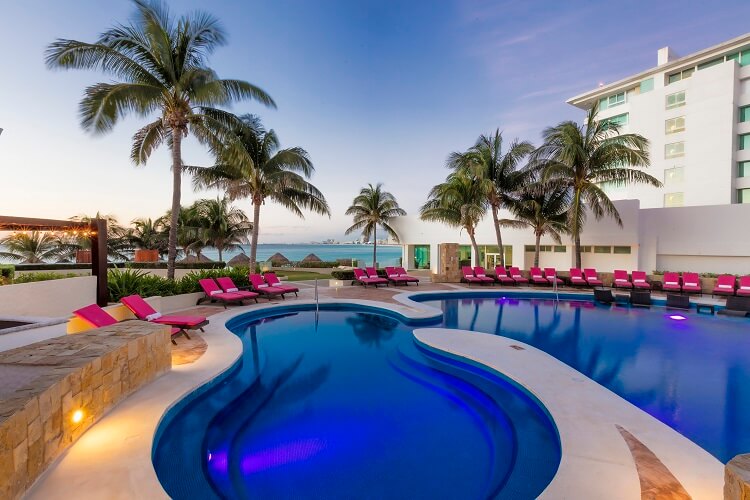 As an all ages resort, Reflect Krystal Grand Cancun has entertainment for everyone. A beautiful white-sand beach is calling you to its shores for a day under the sun. You can take your pick from four heated swimming pools to lounge, participate in beach volleyball, take a class like dancing or Mayan astronomy, and much more.
The spa is the place to be if you're looking to be pampered with a body scrub or deep cleansing facial, and there's always the option to venture offsite on a thrilling excursion (just remember, you may be charged an additional cost). Plus, children ages 3-12 can jump into a variety of games and crafts at the Explorer's Club for Kids while the adults have some much-deserved alone time!
At night, guests will enjoy an energetic vibe from live musical performances, theme nights, and beach parties. If you're feeling adventurous and don't mind paying an additional charge, the resort also offers excursions to nearby pubs and nightlife to keep the party going!
Weddings and Romance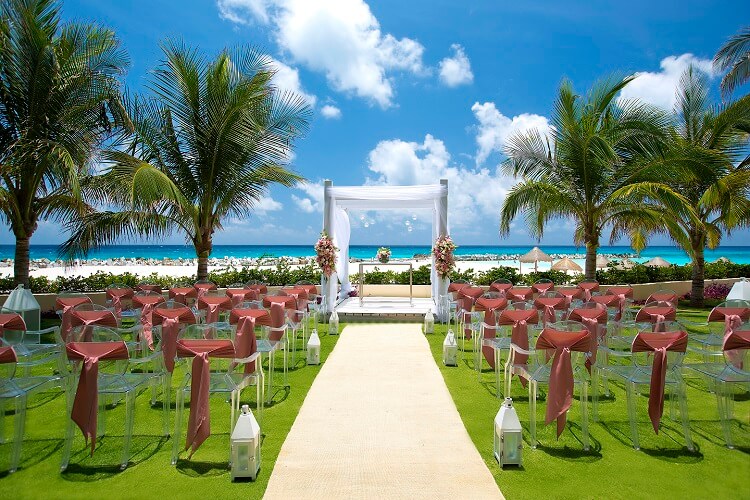 At Reflect Krystal Grand Cancun, the perfect beach destination wedding does exist! With help from a wedding coordinator, couples have three different wedding package options to choose from to create a magical day that will be talked about long after it's over.
Each package includes late checkout for the couple upon request, 20% off spa services, sparkling wine, a wedding cake, ceremony set up, ceremony floral arrangement, bouquet and boutonniere for the couple, an audio system, and turndown service for the couple. Additional inclusions are based upon which option you decide is best for your picture-perfect wedding day!
The resort also offers something special for honeymooners and couples celebrating their romance. The Reflect Honeymoon Package includes sparkling wine, flowers and fresh fruit upon arrival, breakfast in bed, a 50-minute couples' massage, beachfront dinner for two, special turndown service one evening of your stay, and private petit fours every evening at turndown.
For those looking to renew their vows in Cancun, the True Love Vow Renewal Package features an onsite wedding coordinator, vow renewal ceremony, wedding gazebo, aisle runner, corsage and/or boutonniere for the couple, sparkling wine and cake for two, certificate of renewed vows, dining arrangements for two, and romantic turndown service the night of the ceremony.
Love reigns supreme at this romantic all inclusive resort in Cancun!
Let's recap vacations at Reflect Krystal Grand Cancun
Eager to hop on a plane? Visit All Inclusive Outlet today and search through the best discounted vacation packages so you can escape to Mexico ASAP!