Your Bucket List Still Exists: Unpacking Expectations for your next All Inclusive Escape
All Inclusive Outlet's Director of Product provides insight on her latest trip to Mexico.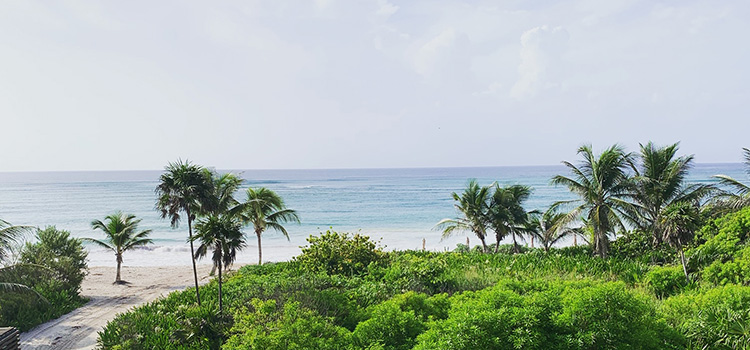 Curious what the all-inclusive experience looks like this Summer & Fall?
As more countries begin to reopen following Covid-19 restrictions, you may be itching to take advantage of a great travel deal. Sarah Flook, Director of Product for All Inclusive Outlet, recently returned from visiting an incredible lineup of all-inclusive properties in Cancun and Riviera Maya. She had a seamless experience and provided some insight on what travelers who are ready to book can expect during a Summer or Fall getaway.
"There are more relaxed restrictions for entry to Cancun/Riviera Maya than other destinations open to US leisure travelers at this time. Speed through airports is fast (and friendly) waiting areas are clean, and immigration lines are short since there are much fewer people traveling than normal."
Before hopping on a plane, travelers should always check the specific requirements of their airline. Travelers should make sure they are comfortable with the policies in place before their scheduled departure. Flook felt social distancing was easy to maintain. Additionally, she said 100% of employees and travelers at the airport were wearing masks/personal protection equipment. 
"It's the best traveling experience I've had to date. The entry process in Cancun during high season can usually take up to 90 minutes. We arrived into a spotlessly clean terminal and I was off the plane and out of the airport in less than a half-hour."
Transportation to and from your all-inclusive resort
Lomas Travel provided transportation for Flook from the airport to the hotel. Each transfer van is sanitized between trips. All guests are also required to use hand sanitizer and have the soles of their shoes sprayed with sanitizer before boarding. Transfer vehicles limit the specific number of travelers and ensure designated spacing is in place between passengers.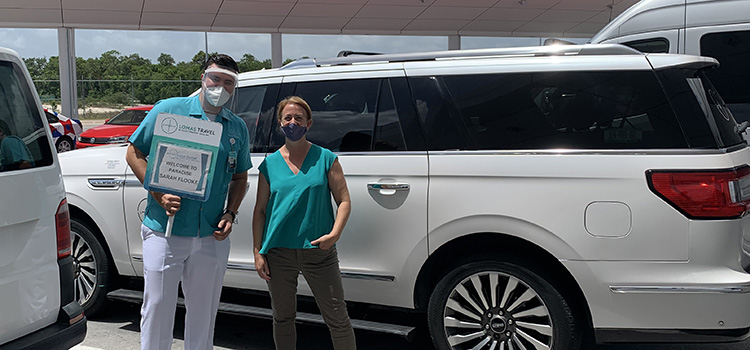 Health & safety protocols in place
While many all-inclusive hotel chains have always had strict health and safety policies in place, travelers can feel good about new and enhanced protocols. Newer policies are elevating the standards of quality and cleanliness across resorts. 
"New operational procedures like QR codes for restaurant menus at many of the properties and social distancing of sun loungers allow guests to feel safe in communal areas. Travelers will also enjoy added benefits such as enhanced service levels and plenty of space to recharge and relax."
While specific health and protocols will vary by property, travelers can expect to see some of the following policies in place:
All employees wearing masks & PPE 

Plastic barriers in areas with high contact points between employees and guests – including front desk, bars, coffee shops, etc.,

Constant cleaning in heavy traffic areas (elevators, seating, etc.) and intermittent cleaning at least every 30-60 minutes elsewhere

Seating configurations in restaurants and public areas set to satisfy social distancing requirements

Hand sanitizer stations that are easily accessible
Upgraded pampering and personalized service
While there are some changes to the all-inclusive experience, Flook advised guests should be flexible and understanding as resorts are adhering to national and local rules and regulations which can change frequently. For instance, while a wide variety of dining and bar options are available across properties, those selections often change daily. All restaurants may not be open each night – but guests should be able to enjoy numerous options throughout their stay.
"At 30% occupancy, resorts had plenty of life and ambiance while allowing for safe social distancing. The client experience is one of upgraded comfort, pampering, and special attention. The warmth and hospitality that has always been present in Mexico is alive and well, and very apparent with all employees."
Booking your all-inclusive vacation with confidence
Enhanced safety protocols are allowing travelers to book their trips with confidence. Many Cancun and Riviera Maya resorts have also implemented flexible travel policies. Booking policies vary by individual resort. However, most hotels are allowing guests to change dates or cancel their trips without penalty. During her travels, Flook visited the following resorts:
Whether it is your desire to travel today or plan a relaxing getaway in the near future – we invite you to start dreaming about your next all-inclusive getaway. Browse through affordable discounted vacation packages in Mexico and SAVE BIG with All Inclusive Outlet.