Featured Resort of the Week: RIU Palace Cabo San Lucas
RIU Palace Cabo San Lucas is an all inclusive resort that brings out the best of Mexico! As one of the most picturesque areas in the Caribbean, Cabo San Lucas is the perfect destination for experiencing true coastal paradise. This resort is praised for its offerings that combine luxury with adventure so that you can always get the most out of your vacation. With decadent architecture and jaw-dropping natural beauty, RIU Palace Cabo San Lucas is the perfect resort for families, couples, and special occasions!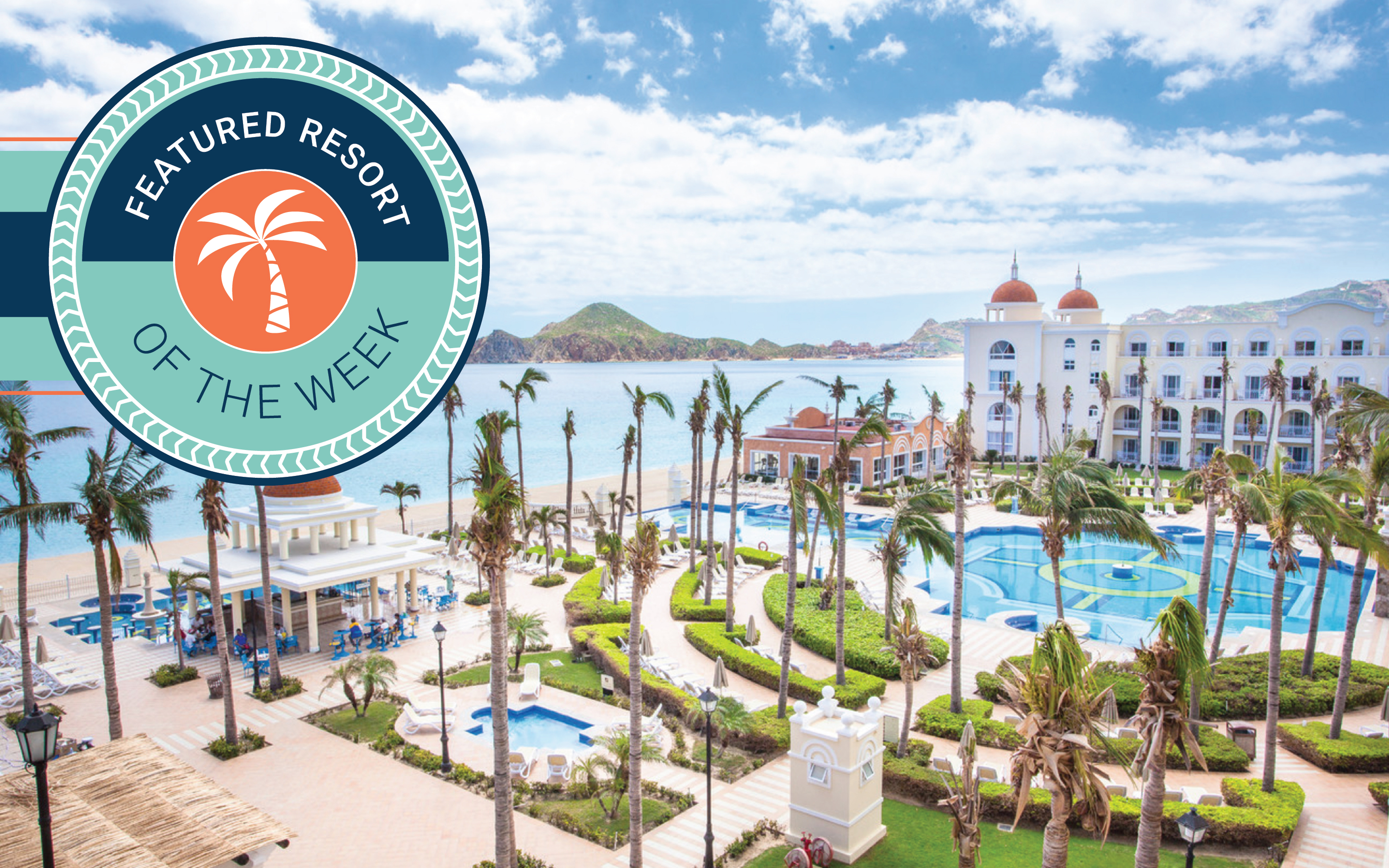 Grand Rooms on the Beach
RIU Palace Cabo San Lucas' white classical design evokes Old World luxury from the moment one sets foot on property. With nearly 700 rooms, there are a multitude of sizes and styles available to fit your needs. The standard room features a king size bed along with a large bathroom and balcony or terrace with an ocean view. The Deluxe Suite includes an enhanced balcony along with stairs leading to another room, a hydromassage bathtub, plus other exclusive benefits such as a shower cabin and bathrobe. The Premium Suite comes with your own Jacuzzi, a grand ocean view, plus an enlarged living area. Each room features neoclassical flourishes and Mexican artwork to enhance your stay, and the bright colors provide an uplifting aesthetic.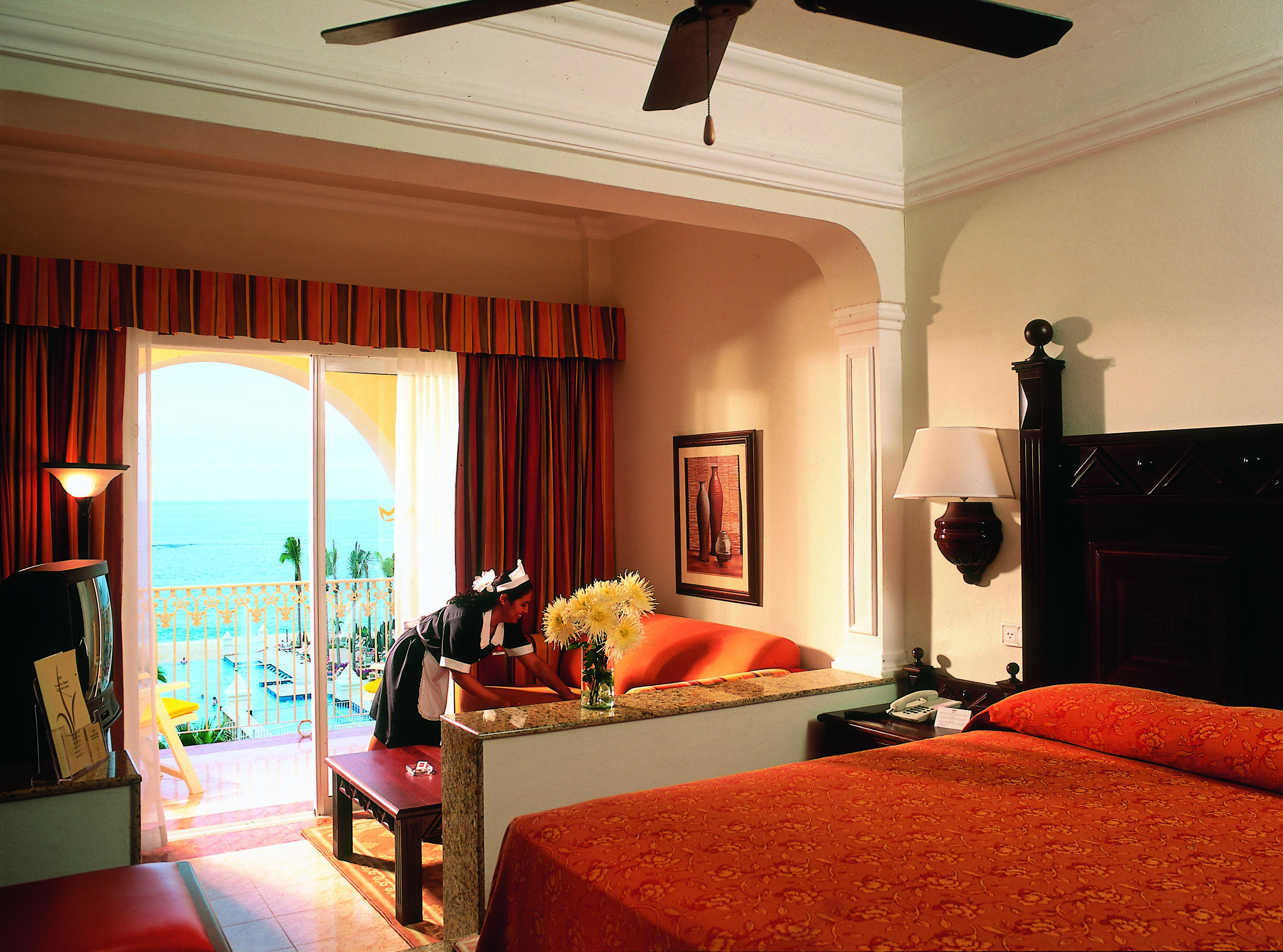 Relax, Play, and Explore
Cabo San Lucas is world-renown for its soft sand and pristine waters, and RIU Palace Cabo San Lucas has tons of inclusive activities to explore Mexico's natural surroundings! Take an introductory scuba diving course in the pool before heading into the ocean, or take it a bit easier by snorkeling and catching a glimpse of the eclectic marine life. Play a round of golf and a few games of tennis, or head to the 24-hour gym to break a sweat. Indulge in two freshwater swimming pools before unwinding under the stars in a bubbly Jacuzzi. At night, enjoy live music along the beach where you can rest or dance until morning. The Renova Spa has licensed masseuses, aromatherapy and hydrotherapy, plus other services to make you feel like royalty (or just recover from the night of dancing!) Children can gather at RIU Land for arts and crafts, games, and special surprises. Play volleyball on the warm sand or try one of the water sports such as kayaking or sailing.
Meals to Spark Your Senses
There are multiple restaurants, bars, and cafes to give you a taste of the local cuisine along with international favorites. Your all inclusive stay guarantees that you'll be full, and you can begin with breakfast at the buffet featuring fruits, an omelet station, and sweet pastries. In the evening, try San Jose's for authentic Mexican cuisine with all of the spices and flavors that make these dishes famous. The Krystal combines fusion meals with a modern setting, and Misaki is a Japanese restaurant with fresh sushi and more. Mar de Cortes is a wonderful grill-house serving tender cuts and filling sides, or you can enjoy the casual beachside buffet featuring pizza, pasta, and locally cherished foods. At night, head to Pacha for world-class DJs and top-shelf spirits. If you want to lounge and dine in bed, RIU offers 24-hour room service to deliver everything you crave right next to your bedside.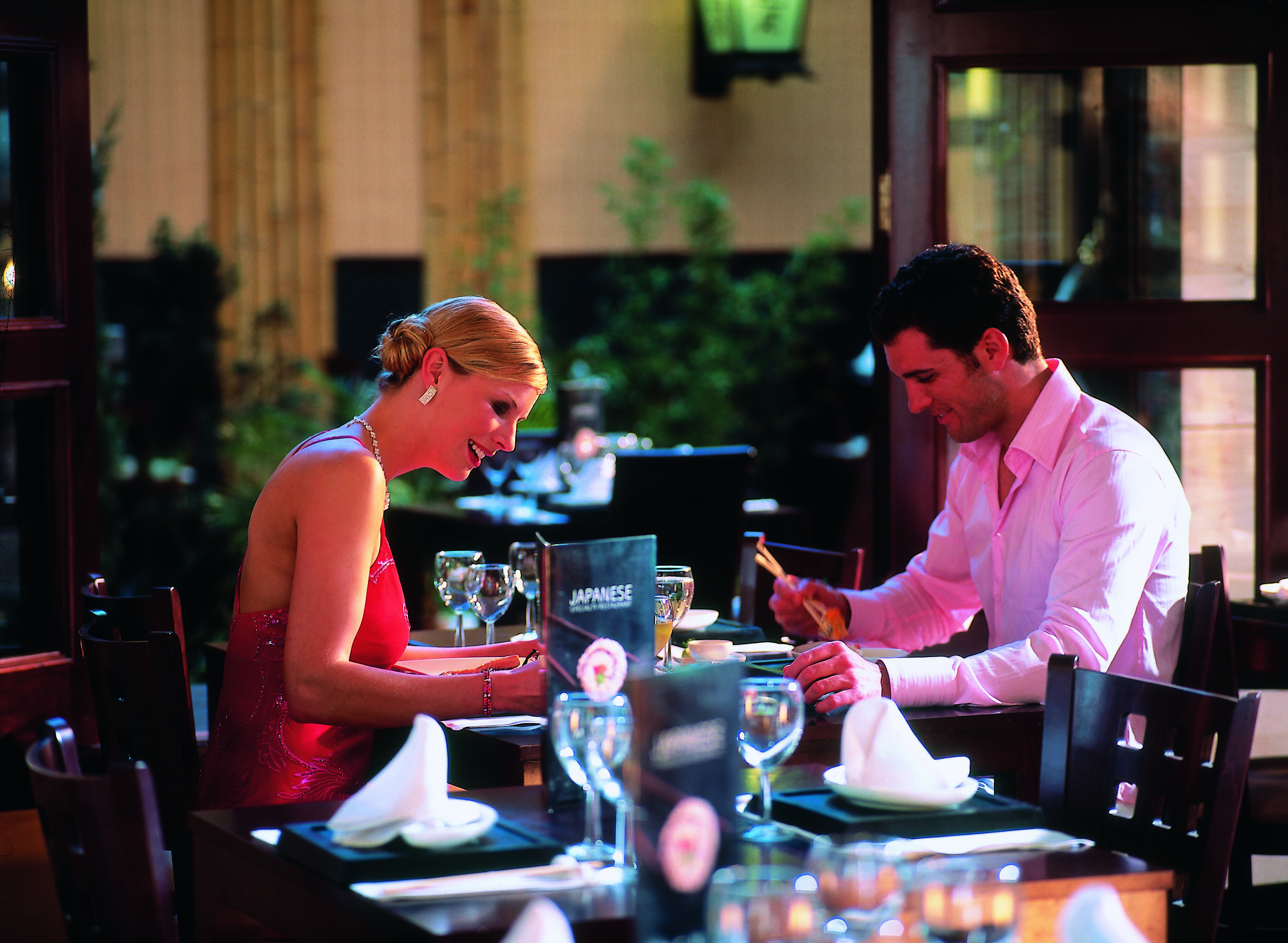 With an incredible coastal location, divine architecture, and luxurious inclusive benefits, RIU Palace is the perfect place to relax and explore Cabo San Lucas!