Best All Inclusive Vacations for Couples
There's a reason why some beach resorts offer couples-only environments: they understand the need to break from your day-to-day routine without kids, work, or life interrupting. We've gathered a list of beach resorts that offer the best all inclusive vacations for couples who want an intimate retreat with their special someone!
Settle into paradise with your significant other at:
Couples Sans Souci – Ocho Rios, Jamaica
Sandals Regency La Toc Golf Resort & Spa – St. Lucia
Keyonna Beach Resort – Antigua
Isla Mujeres Palace – Cancun, Mexico
Sandals Emerald Bay – Exuma, Bahamas
Desire Resort & Spa Riviera Maya – Riviera Maya, Mexico
Rendezvous – St. Lucia
Ready to jet off on your tropical getaway? Search through hundreds of discounted all inclusive packages and SAVE BIG at All Inclusive Outlet >>
More on the best all inclusive vacations for couples: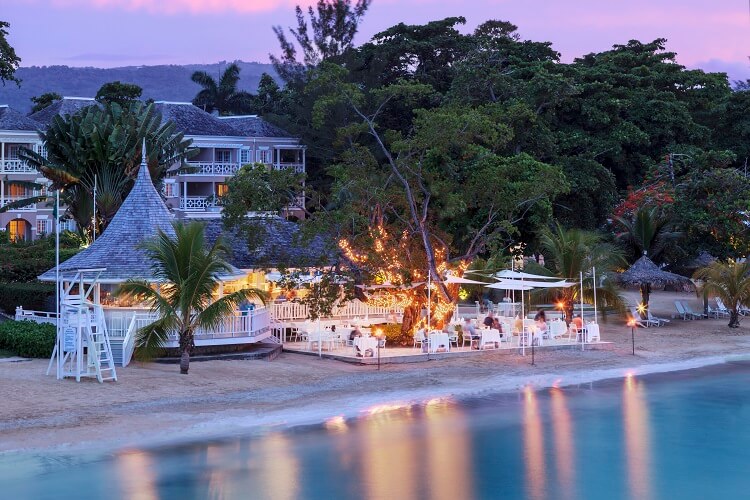 Crowned the "Jewel of Jamaica," Couples Sans Souci is located only steps away from the sea so you can dive right into your romantic vacation! This dreamy resort has four swimming pools for you to choose from and three Jacuzzis if you're looking for a little more privacy. A mineral grotto and a mineral spring pool are available to add a unique touch to your experience! Options like scuba diving, Hobie Cat sailing, and hydro bikes will satisfy couples looking to try something new or explore the clear Caribbean waters. The all inclusive adventure will also take you on a glass-bottom boat tour, offsite to the stunning Dunn's River Falls, and much more!
Couples can head over to the spa to enjoy a massage or a treatment together while relaxing in a tranquil setting. Continue the romance with a private, candle-lit dinner on the beach where you'll get a bottle of wine and three delectable courses, all under a starlit sky! You even have the option of in-room dining if you just want a quiet night in. The resort's restaurants use fresh ingredients and savory spices, so each meal you have is better than the last. Finally, your cozy suite will be the perfect place to unwind and enjoy some privacy each night.
Book and SAVE on your vacation: Couples Sans Souci packages are available at All Inclusive Outlet.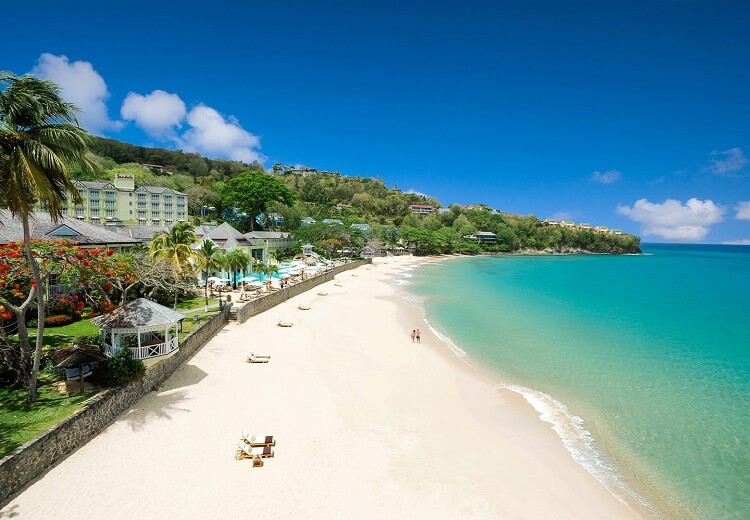 Bring your romance straight to the beach for a sun-kissed vacation in St. Lucia! Sandals Regency La Toc Golf Resort & Spa falls nothing short of remarkable with exotic scenery and of course, the beautiful Caribbean Sea knocking on your door. The resort offers a wide range of room options so couples can choose one that fits their idea of ultimate romance. Depending on your pick, you may have access to your own private pool or soaking tub and a personal butler. This might make it hard to leave your room, but don't forget about all the excitement the resort has to offer! From horseshoes, racquetball, and beach volleyball to paddle boarding, snorkeling, and kayaking, there's always something to look forward to.
Red Lane® Spa awaits to show you how relaxation is done. You and your special someone will experience calming essential oils mixed with a soothing massage as you fall into a dreamy trance. You can mingle with other couples at one of two swim-up bars with a refreshing drink in hand, or look out onto those clear-blue waters while lounging on the beach. Gourmet meals of international cuisine like French, Oriental, and Italian are teeming with flavor, and they can even be enjoyed in a private dinner setting for two. The nightlife will complete your Sandals La Toc experience with theme nights on the beach and live entertainment!
Book and SAVE on your vacation: Sandals Regency La Toc Golf Resort & Spa packages are available at All Inclusive Outlet.
Antigua invites lovebirds to immerse themselves in a luxurious, couples-only experience surrounded by breathtaking tropical scenery. Keyonna Beach Resort is a smaller, more intimate destination to have the romantic vacation of your dreams. Comfortable, homey cottages are available so couples can escape to privacy whenever they wish. The soft sand will invite you to take a handheld stroll along the beach as you soak in your beautiful surroundings.
Between fresh produce and up-to-date knowledge on the latest wines, your dining experience at Keyonna Beach Resort will be unforgettable! Savor delightful international cuisines in a beachfront setting so you'll never miss out on a glimpse of paradise. For couples who want to include a slice of adventure in their trip, offsite excursions like hiking, zip lining, snorkeling among coral reefs, and more are always available (but may come at an additional cost). Your beach surroundings also present the opportunity to witness a jaw-dropping sunset with your loved one by your side. After all, nothing says romance quite like a beautiful sunset!
Book and SAVE on your vacation: Keyonna Beach Resort packages are available at All Inclusive Outlet.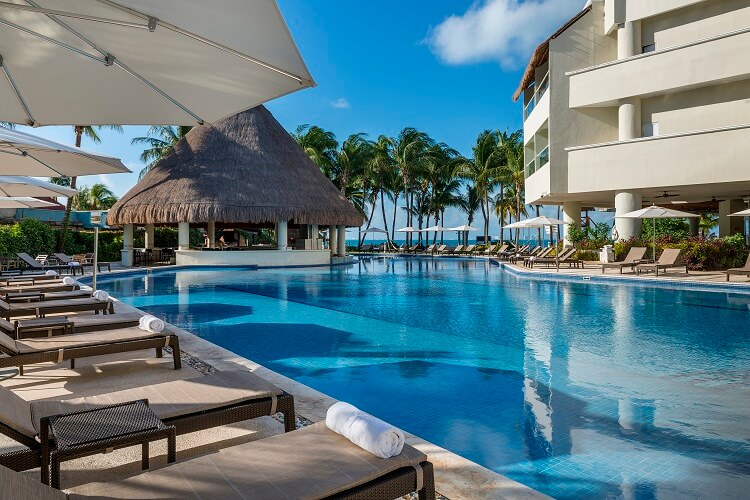 Treat yourself to top-notch service and luxurious accommodations in an intimate island setting. Isla Mujeres Palace in Cancun, Mexico has everything you need and then some for a memorable couples retreat. An in-room double whirlpool tub is ready to kick-start your laid-back vacation. In addition to gorgeous views, a liquor cabinet, and room service, you'll feel like it couldn't get any better. But it does!
Allow yourself and your significant other to be lazy without the guilt. Take your time sunbathing by the pool or on the beach. After you're done being in no hurry at all, visit the resort's spa for a couples massage designed to ease both your minds and bodies. Follow up with a starlit dinner and enjoy each other's company while digging into some satisfying international cuisine! The resort also provides snorkeling gear so you can explore the tropical waters. At night, sing your heart out at karaoke or witness fire jugglers and light visuals to end the perfect day in paradise!
Book and SAVE on your vacation: Isla Mujeres Palace packages are available at All Inclusive Outlet.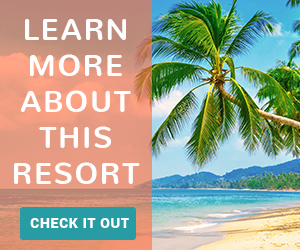 RELATED: Best All Inclusive Vacations for Adults: Top 10 Places to Stay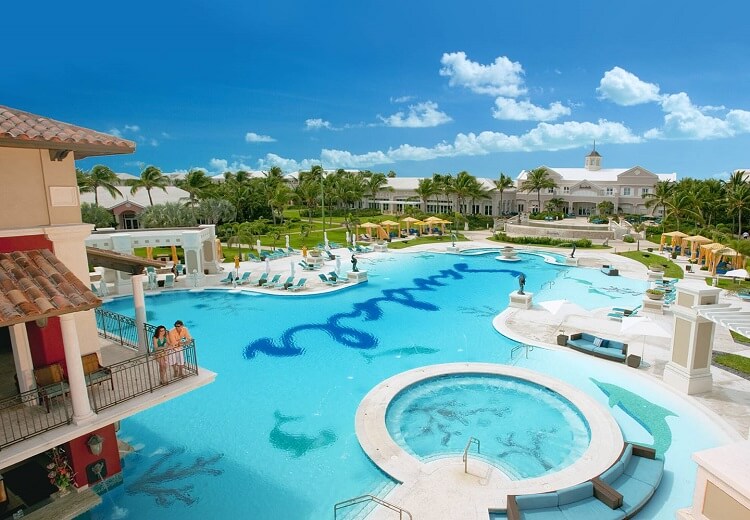 There's nothing like a romantic couples retreat to the Bahamas for you and that special someone… plus some pigs! Your stay at Sandals Emerald Bay in Exuma offers the unique experience of getting to jump into turquoise waters and swim with the local pigs. Don't worry, though, they know when to leave you alone so you can take part in everything else the resort has to offer! Couples can enhance their beach time with private cabanas so they have their fair share of sun and shade. Activities like scuba diving, tennis, bocce ball, wind surfing, and much more will add on to your memorable beach vacation experience. When the sun sets, lively Caribbean entertainment begins so you can party on well into the night!
Your accommodations at Sandals Emerald Bay fall nothing short of luxurious. The range of rooms and suites start at furnished, club level rooms and end with a two-story, beachfront suite with a private pool. Honeymoon suites are also available to couples looking for an added touch of romance. Travel around the world through a remarkable dining experience at one of the resort's eleven restaurants. Order pub favorites in a British atmosphere at the Drunken Duck, taste the savory flavors of Indian cuisine at Bombay Club, or visit the Jerk Shack for an authentic Jamaican dish. Trust us, you'll never want to leave Sandals Emerald Bay!
Book and SAVE on your vacation: Sandals Emerald Bay packages are available at All Inclusive Outlet.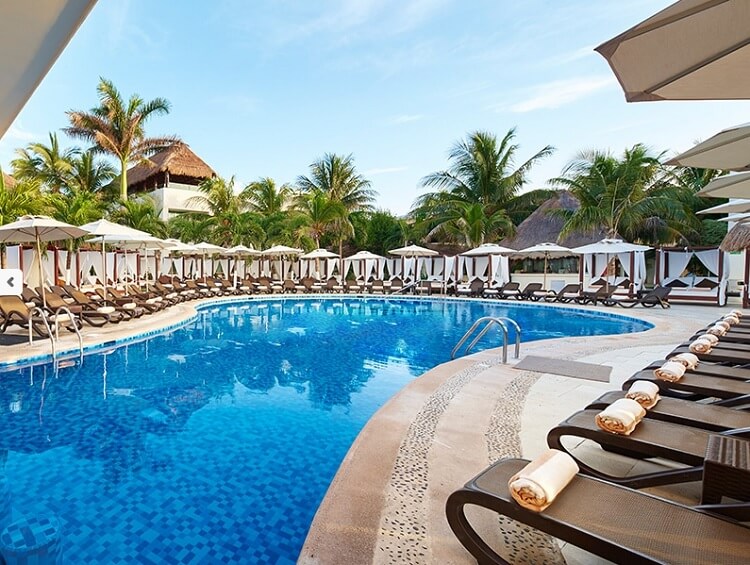 Love is definitely in the air at Desire Resort & Spa Riviera Maya! You'll be greeted with a glass of sparkling wine as you make your way to one of the resort's 114 rooms and suites designed to offer an intimate, boutique setting. When you leave your room, the romance continues with amenities like the sauna and steam room, a rooftop Jacuzzi and lounge area, and a nude beach. Clothing optional bars and a mix of both casual and elegant restaurants offer a one-of-a-kind experience. The resort's Fantasy Menu is available for additional erotic experiences, and the spa offers sensual couples massages to keep the passion alive during your entire stay.
At Desire Resort & Spa, entertainment is bound to impress. During the day, activities like foam parties, couples-only contests, and scuba diving tours will keep you busy for hours. At night, dress up in costume for a theme night or see a lively show so you never miss out on the excitement!
Book and SAVE on your vacation: Desire Resort & Spa Riviera Maya packages are available at All Inclusive Outlet.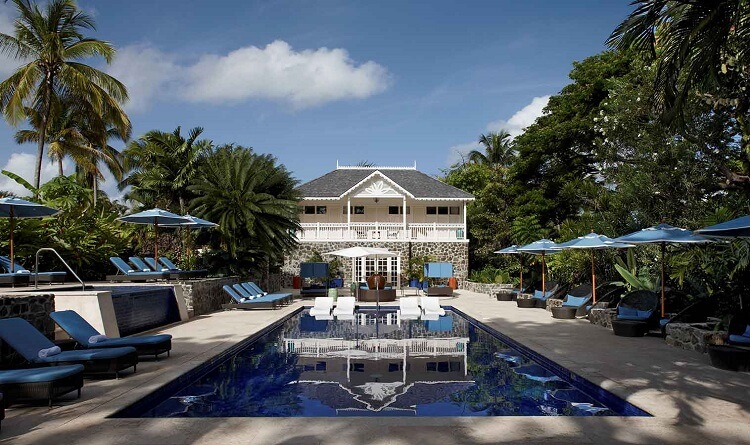 Escape to a secluded, tranquil paradise at Rendezvous in St. Lucia. Lush tropical scenery, a white-sand beach, and the Caribbean Sea will sweep you away into a romantic oasis! Beachfront suites and spacious rooms with garden views give you plenty of privacy, comfort, and luxury so you don't feel like it's "just a place to sleep" while you're away. Additional in-room indulgences like chocolates or flower petals are available to heighten the romance. Couples massages can be shared in the Spa in the Water Garden for a serene experience to relieve yourself from any tension.
Rendezvous dining creates special moments whether you're in a relaxed beachfront atmosphere or in a more elegant, sit down setting. During the day, the Pool Bar is open if you want to sip on a refreshing drink under the sun. The Terrace Bar is an optimal place for cocktails and socializing, while the Champagne Bar immerses you in rhythmic music and lively energy. Couples can also delight in a nature walk, rum tour, archery, chocolate making, and much more. It will be a couple's beach vacation to remember!
Book and SAVE on your vacation: Rendezvous packages are available at All Inclusive Outlet.
Let's recap the best all inclusive vacations for couples
Ready to fall in love all over again? Visit All Inclusive Outlet to find the best prices and waste no time booking a romantic, couples-only beach vacation for you and your sweetheart!