Cheap All Inclusive Resorts in Costa Rica
You dream of sun, sand, and sophistication — all the makings of the perfect trip to Costa Rica. If you're on a strict budget, however, these vacation luxuries may seem out of reach. The good news? It's possible to enjoy the best of Costa Rica without blowing your budget; you simply need to choose the right place to go.
The following Costa Rica resorts provide the all inclusive luxuries you desire at a reasonable price:
Dreams Las Mareas Costa Rica
Barcelo Tambor
Occidental Tamarindo
Riu Guanacaste Costa Rica
Secrets Papagayo Costa Rica
Ready to jet off on your beach vacation? Browse through hundreds of discounted all inclusive packages and SAVE BIG at All Inclusive Outlet >>
Learn more about these cheap all inclusive resorts in Costa Rica
Dreams Las Mareas Costa Rica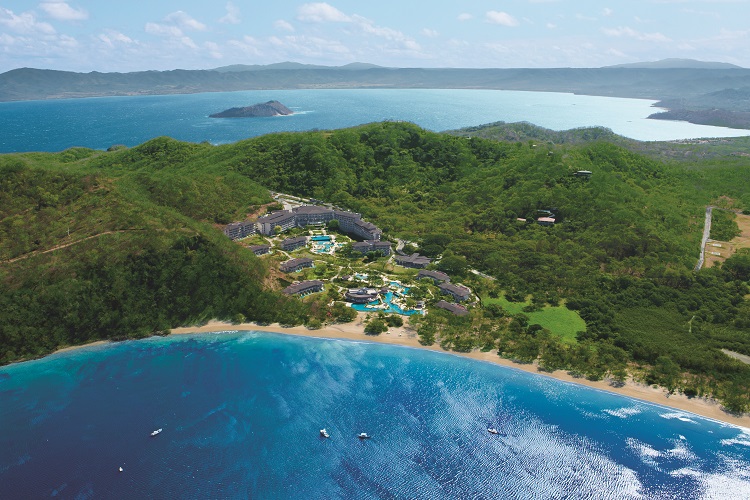 Dreams Las Mareas Costa Rica offers a vibrant, enjoyable experience for couples, families, and groups of friends. The resort's stunning location on Playa El Jobo grants it picture-perfect mountain scenery. Ideal for those who desire an action-packed getaway, this family-friendly resort provides constant excitement for everyone with land and water sports, offsite excursions, and nightly entertainment. A variety of gourmet dining options will leave every guest satisfied after indulging in world-class cuisines.
Private relaxation is also available. The resort's lavish suites present sweeping views of the ocean or mountains, as well as a regularly replenished minibar, 24-hour room service, and more for your convenience.
Book and SAVE on your vacation: Dreams Las Mareas Costa Rica packages are available at All Inclusive Outlet.
Barcelo Tambor
Conveniently situated on the acclaimed Tambor Beach, the all ages Barcelo Tambor offers personalized service designed to make every moment of your stay comfortable.  With over 400 Colonial-inspired rooms, you'll enjoy scenic views from a private terrace or balcony furnished with a table and chairs. Additional comforts such as a living area, satellite TV, and more will make you feel at home. When that craving hits, Japanese cuisine, plates of seafood, and mouthwatering burgers are just a few of the meal options to be savored.
Parents don't need to worry about entertaining their kids. Friendly staff members keep youngsters happy with a program of activities designed just for children and teens. Young visitors will also appreciate the resort's paddle pool and bungee jumping trampoline. Meanwhile, moms and dads can enjoy full pampering at the acclaimed U-Spa where massages, exfoliation, and a variety of other treatments will have you looking and feeling your best. You'll also receive free greens fees as a Barcelo Tambor guest when you play a round of golf of Los Delfines Golf & Country Club!
Book and SAVE on your vacation: Barcelo Tambor packages are available at All Inclusive Outlet.
Occidental Tamarindo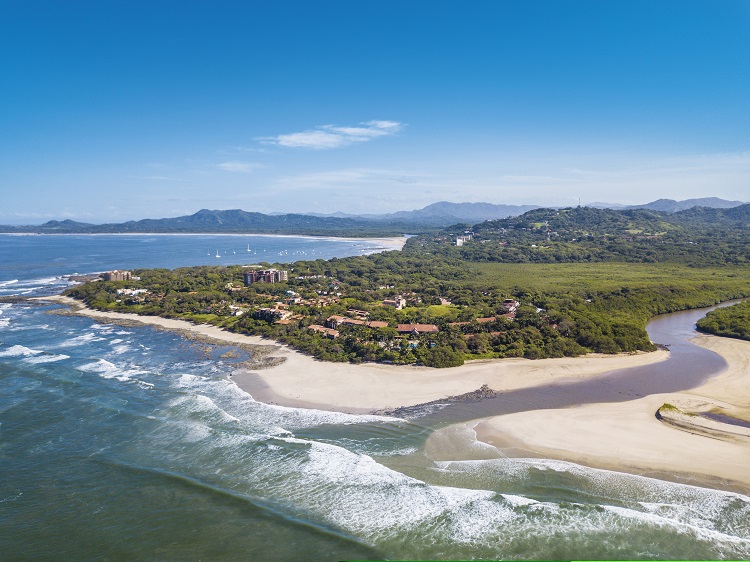 The best all inclusive resorts provide a seamless blend of relaxation and adventure — two of the top qualities at Occidental Tamarindo. Kick back in a spacious suite featuring a minibar, espresso machine, scenic views, and more. Once you're fully recharged, you'll be eager to take on beach volleyball, archery, or dance lessons. Sign up for a catamaran or canopy tour to get your heart racing. When the sun sets, you'll love the nighttime entertainment, which will have you tapping your toes and singing along.
Cuisine is also a big deal at Occidental Tamarindo. Enjoy buffet breakfast, lunch, or dinner at the Langosta Main Restaurant, experience sophisticated dining at El Océano Restaurant, grab a snack at Las Baulas Snack Bar, or sip on your favorite beverage at Lobby Bar La Tortuga. No matter what you choose, we guarantee you won't be disappointed!
Book and SAVE on your vacation: Occidental Tamarindo packages are available at All Inclusive Outlet.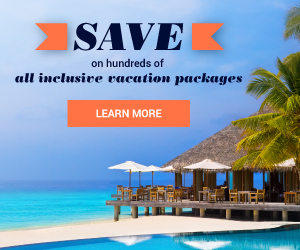 RELATED: Best Places to Stay in Costa Rica
Riu Guanacaste Costa Rica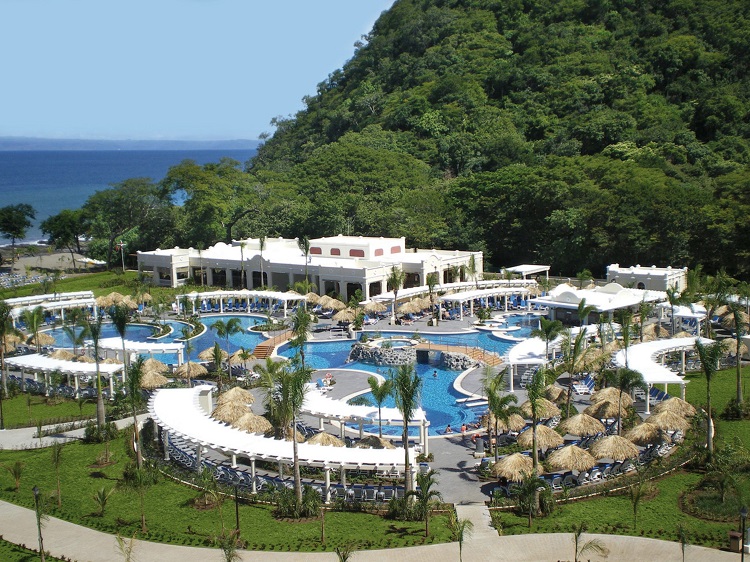 Riu Guanacaste Costa Rica overlooks the dark sands of Mata Palo Beach, which provides an unforgettable backdrop for your all inclusive adventures. If your idea of a perfect vacation includes poolside relaxation, you'll appreciate the resort's freshwater swimming pool. You're also welcome to relax in the Jacuzzi or in a lounger near beautiful hedges for the privacy you desire.
The pool and beach at Riu Guanacaste Costa Rica are so wonderful that you'll struggle to get away — but if anything can entice you, it's your beautiful room or suite. You'll enjoy quiet moments and lavish amenities like free Wi-Fi, a minibar and refrigerator, views of paradise, and more. Once you're fully rested, stroll through the lush gardens, participate in water aerobics, or challenge your new best friends to a game of table tennis. Several offsite excursions, like a day at Rincon de la Vieja National Park,  are accessible from the resort, so don't hesitate to sign up for an unforgettable experience!
In between all the excitement, you can feed your hunger buffet-style or in a sit-down restaurant. Themed buffets occur three times a week and snacks are available 24 hours a day to satisfy your appetite whenever you need. To top it all off, you'll have access to unlimited beverages so your favorite drink is never too far out of reach.
Book and SAVE on your vacation: Riu Guanacaste Costa Rica packages are available at All Inclusive Outlet.
Secrets Papagayo Costa Rica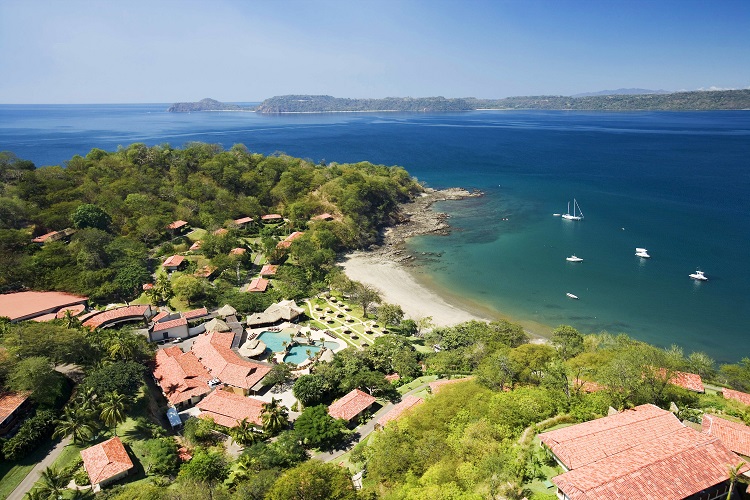 Make the most of Costa Rica's mystical environment at the adults-only Secrets Papagayo Costa Rica.  This ultra-romantic resort is the perfect destination for couples looking for a tranquil getaway. Lavish accommodations serve as your own private oasis so moments of relaxation go undisturbed. You don't even have to leave your room if you don't want to. 24-hour room service allows you to stay put day or night while still enjoying the resort's fine dining options. When you decide to join the rest of the crowd, international dishes, grilled favorites, snacks, and top-shelf beverages are yours for the taking. Reservations aren't required, so don't be afraid to indulge!
There is always fun to be had at or around Secrets Papagayo Costa Rica! Join a snorkeling tour, sign up for a sunset cruise, or learn meal prep tricks from culinary experts. When you're not taking part in exciting adventures or memorable cultural excursions, cocktail parties, karaoke, and live music will keep you and your loved ones entertained when evening arrives!
Book and SAVE on your vacation: Secrets Papagayo Costa Rica packages are available at All Inclusive Outlet.
Let's recap the top cheap all inclusive resorts in Costa Rica
Not only is it possible to vacation in Costa Rica on a budget, you and your fellow travelers can  delight in the best of  all inclusive luxury without breaking the bank. We offer the best discounted vacation packages so you can save big without compromising the quality of your vacation. Just visit All Inclusive Outlet today and start planning your next beach getaway!