Featured Resort of the Week: Couples Tower Isle
Nestled in Jamaica's famous Ocho Rios coastline, Couples Tower Isle is the perfect adults-only destination during any season! Couples Resorts caters towards romance, and each resort is free from the stress of the outside world. At Tower Isle, you have the brilliance of Jamaican culture combined with a serene setting plus all of the extras you've ever dreamed about! Spend your day with exciting activities from waterfall tours to swimming with dolphins, or relax with world-class spas and candlelit dinners. Perfect for couples, groups, plus honeymoons and destination weddings, Couples Tower Isle offers the best of Jamaica in one all-inclusive resort!
Retro Suites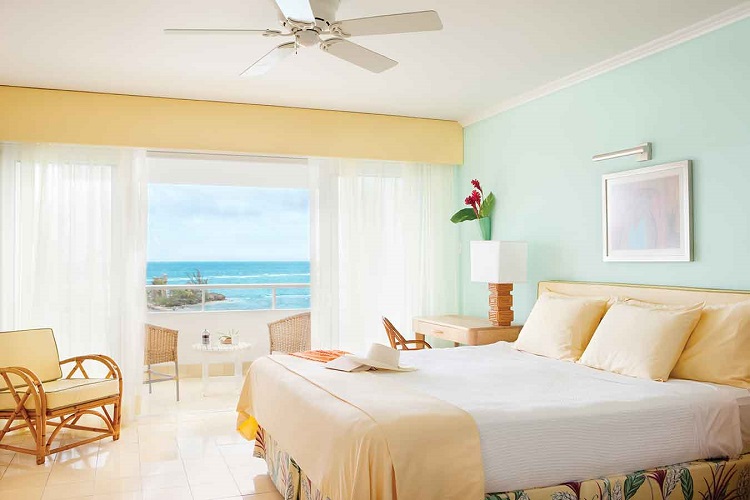 Every room at Couples Tower Isle features a plush king bed, walkout balcony with an ocean or mountain view, plus a calming interior with everything you need for your stay. The rooms are open and spacious, and the creamy tan and baby blue walls are instantly relaxing. The retro designs evoke an Old World charm, and you'll feel like royalty in these spacious and stunning suites.
With 226 rooms, there's something for everyone from the Deluxe Garden Suite to the premier Oasis Spa Villa. The Oasis Spa series features a large family room with direct access to the Oasis Spa outside. Enjoy your own home beside the beach, and take advantage of your private plunge-pool and sun terrace.
The Junior Suites come with an ocean or mountain view, and you can indulge in the bubbling bathtub, enlarged living room, and crystal clear views. One Bedroom Suites are twice the size of other options, and they come with their own Jacuzzi bathtub. All rooms feature charging stations, MP3 radios, and flatscreen TVs for effortless in-room entertainment. Plus, all balconies comes equipped with a coffee table where you can relax while taking in the stunning views.
Tropical Activities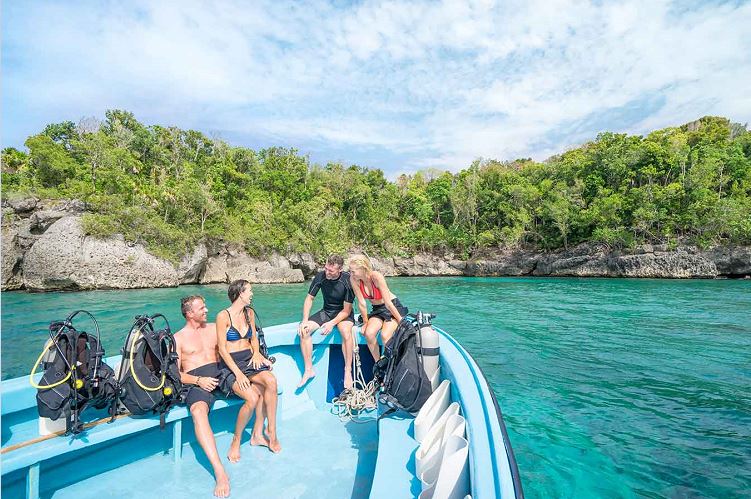 Couples Tower Isle combines the breathtaking beauty of Ocho Rios with incredible all-inclusive offerings! Nearby attractions include Dunn's River Falls, wonderful hiking trails, plus dolphin sanctuaries and scuba diving. At the resort, you can do everything from kayaking to snorkeling, volleyball, sailing, and more!
Go snorkeling and scuba diving alongside vibrant reefs and tropical fish, or stay dry and go on a glass-bottom boat tour for a perfect view! Go on a Catamaran cruise along the coast during sunset, or take time to play unlimited golf at the nearby course. Go on a hydro bike with your partner, or try water-skiing for an exhilarating experience! Paddle-boards are also available, and they offer a relaxing workout with tremendous views!
Take dance classes on the sand, or head to the spa for a delicate massage. Try your hand at yoga or join a meditation course in a sunlit setting. Couples Tower Isle has unlimited all-inclusive options for all tastes and occasions, and you can enjoy them whenever the mood strikes!
Fresh and Authentic Restaurants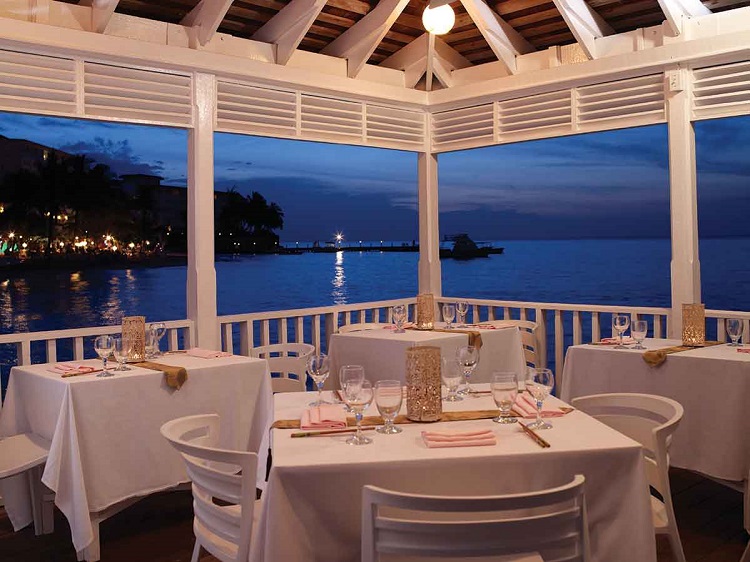 Couples Tower Isle features numerous world-class restaurants that bring island favorites alongside international classics. All meals are created from fresh and locally sourced items, and you can enjoy everything from island fish to grilled meats, vegetarian dishes, and classic buffets. Have a snack at the Patio Restaurant where fresh pastries mix with coffee in the daytime and Italian meals are brought to life in the evening. Plus, you have a direct view of the ocean throughout your delectable meal!
The Veggie Bar features great vegetarian options, and the Pool Grill has wonderful Jamaican offerings like jerk chicken and Jamaican patties. The Verandah features breathtaking views of the coast while serving up great Caribbean dishes. Bayside is an outdoor restaurant with Asian offerings while Eight World delivers classic Jamaican charm.
Have a private candlelit dinner on the beach with your own waiters, and then head to the piano bar for great music and drinks. Sip on martinis on the rooftop, or head to the lounge for a casual evening.
With exceptional nearby offerings, a pristine beach, plus more all-inclusive activities and perks than you can imagine, Couples Tower Isle remains one of Jamaica's best adults-only resorts!