Best Places to Visit in Mexico on Vacation – Ideas for Places to Go & More
July 1, 2017
*
by The AIO Team
*
2 Comments
With stunning coastlines, white-sand beaches and ancient architecture, Mexico remains one of the greatest vacation destinations in the world. The best places to visit in Mexico on vacation span from the east to west coast, each bringing their own flair to any all inclusive getaway.
The country continues to improve its world-class tourism industry, and visitors now have more options for relaxation and adventure than ever before.
We're breaking down some of the best places to visit in Mexico, which includes…
Riviera Maya
Cancun
Cozumel
Cabo San Lucas
Ixtapa
Huatulco
Mazatlan
What are the best places to visit in Mexico?
Families, couples, and groups of all ages can find something to love in Mexico's diverse regions, and there's always a resort nearby that caters to your vacation interests.
Whether you want to enjoy an adventure with your family, tie the knot on the beach, or have a romantic getaway, these are the best Mexican destinations for you to explore today!
Start searching for the best all inclusive Mexico vacation packages on All Inclusive Outlet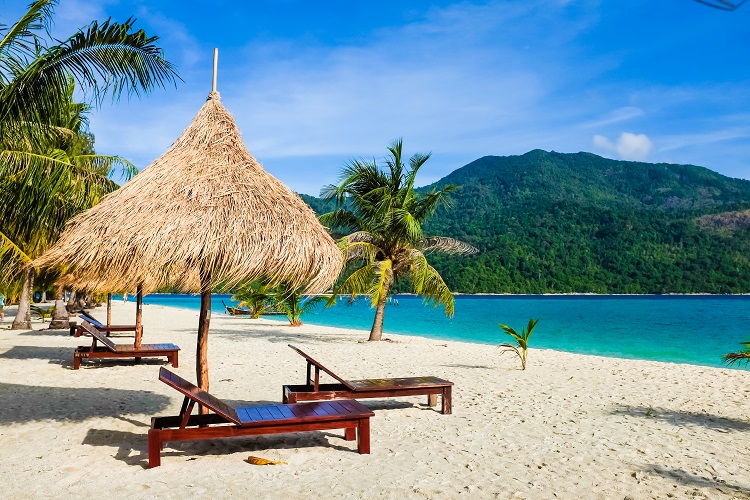 Riviera Maya vacations
With endless coastlines and historic Mayan ruins, plus some of the nation's best all-inclusive resorts, Riviera Maya is perfect for travelers of any age!
Families can enjoy day hikes, water activities and unique tours around the coastal towns.
Plus, many all-inclusive resorts come with water parks and other family-friendly activities to enjoy. Couples and newlyweds can also enjoy the area's stunning natural beauty alongside deluxe hotel offerings.
Cancun vacations
Long known for its wild nightlife, Cancun has grown to be a perfect destination for both families and spring breakers alike.
There is a specific Hotel Zone along the coast plus a zone designating the historic downtown area, making it an easy region to explore.
The resort zone features an endless list of all-inclusive properties that are great for families, couples, and events like destination weddings and honeymoons.
At night, Cancun maintains its reputation as Mexico's main party spot, but the daytime offers a pleasant calm where you can enjoy water sports, shopping, and more.
Cozumel vacations
Cozumel is a small island that has recently become a well-known hotspot for families and adventurers of all ages.
There are many family-friendly activities in town from snorkeling along the reefs to shopping, bicycle riding, and swimming with dolphins.
Couples can also enjoy the pristine beaches and lavish all-inclusive amenities such as romantic dinners and massages on the beach.
What are the best romantic places in Mexico?
While all of the previously mentioned destinations are great for any occasion, there are some Mexican regions that are perfect for honeymoons, destination weddings, and other romantic getaways.
Romantic vacations in Cabo San Lucas
With stunning beaches, boat tours around the scenic coastline, plus numerous 5-star all-inclusive resorts, Cabo San Lucas remains a favorite for couples and newlyweds. Enjoy quiet moments on the beach, candlelit dinners with a view, or go into town for endless nightlife options.
Romantic vacations in Ixtapa
A quiet fishing town turned resort hotspot on the Pacific Coast, Ixtapa is a romance-friendly destination with exclusive adults-only offerings for any occasion. Think breathtaking sunsets, gourmet cuisine and luxurious suites with views as far as the eye can see.
What are the best family-friendly destinations in Mexico?
There are numerous family-friendly activities in Mexico that can be enjoyed in any season, and while all regions can perfectly accommodate families, there are some that stand above the rest due to their wide array of kid-friendly amenities.
Family-friendly vacations in Huatulco
This friendly resort-town has everything you need to enjoy a family vacation right on the beach. With nine bays full of scenic views and trails, you can enjoy everything from group hikes to boating trips, beach volleyball, plus excursions into the historic downtown area.
Family-friendly vacations in Mazatlan
Take a bike ride down the endless coast, or enjoy your resort's exclusive onsite activities. The nearby downtown district is full of clubs and restaurants for the evening, and you can always find a family-friendly activity at any hour in this thriving region.
Let's recap the best places to visit in Mexico
These are some of the top places to go in Mexico on vacation, and each destination has its own unique culture and flavor that makes it worth exploring.
From relaxing coastal towns to party-driven communities, Mexico has something to offer everyone!
Plus, you have your choice of the world's greatest all-inclusive resorts to enhance your vacation. So pack your bags, bring some sunscreen, and enjoy these must-see Mexico attractions today.
Book an all inclusive resort in Mexico online today to find the best vacation packages and lowest rates on your next tropical getaway.
Get started with a price quote today: