Top 5 Golf Courses at All Inclusive Resorts
Your next tropical getaway deserves to be special, and staying at an all inclusive resort could be that perfect way to experience the Caribbean. Nothing beats fine dining, spa treatments, and beach activities at your fingertips, but there's one thing that can enhance any trip even more: a well-seasoned golf course by the water! We've hand selected our favorite top 5 resorts that feature masterfully designed golf courses with scenic views that are calling your name… to come enjoy a relaxing game in paradise!
Moon Palace Golf & Spa Resort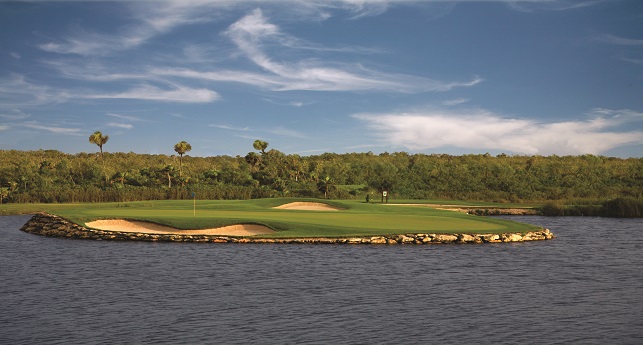 Cancun is full of picturesque beaches, ancient ruins, and opportunities for adventure and leisure alike. At Moon Palace Golf & Spa Resort, couples and even families can enjoy the best of the Caribbean in one fantastic package. Featuring 27 USGA and PGA certified holes along the water , the resort's famed golf course is actually one of Jack Nicklaus' licensed courses . The course is designed for professionals and hobbyists, and the resort also offers professional classes for all skill levels. The links are open each day from 6am until evening so that everyone can enjoy the striking views and sweeping gameplay on this one of a kind landscape!
Secrets Puerto Los Cabos Golf & Spa Resort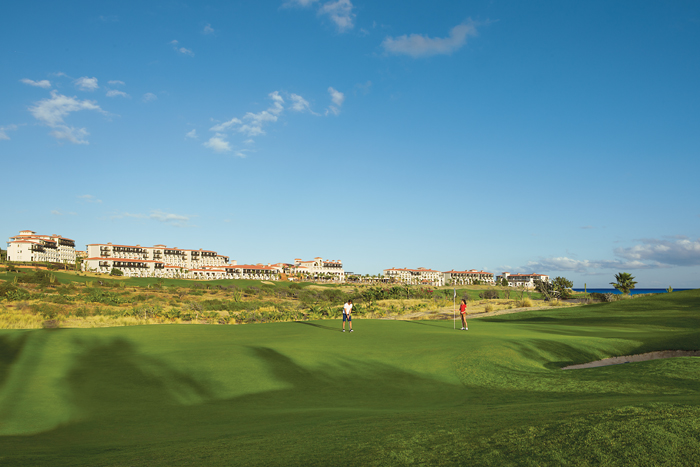 Secrets is renowned for their high-end inclusive offerings around the world, and their Puerto Los Cabos Golf & Spa Resort represents this theme well with incredible perks! Puerto Los Cabos is one of Mexico's gems complete with impeccable weather, delightful food, and a number of activities to choose from. For golf enthusiasts, this resort provides a challenging 18 hole course with breathtaking views along the ocean. Legendary golfers Jack Nicklaus and Greg Norman each designed their own half of the greens to provide a fun and exhilarating game in an unforgettable setting. Along with unlimited drinks, fine dining, and locally styled accommodations, Secrets hits a hole in one with this resort!
Grand Fiesta Americana Los Cabos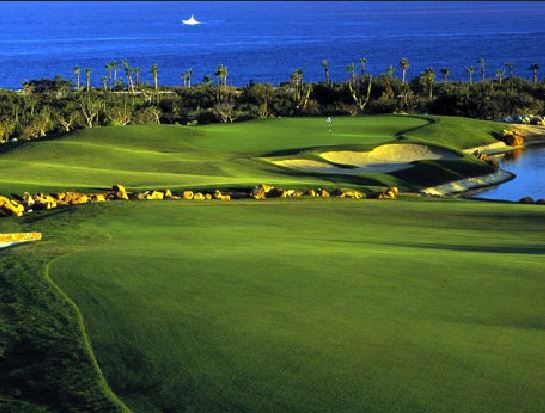 Los Cabos' pristine blue ocean mixed with warm white sand, tropical fauna and seductive weather makes it a year-round destination! At Grand Fiesta Americana, you can enjoy an all inclusive package that provides enough pampering and adventure to excite the entire family. Take snorkeling lessons onsite, enjoy the palm tree lined swimming pools, and taste world-class meals at the locally inspired restaurants scattered around the resort. With all of this, plus an unbeatable view from perfectly trimmed grounds, there's no better place to unwind! So, treat yourself to warm weather, cool breeze, and of course, the pleasure of golfing on the fresh greens right beside the ocean.
Catalonia Royal Bavaro Resort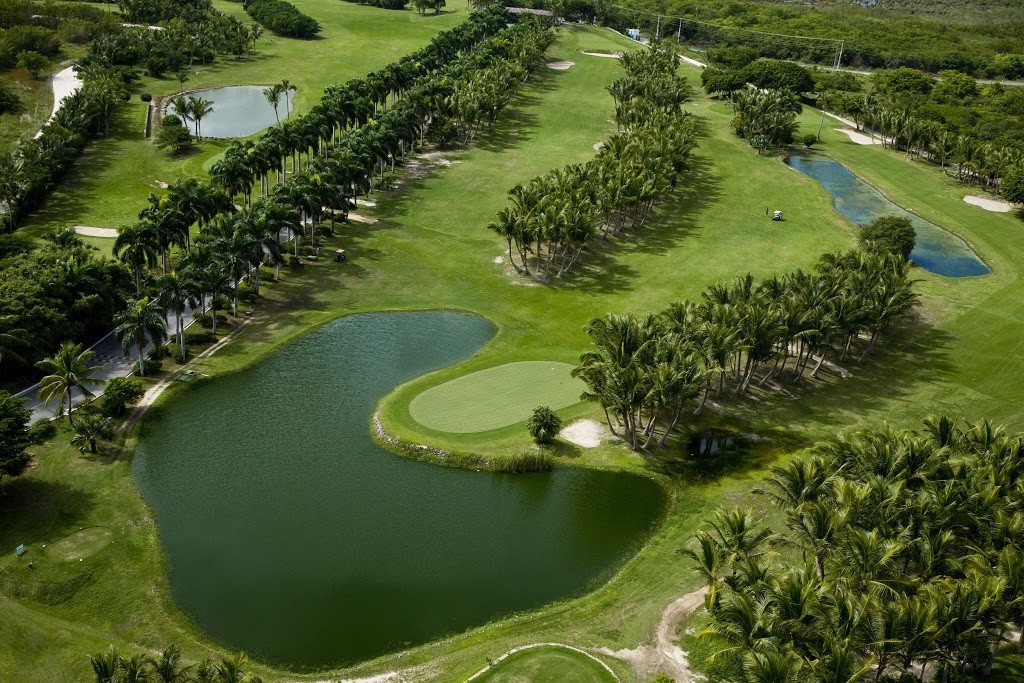 Located  in Playas de Bavaro, one of the best beach areas of Punta Cana, Dominican Republic, the Catalonia Royal Bavaro Resort provides an adults-only inclusive package in paradise! This beautiful resort features daily barbecues on the sand, nightly beach parties and music, specialized activities from locally styled arts and crafts plus water sport lessons. With your inclusive deal, you can take a free beginner's golf lesson or simply dive right into the onsite ocean-front golf course! After a great game, enjoy a few more adult themed perks such as:
A couples massage
A candlelit dinner
Dance parties
And more!
Majestic Resorts Punta Cana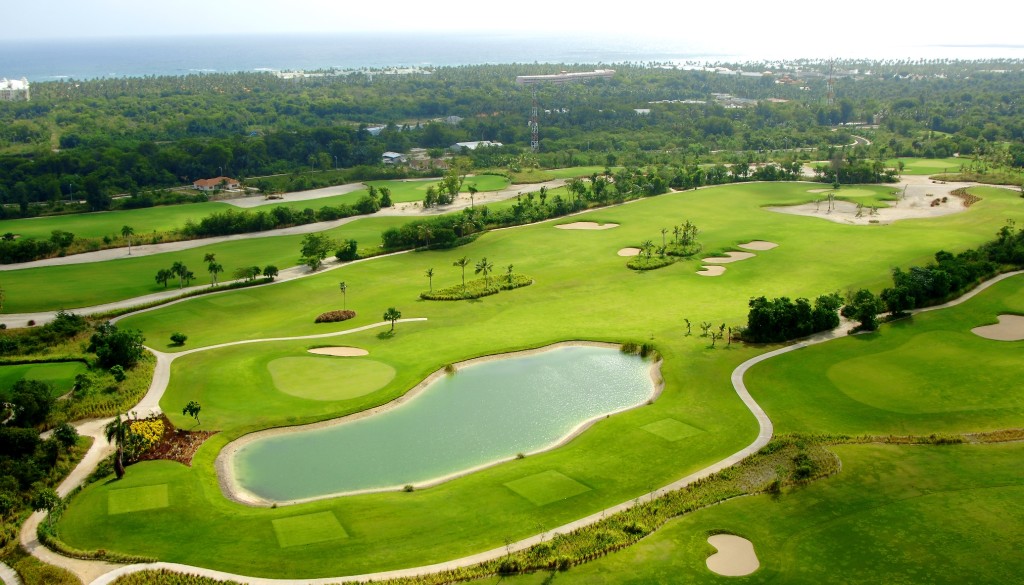 Also located on Punta Cana's famed Bavaro beach, Majestic Resorts Punta Cana is an all-inclusive treat for people of all ages! The 5-star resort features grand Caribbean architecture with light pastel colors to enhance the area's natural beauty. Numerous pools are sprinkled throughout the resort and the beach itself features palm tree canopies and inclusive services. Three golf courses beckon you at any hour, and each course offers its own set of features that benefit players of any level.
Long story short… we hope that for your next getaway, you'll tee up to take advantage of the luxurious inclusive offerings at one of these five amazing resorts, and hone your game while you're at it. Happy Travels!