Welcome to our New Website
As you can tell, we look a little different today!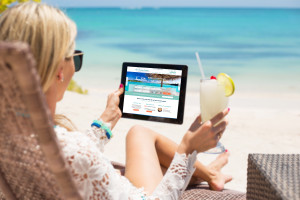 We're excited to guide you through our shiny, new-and-improved website, but before we begin, it's important to note we pay close attention to our loyal customers' needs and feedback.  With that in mind, we're still the old All Inclusive Outlet at heart – meaning your one-stop shop for the best deals on travel to the Caribbean, Mexico, Costa Rica, Panama and beyond, paired with the best customer service in the industry.
That aside we're thrilled to bring you a completely redesigned experience, which we hope you'll enjoy while booking your next escape.

 Start Exploring…
Not only do we have a brand new look, we've also added several new pages and content areas to make your travel planning journey even more fun (and convenient). Are you hoping to book your next amazing family vacation, a romantic getaway for just the two of you, or even an adventure for a group of your friends?   While you're there, are your priorities scuba diving, relaxing spa treatments or hitting the links?  If you still need help narrowing down your (many) options, we've also added tips from our travel experts, as well as trending destinations and favorite vacation photos from our favorite people (our customers)!  There's even more where that came from, so we hope you start virtually exploring here -> and then of course continue exploring once you reach your perfect destination.

 Prepare for Take-off…
We didn't just stop at new content and designs; we've also worked hard to revamp our online booking process, making check-out even faster and easier for you – whether on your computer or mobile.  Yet, despite these exciting 'renovations' you always have access to our dedicated Specialists if you prefer.  They're still just a friendly phone call away, ready to personally help with your booking, to answer any questions you may have, or even to share suggestions based on their own travels and site visits.

 It's always nice to come home…
We hope you'll get inspired just by looking around the new All Inclusive Outlet! And we hope you'll return for frequent updates on travel trends, hotel opening, tips for your itinerary, our latest Hot Deals, and so much more. Though rest assured, while we love our changing colors, our core philosophy remains; on our all inclusive travel planning blog you will still find countless top quality travel options at outlet prices. We will never divert from our mission to send you off on the best vacation for your money.  Simply go home to get-away!
From the whole team at All Inclusive Outlet — Happy Travels!