Featured Resort of the Week: Couples Sans Souci
Located in what locals call the "Jewel of Jamaica", Couples San Souci is an adults-only all inclusive property that towers above the rest! The resort rests on the northern Caribbean coast in the secluded Ocho Rios beach which is renowned for its soft sand, scenic hikes, and outstandingly clear waters. The rooms and amenities evoke classic European flair, but the activities and energy are pure Caribbean bliss! With adventure and passion in mind, Couples San Souci continues to innovate with its inclusive offerings and unique luxury.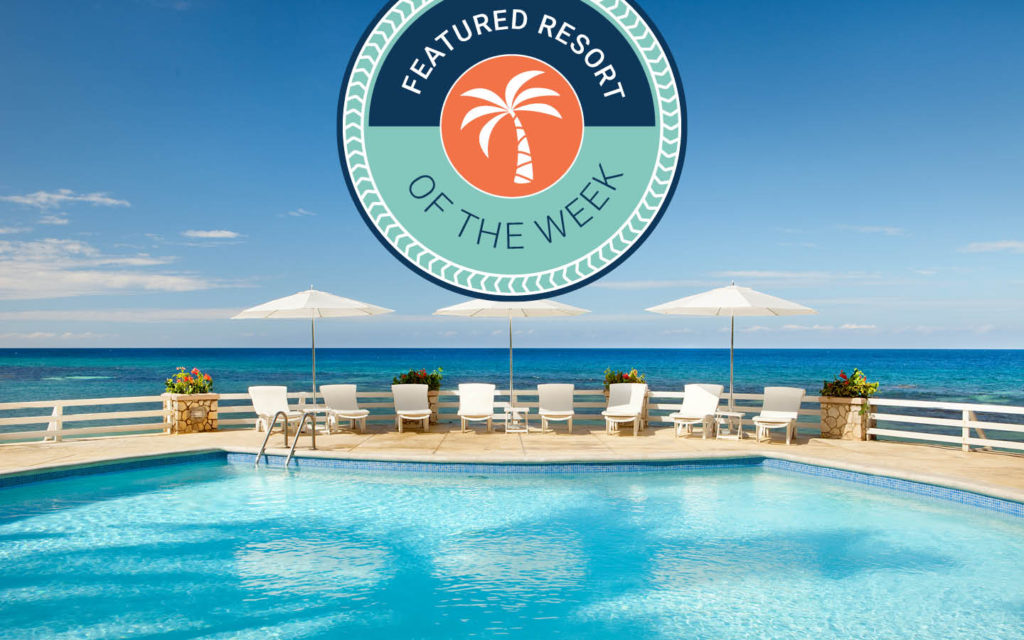 Tropical Rooms with European Amenities
Couples San Souci is located along a hillside for an incomparable view of the ocean, and with over 150 rooms to choose from, there's something available for every taste! The standard room is the Deluxe Ocean Verandah Suite which features a large master bedroom and fully furnished balcony overlooking the ocean. The room is designed with cream colored walls, blue and white bedding, and subdued couches and chairs. Each room also comes complete with a coffee machine, HD television, robes and slippers, plus other items to make you feel right at home.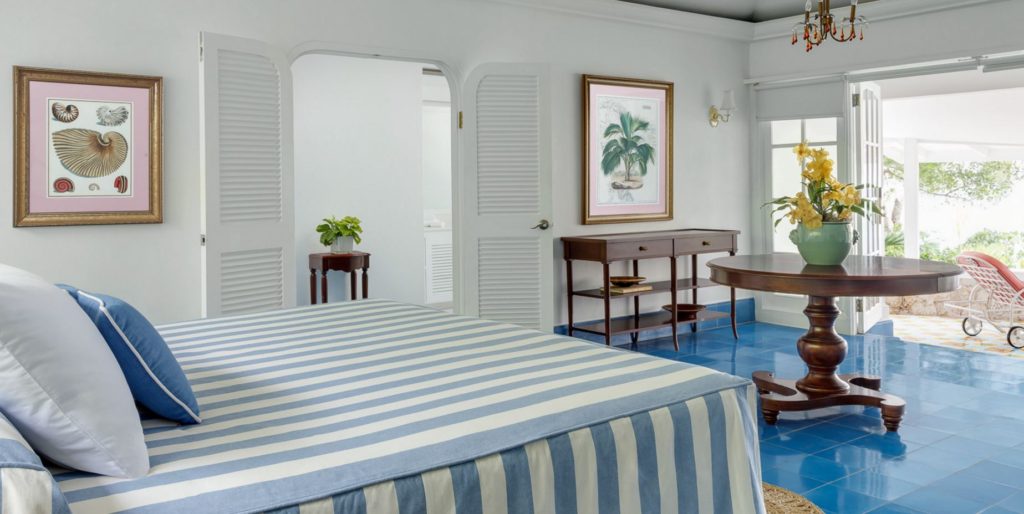 The One Bedroom Ocean Suite features an extended bedroom along with a large balcony furnished with a coffee table and couch. The view from this room is magnificent, and it's placed right near the resort's pool and spa so that extra luxury is always around the corner. The next room up is the Deluxe Ocean Suite which features French doors opening to a private and enclosed sitting area with an unforgettable view. The resort's most premium room is the Hibiscus Cottage which is privately nestled on a cliff with a full view of the ocean. It comes complete with a Jacuzzi, Infinity Pool, large master bedroom, and a tiled room-sized balcony… you'll need to see it to believe it!
All Inclusive Island Activities
Couples San Souci combines relaxing and unique services with adventurous activities so that you have full control over your vacation. Plus, all services are inclusive and available exactly when you desire them! The resort has four distinct swimming pools with ocean views and swim-up bars. Nearby are three more romantic Jacuzzis with scenic views. The Mineral Grotto combines natural mineral waters with a ruggedly beautiful pool for ultimate relaxation at any hour. The full-service onsite spa also includes massages, facials, couples massages, and more!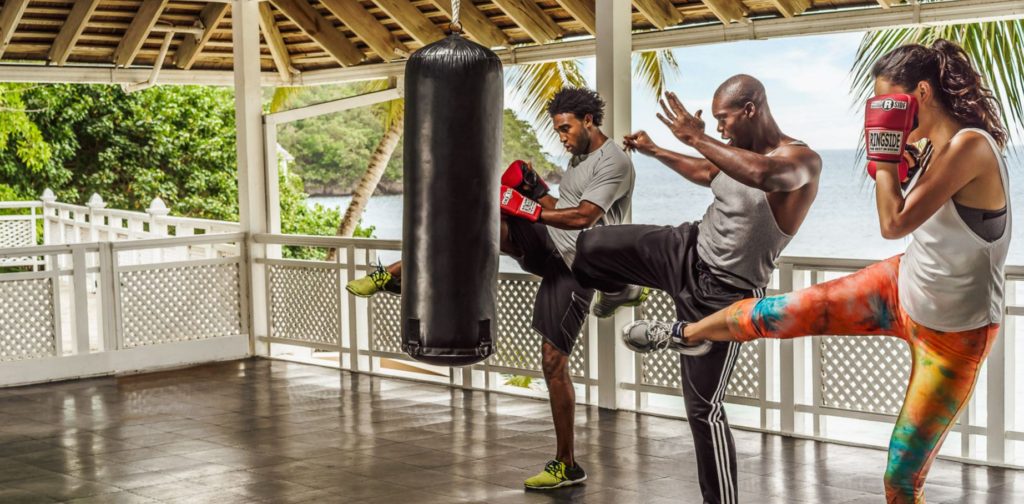 For adventure, try scuba diving with world-class instructors where you can experience the colorful sea life of the Caribbean. Try snorkeling for a more relaxing view underwater, or go kayaking for a leisurely above-water option. Head out further and go water skiing with a certified instructor, or try your hand at windsurfing for an unforgettable experience. Paddle boards, water bikes, and water volleyball courts are also available among other exciting features. Above and beyond this already exciting list are the many excursions available including bicycle tours, dolphin swims, plus estate and rafting tours.
Are you looking to stay active and healthy while on vacation? Try a yoga class along with water aerobics, guided meditation, or a round of tennis. Learn from the experts with massage classes, or enjoy the fully equipped gym at any time. With all of these inclusive activities and more, you have endless opportunities to create your trip as you please!
Unmatched Dining and Decor
From private dining on the beach to lavishly decorated restaurants and stripped down bar and grills, Couples San Souci has everything you need to stay delightfully satisfied. The Palazzina serves locally sourced food all day in a wonderful terrace by the beach while the nearby Casanova serves international dishes in a decadent white-cloth European setting. Outdoor bar and grills serve up fresh seafood and burgers, and the Veggie Bar has a grand selection of local fruits and veggies helping you to eat healthy all day (of course, if you want to stray from the diet on vaca, we encourage you to enjoy!). Bars and nightclubs are interspersed throughout the resort, but the Balloon Piano Bar really stands out with its intricate designs and amazing views.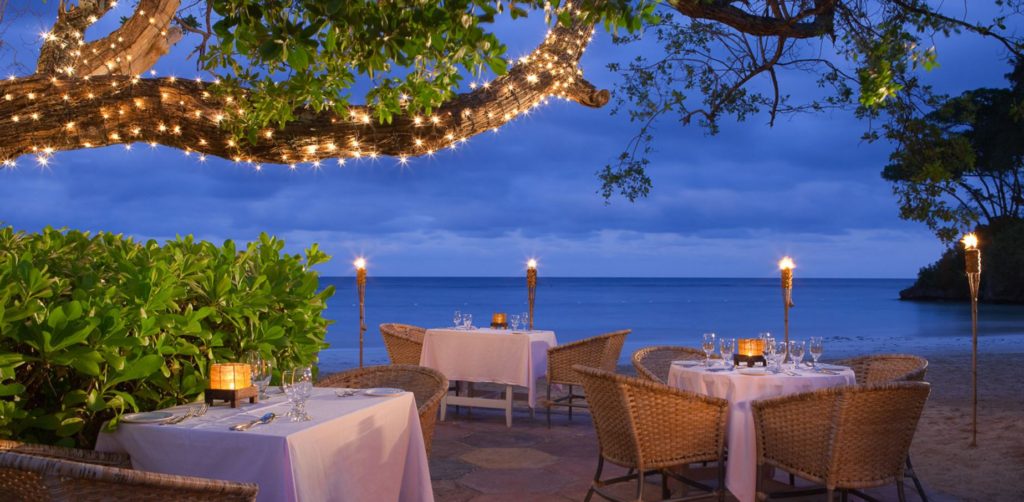 With dimly lit clubs, suave old-world restaurants, plus all of the tropical activities you can squeeze in throughout your stay, Couples San Souci is one of the best all inclusive resorts available today!