Featured Resort of the Week: Nickelodeon Hotel & Resort Punta Cana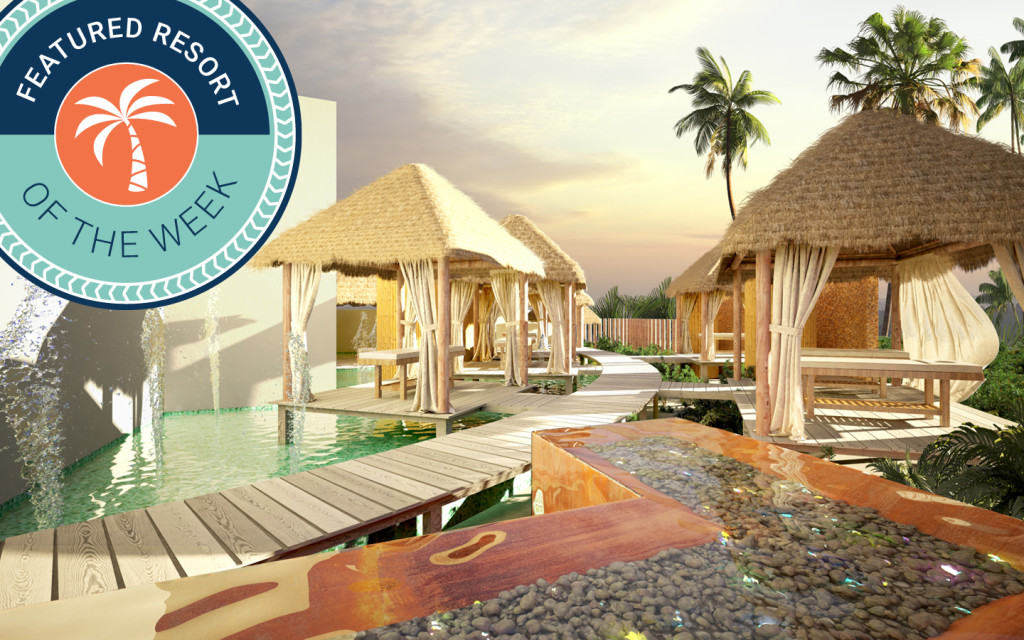 Located on the picturesque Uvero Alto beach in Punta Cana, Karisma's
Nickelodeon Hotels & Resorts Punta Cana
is the very first all inclusive offering from the global cartoon giant… and it's set to open in May! Nestled on the coast of Punta Cana, this idyllic resort offers activities guaranteed to please all ages in addition to incorporating all of the amazing Gourmet Inclusive® benefits that make Karisma resorts so special. With a healthy mix of family fun and adventure, plus the serenity and romance that parents crave, Nickelodeon Hotels & Resorts is one of the best offerings in Punta Cana today!
Luxury for Adults, Children, and Even Childish Adults
This one-in-all resort provides an all inclusive experience that mixes the quiet luxury adults deserve along with fun-filled themes and activities for the whole family. While kids will get a kick out of seeing their favorite characters, from Spongebob to Dora the Explorer, people of all ages can enjoy the water slides, lazy rivers and wave pools, plus "sliming" which is guaranteed to get a big laugh!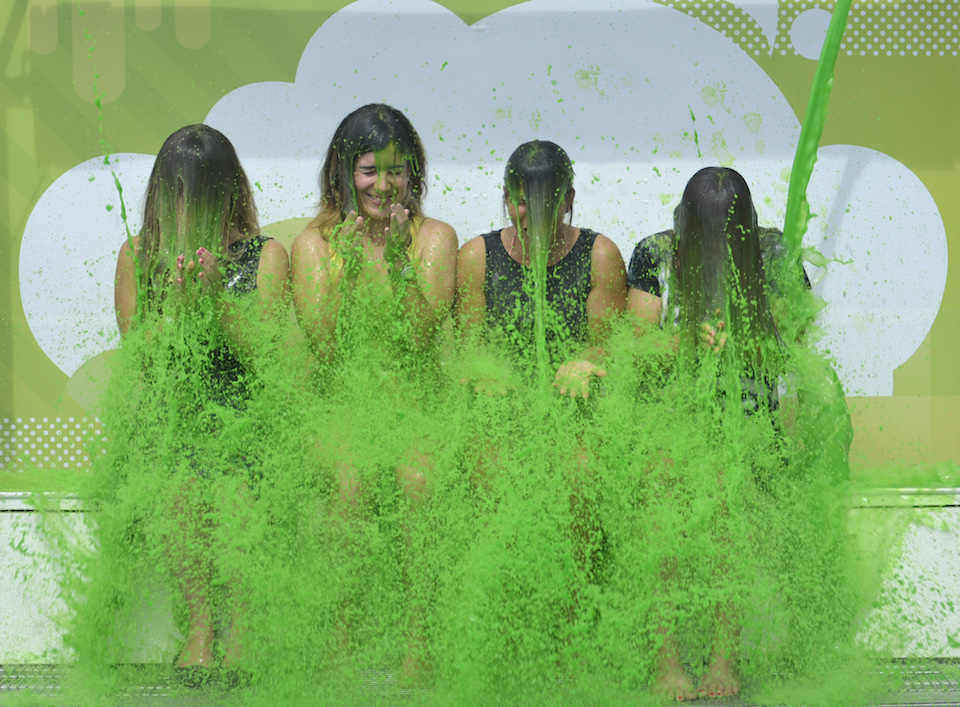 On the more mature side, the resort is designed in a super sleek fashion that meshes perfectly with Punta Cana's natural beauty. White walls blend with tan limestones, and the hardwood flooring is perfectly subdued. Outside, luscious palm trees line tiki huts, and cushioned recliners with beautiful beachfront views. Nickelodeon Village is where kids will have the most fun, and even the most skeptical adults will feel young again with all the games and surprises in store. The Village includes an artist's playground where guests can explore their creativity, a character meet and greet area, plus a gym where adults can hit the weights and treadmills. When it's time for a break, the other resort features are a nice distance from the kid-zone so that it never gets too loud.
Luxury Rooms and a Pineapple under the Sea
Nickelodeon Hotels & Resorts features over 200 deluxe rooms with seven different styles from classic-deluxe to a special Spongebob SquarePants Pineapple Suite. Each room is designed with space and tranquility in mind, and the leisurely designs include light whites, gentle blues, and a hint of Nickelodeon orange. The most basic room features a king sized bed (or two doubles) along with a playroom, dining room, pull-out bed sofa, large screen television, and a Jacuzzi bathtub in an oversized marble bathroom.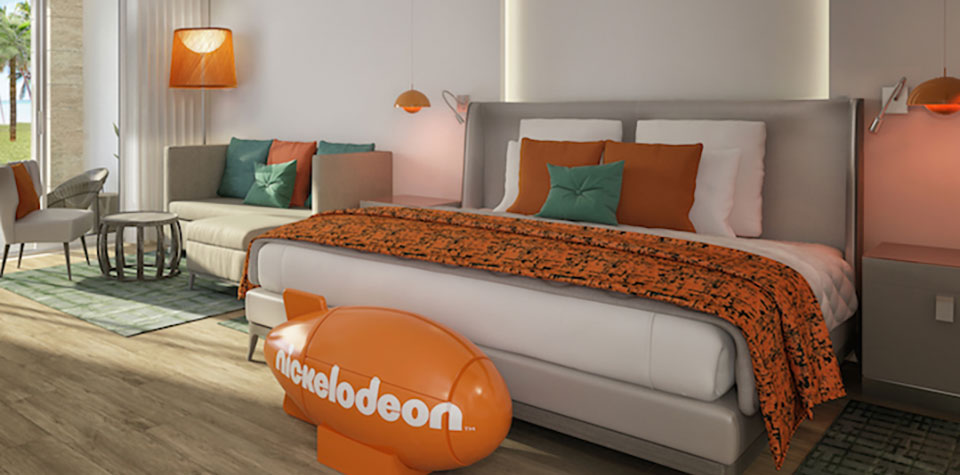 If you want to feel truly decadent, the next-level room is the same but features a swim-up Jacuzzi that connects to the terrace of your room. There are also flats, VIP suites with infinity pools, and of course, the Spongebob Pineapple which takes families into their favorite cartoon with a luxurious twist. Each room also features minimalist decorations from pineapples to sea snails and other beachy cartoon motifs.
Karisma's Gourmet Inclusive® Experience
After you've gotten your fill of cartoon characters, take a break and explore the numerous inclusive options at Nickelodeon Resort. There are lighted tennis courts, yoga and stretching classes, Spanish language courses — even free snorkeling gear so that you can explore Punta Cana's beautiful marine life. And if that's not enough, there are also dance and aqua aerobics classes along with cooking lessons from renowned chefs.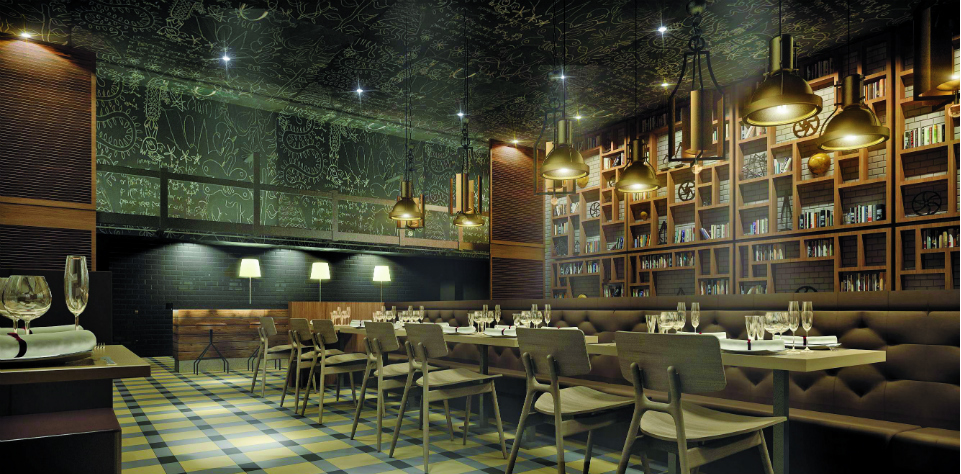 For dining, Nickelodeon has an assortment of restaurants that range from relaxing outdoor bars and grills to adult-only chic cafes. At Kitchen 23, adults can enjoy some peace and quiet with an imaginative meal blending international tastes with modern art for a truly unique experience. When it's time to eat with the whole family, Verdello offers traditional Sicilian cuisines while the open-air Lighthouse features localized Caribbean dishes. Burger lovers will have a field day with the artisanal meals at BRGRS.PH while Mediterranean cuisine can be enjoyed in the lavishly decorated Zest. Nickelodeon also provides inclusive award-winning cocktails, fine wines, and more for their adult guests.
Nickelodeon Hotels & Resorts Punta Cana is the ultimate getaway for kids, adults and even childish adults! With endless activities for the whole group, luxurious amenities, gourmet food and Nickelodeon fun, you'll want to come back for more!