Now Sapphire Riviera Cancun All Inclusive Vacations
All inclusive vacations in Mexico have gotten a whole lot sweeter. Picture a tropical landscape with powder-white sand under your feet and a light breeze coming off of the sparkling blue sea.
If this sounds like your kind of paradise, then you need Now Sapphire Riviera Cancun all inclusive vacations. This fabulous resort is the perfect escape where you can unwind and enjoy the beauty of paradise. It's located just 15 minutes away from the Cancun International Airport and welcomes travelers of all ages to its pristine shores. The resort also goes to great lengths to promote sustainability and ecotourism to ensure the local flora and fauna remain unharmed.
Ready to jet off on your beach vacation? Browse through hundreds of discounted all inclusive packages and SAVE BIG at All Inclusive Outlet >>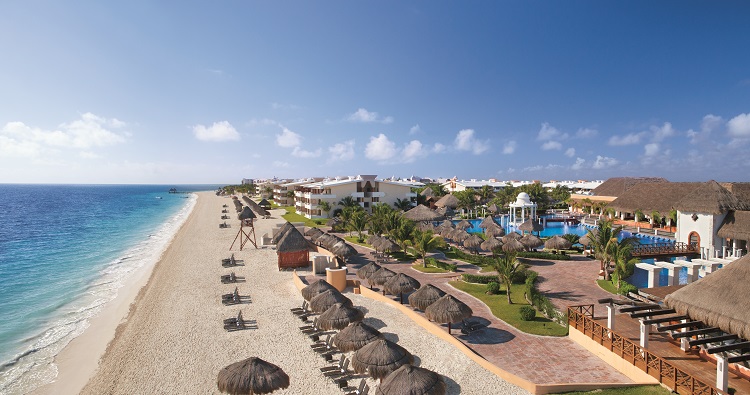 More information on Now Sapphire Cancun all inclusive vacations
What's Included?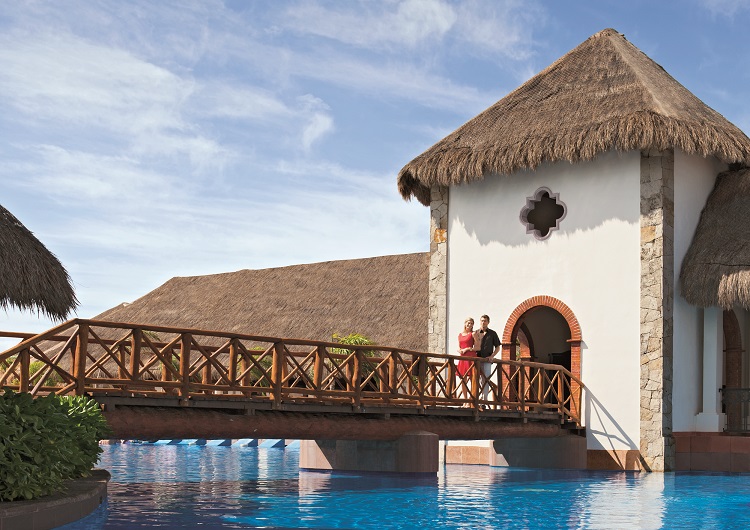 Unlimited-Luxury® at Now Sapphire Riviera Cancun takes your all inclusive experience to the next level. The resort's friendly staff will provide you with the utmost service and care. You'll also have all the necessities for a comfort and relaxed stay right at your fingertips.
Room service and concierge service are 'round the clock while waiter service is offered at the pool and beach. Your in-room mini bar is replenished daily; however, you'll always have access to drinks around the resort as well as gourmet dining options. Activities are abundant day and night to guarantee a good time and free Wi-Fi is available so you can stay connected. Even taxes and gratuities are rolled into the total cost of your trip.
Accommodations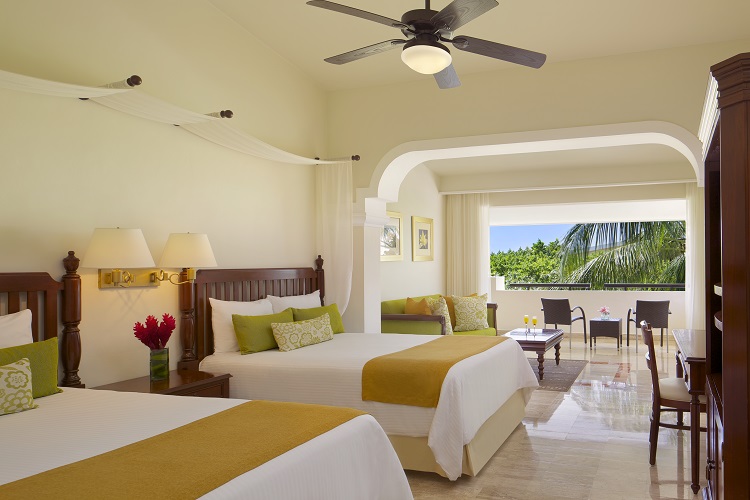 Accommodations at Now Sapphire Riviera Cancun provide the perfect blend of comfort and luxury. Each spacious suite is decorated with a Caribbean vibe and features an open seating area and private balcony or terrace. The resort even welcomes small dogs under 22 pounds if you wish to bring your furry friend along.
Preferred Club suites grant you access to exclusive privileges like pillow menus, personalized check-in and check-out, a private lounge, free access to the spa's hydrotherapy circuit, and more. Some Preferred Club room categories offer a swim-out option so you can walk directly outside to a semi-private pool. Just imagine starting your morning with a fresh cup of coffee while relaxing poolside before an exciting day in paradise!
Restaurants and Bars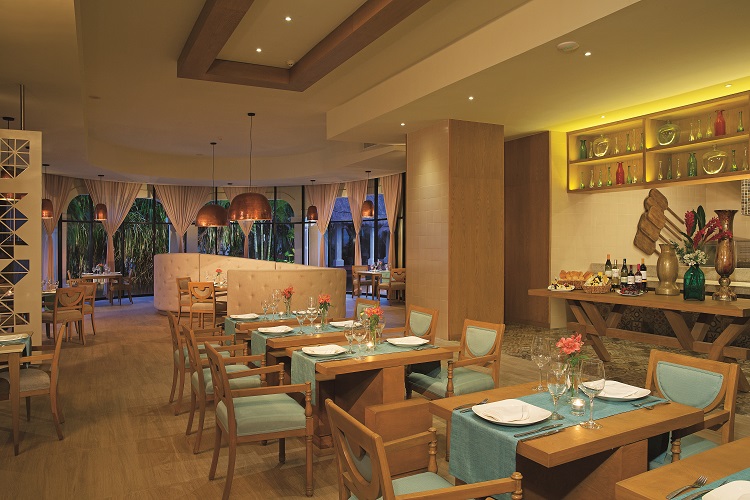 Reservation-free dining at Now Sapphire Riviera Cancun means unlimited options anytime you want. International cuisines like French, Asian, Mediterranean, and Mexican will delight your taste buds with authentic flavors. There's a grill and a buffet along with a café serving coffee and snacks.
Drinks at Now Sapphire Riviera Cancun are also unlimited. You'll have your choice of the best wines, beers, and cocktails to enjoy under the tropical sun or out on the dance floor once night falls.
The Sip, Savor & See option allows guests of Now Sapphire Cancun to venture out and dine at other nearby resorts, including Now Resorts & Spas, Dreams Resorts & Spas, Sunscape Resorts & Spas, and Reflect Resorts & Spas.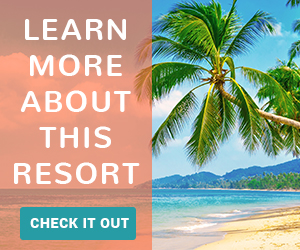 RELATED: Now Onyx Punta Cana All Inclusive Vacations
Activities and Amenities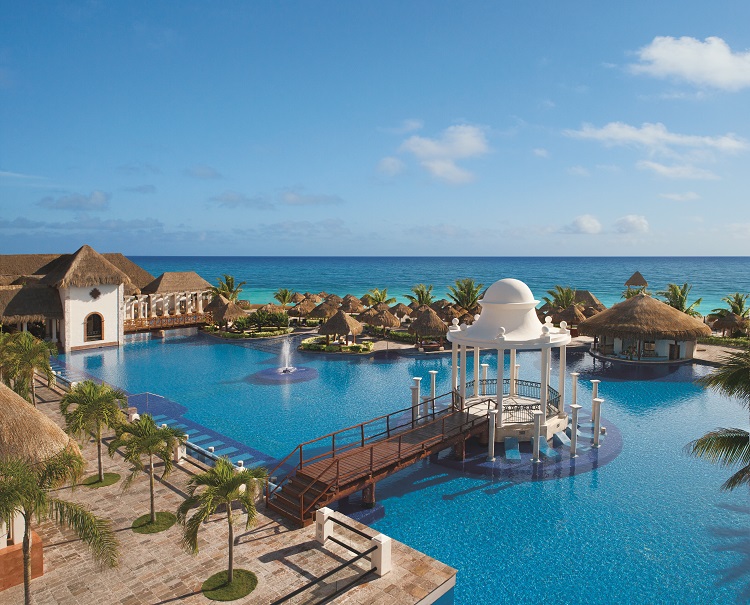 Now Sapphire Riviera Cancun ensures a good time during your stay. Soaking in the picturesque scenery is an activity itself, but within the resort's beauty is a world of play. Children will have a blast in the Explorer's Club while teens can hang for the day at the Core Zone Teens Club. Live shows and theme parties will entertain guests of all ages, plus activities like beach volleyball, soccer, yoga, and more provide hours of fun. If you're there during the right season, you can participate in the resort's Turtle Conservation Program in an effort to protect the sea turtle population.
Now Sapphire also has a wonderful spa where you can go for pampering and relaxation. Enjoy a relieving massage, treat your skin to a facial, or experience a traditional Temazcal healing ceremony. There's also a fully equipped fitness center to keep your workout routine in check.
Destination Weddings in Cancun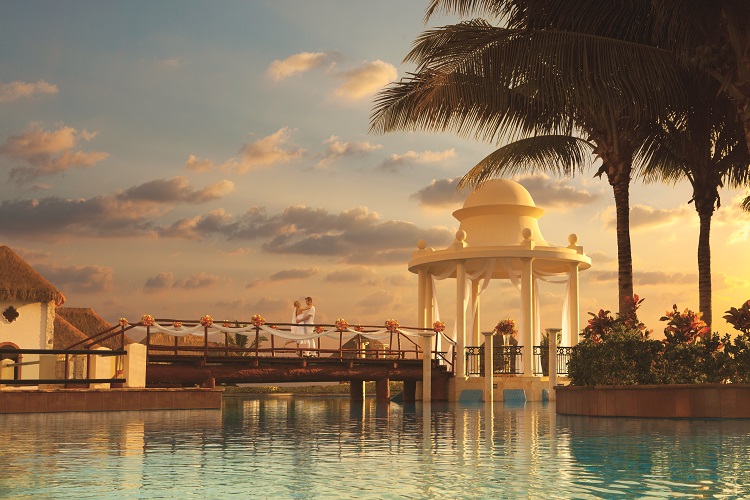 If it's your dream to have a destination wedding on the shores of Mexico, let Now Sapphire Riviera Cancun host your big day. Specially trained wedding coordinators will help you plan your picture-perfect wedding down to the smallest detail. Romantic spots around the resort, like the beach or a quaint gazebo, set the vibe to your ceremony with breathtaking views in the background.
Wedding packages are available at different price points so you can choose whichever one best suits your budget. Each package includes all the essentials needed for an unforgettable celebration, such as:
Bridal bouquet
Preparation of your wedding attire
Sparkling wine for the toast
Wedding cake
Late check out
A discount on spa services
And much more!
Related to: Now Emerald Cancun All Inclusive Vacations
Let's recap Now Sapphire Cancun all inclusive vacations
Now Sapphire Riviera Cancun is a treat for all to enjoy. Book your getaway to this incredible resort by visiting All Inclusive Outlet and searching for the best discounted vacation packages to Mexico.