The Top Dominican Republic Resorts to Visit in 2019
Why not start the New Year off with a bang and book yourself an all inclusive Dominican Republic vacation? Some of the most luxurious Caribbean resorts are pulling out all the stops to make your 2019 beach vacation one to remember.
Whether you're planning a dreamy honeymoon, a relaxing getaway with friends, or a fun-filled family trip, you won't be disappointed with our list of the top Dominican Republic resorts to visit in 2019:
Hard Rock Hotel & Casino Punta Cana
Zoetry Agua Punta Cana (adults only)
Paradisus Palma Real Golf & Spa Resort
Nickelodeon Hotels & Resorts Punta Cana
Barcelo Bavaro Palace
Excellence Punta Cana (adults only)
Iberostar Grand Hotel Bavaro (adults only)
Grand Palladium Palace Resort, Spa & Casino
Ready to jet off on your beach vacation? Browse through hundreds of discounted all inclusive packages and SAVE BIG at All Inclusive Outlet >>
Learn more about the top Dominican Republic resorts to visit in 2019
Hard Rock Hotel & Casino Punta Cana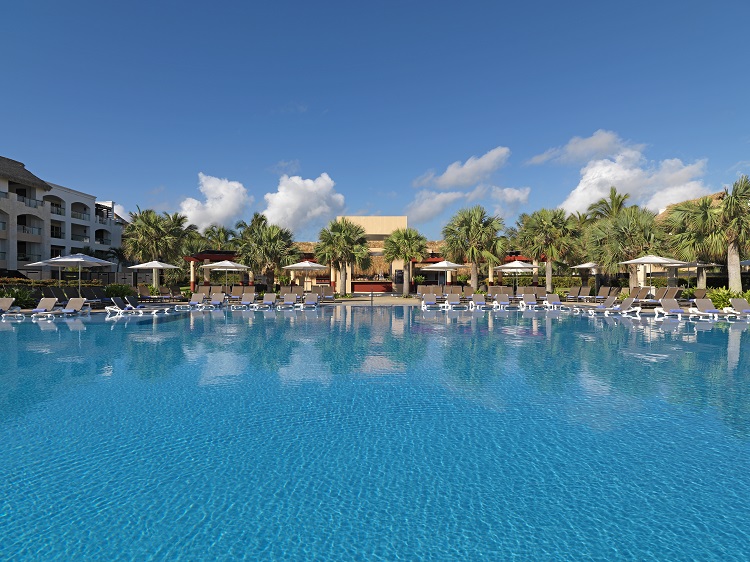 The name Hard Rock is synonymous with a rock star lifestyle. Accordingly, the all-ages Hard Rock Hotel & Casino Punta Cana delivers beach vacations worthy of rock royalty.
Thirteen unique swimming pools set along a Venetian-style canal are the main focal point of this stunning all inclusive resort. Swim-up bars and water slides add to their appeal and will have guests spending hours in the sun. Mini golf and an arcade are perfect for families while the Hard Rock Roxity Kids Club™ invites young ones to enjoy theme days, make new friends, and have nonstop fun. Adults can try their luck at the onsite casino or dance the night away at Oro Nightclub, and a relaxing spa welcomes all ages to treat themselves to head-to-toe pampering.
A wide range of fine dining options brings you on a unique culinary journey every day of your stay. Laid-back and elegant atmospheres set the tone as you dig into flavorful plates from Latin American, Mediterranean, or Asian. There's even an ice cream parlor for sweet treats and two delis for sandwiches and quick snacks during the day. Don't forget to grab a drink at any of the six bars and lounges where you'll enjoy top-shelf drinks and good company.
Spacious, well-appointed rooms and suites allow you to bring out your inner rock star. Furnished balconies, double hydro spa tubs, liquor dispensers, and much more will make sure you're indulging in the finer things in life, so you'll want to return for more!
Book and SAVE on your vacation: Hard Rock Hotel & Casino Punta Cana packages are available at All Inclusive Outlet.
Zoetry Agua Punta Cana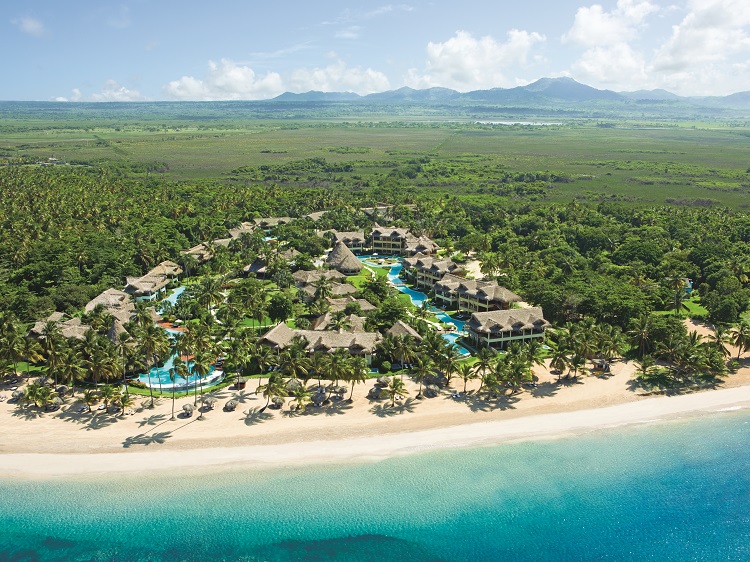 Zoetry Agua Punta Cana is a remarkable all inclusive resort located adjacent to the pristine beaches and blue-green waters of the Caribbean Sea. This wellness-focused brand welcomes you to enjoy its tranquil atmosphere surrounded by lush vegetation so you'll always feel at ease. Their Endless Privileges® concept gives you access to the best experiences and service without limits. Whether you're looking to be spoiled by 24-hour concierge service or want to try every activity offered, there's nothing stopping you from having it all!
Suite-only accommodations are furnished and outfitted for maximum relaxation and indulgent comfort.  Amenities like deluxe linens, Bvlgari toiletries, bottle of sparkling wine and fresh fruit daily, private balcony or terrace, and more help you feel completely relaxed. If you're looking to decompress in a tranquil setting, visit the spa for luxurious treatments. When hunger strikes, look no further than the resort's four gourmet restaurants where you'll dine on well-prepared meals consisting of the finest ingredients.
Experience a world of play when at Zoetry Agua Punta Cana. Splash around in one of two infinity pools or snorkel with colorful marine life. If you like to stay active, you'll appreciate yoga, aqua spinning, and a fitness center. You can also enjoy a wine tasting, horseback riding, bonfires on the beach, painting, and much more to make every moment in paradise count.
Book and SAVE on your vacation: Zoetry Agua Punta Cana packages are available at All Inclusive Outlet.
Paradisus Palma Real Golf & Spa Resort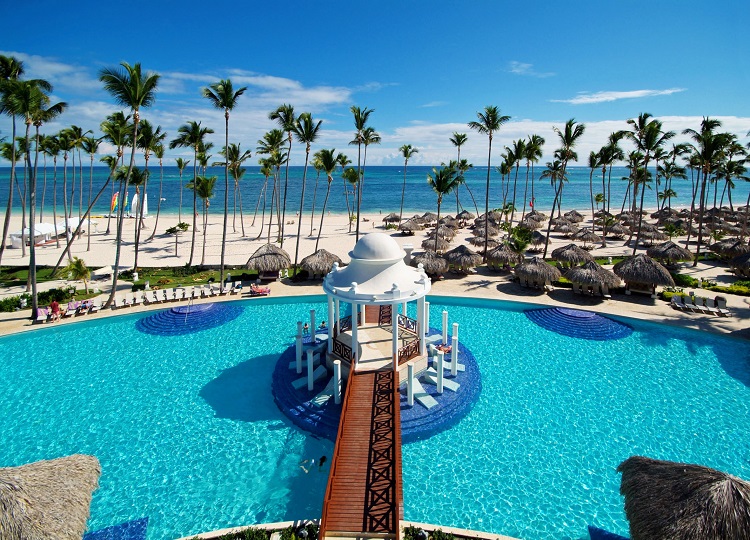 The award-winning Paradisus Palma Real Golf & Spa Resorts delivers a unique beach vacation for travelers of all ages. An intricate arrangement of pools weaves throughout the property, which is situated along an impressive stretch of white-sand beach. You'll be immersed in unparalleled luxury the instant you arrive.
Step into your suite where every detail is designed to make you feel spoiled. Enjoy a warm breeze from your balcony or terrace, unwind in your exclusive lounge area, or release your worries in your own hydro massage bathtub. Once you're refreshed, discover what else awaits you around the resort.
A variety of gourmet dining choices satisfy even the most particular foodie. Grab a quick bite by the beach at Brisas or dive into the international buffet at Naos. If you're in the mood for a steak, visit Rare or enjoy your favorite pizza at Olio. Other options such as Asian and Mediterranean cuisines are just as desirable and will keep you coming back for more.
Additionally, this all inclusive family resort offers an uncompromised number of activities. There's plenty to do for kids and teens, from land and water sports to classes and workshops. Adults have their own opportunities to experience dance classes, themed parties, sports, fitness, and more.  Golfers will appreciate the Cocotal Golf Course designed by Jose "Pepe" Gancedo. As a guest of Paradisus Palma Real, you'll enjoy complimentary green fees and of course… a good time!
If you're a Royal Service member, you'll have access to additional luxuries;VIP areas and exclusive services are available so you can experience the highest level of comfort and pampering before you return home.
Book and SAVE on your vacation: Paradisus Palma Real Golf & Spa Resort packages are available at All Inclusive Outlet.
Nickelodeon Hotels & Resorts Punta Cana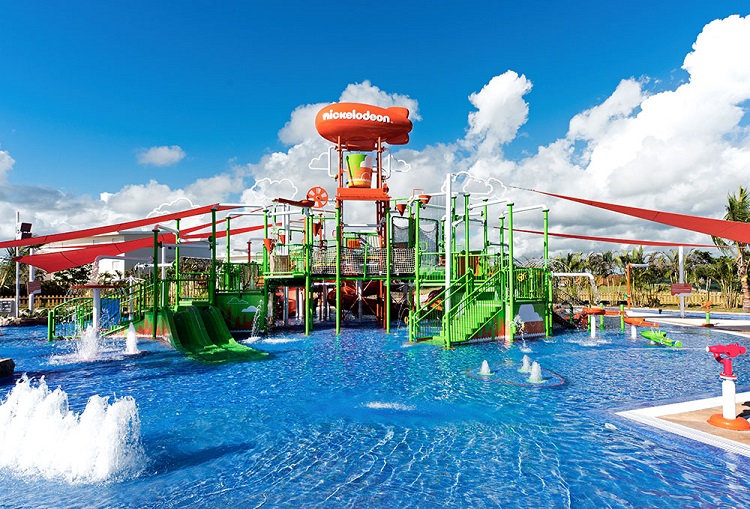 At Nickelodeon Hotels & Resorts Punta Cana, you'll find the ultimate fun-filled Caribbean vacation.  Designed with the entire family in mind, the all-suite-and-villa property offers a variety of accommodations to suit individual family needs no matter what age your little ones may be. Exclusive family-friendly amenities such as extra spacious balconies, complimentary baby food, children's robes, and more help you to feel as comfortable as possible from arrival to departure.
Families who want to enhance their Nickelodeon experience can book their stay in the Pineapple! Guests will enjoy SpongeBob-inspired décor, two bedrooms and three bathrooms, a private infinity pool, living and dining areas, and more. You'll even have private butlers taking care of your every need to guarantee your experience is truly remarkable!
Despite the overall concept being kid-centric, guests of every age will have a ball every minute of their stay, including adults! Go to breakfast in your PJs where familiar faces like SpongeBob, Dora the Explorer, Paw Patrol, and the Teenage Mutant Ninja Turtles will make an appearance. Spend an afternoon at the waterpark or play inside at the clubhouse. An entertainment complex offers a variety of games while Plaza Orange hosts parties and games for hours of excitement.
Dining ensures a unique, fun experience as you indulge in delicious meals like never before. Walk through time and space for international cuisine at Spacewalker or get your hands on a mouthwatering burger at BRGRS.PH. Additional options including Asian, Italian, and Mediterranean along with light bites and snacks ensure you're always satisfied. Plus, the swim-up bar serves alcoholic and non-alcoholic drinks to be enjoyed as you lounge beneath the tropical sun.
Book and SAVE on your vacation: Nickelodeon Hotels & Resorts Punta Cana packages are available at All Inclusive Outlet.
RELATED: Best Places to Stay in the Dominican Republic
Barcelo Bavaro Palace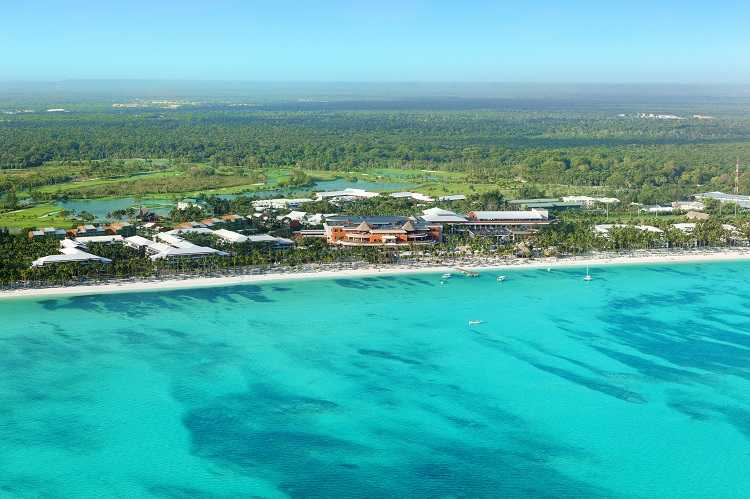 There is so much to love about Punta Cana's Barcelo Bavaro Palace. The recently renovated all inclusive resort was magnificently designed to balance authentic island charm with the contemporary desires of a high-end clientele. Guests will delight in its location on Bavaro Beach where swaying palm trees, white sands, and clear-blue waters create a picturesque scene for your getaway.
All-ages entertainment is available at Pirates Island Water Park and a Vegas-style theater, which puts on nightly shows for everyone to enjoy. A variety of sports like soccer, beach volleyball, tennis, and more welcome active vacationers to break a sweat before diving into one of the four onsite swimming pools. Both teens and adults have their own designated nightclubs while a 24-hour casino invites 18+ guests to try their luck.
At the end of each day you'll be relieved to retreat to the comfort of your spacious room or suite. Scenic views, a restocked minibar, LCD television, and other amenities will make you feel right at home. And when it's time to wine and dine, eleven restaurants will take you on a world-class culinary journey while eight bars make for ideal spots to let loose and relax with a drink in hand.
Book and SAVE on your vacation: Barcelo Bavaro Palace packages are available at All Inclusive Outlet.
Excellence Punta Cana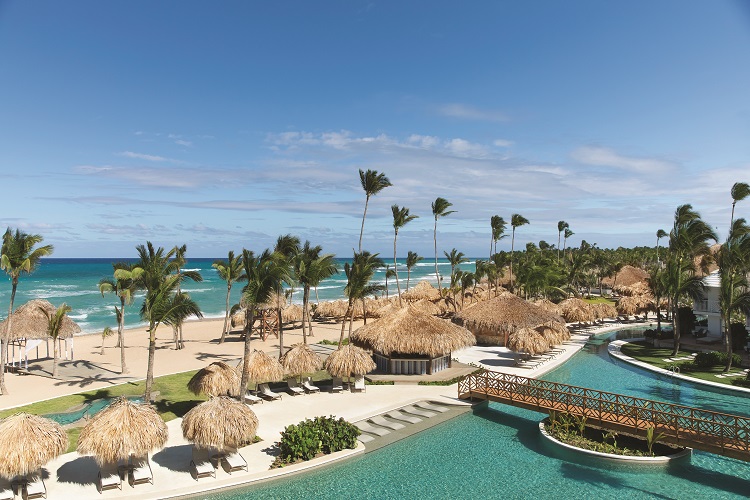 If a purely romantic getaway is on your radar for 2019, look no further than the adults-only Excellence Punta Cana. The charming colonial architecture and stunning beach provide the ideal backdrop for a dreamy retreat with the one you love.
Pure indulgence is the name of the game with a diverse range of dining venues. Whether you're in the mood for a sit-down meal or prefer to go buffet-style, you can have it. Options like fresh seafood, Japanese cuisine, Italian plates, and more will delight your taste buds down to the last bite.
Fill your days with exciting activities like horseback riding, windsurfing, snorkeling, and more. Two freshwater pools offer a quiet respite from all of the fun and frolic whenever you're in need of relaxation. Keep your feet moving all through the night with live music or sit back and enjoy an eye-popping show.
Bright, spacious suites welcome you into your own laid-back oasis. You'll enjoy breathtaking views, whirlpool bathtub, pillow menu, fully stocked minibar, and much more to make every moment of your stay unforgettable.
Excellence Punta Cana also offers honeymoon and anniversary packages for couples looking to celebrate their love in paradise. Enjoy romantic extras like 15% off spa treatments, one champagne breakfast in bed, special turn down service, and more to create a memorable getaway for two!
Book and SAVE on your vacation: Excellence Punta Cana packages are available at All Inclusive Outlet.
Iberostar Grand Hotel Bavaro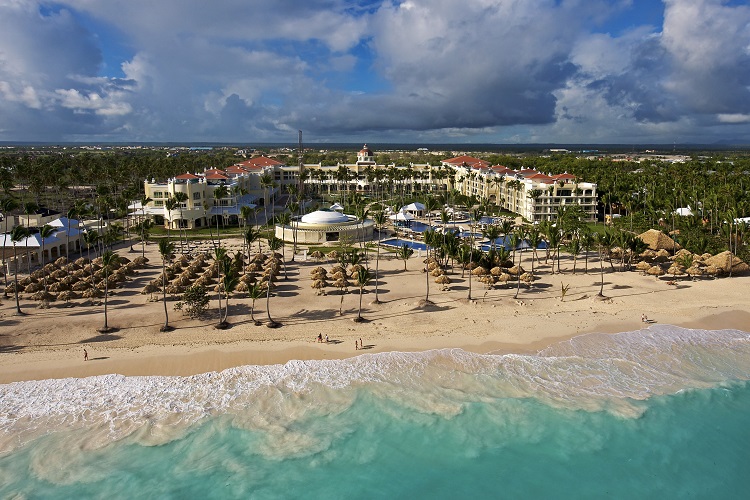 Iberostar Grand Hotel Bavaro is in a class of its own when it comes to Dominican Republic luxury resorts.  This adults-only property is swimming with refreshing pools, provides ample outdoor space to unwind, and sits on an impressive stretch of Caribbean beach.
Accommodations will envelop you in an unprecedented level of luxurious comfort. Settle into stylish décor, a marble bathroom, fine linens, 24-hour room service, and more. When you're able to pull yourself away from your room, join other guests in a range of land and water sports, take a fitness class, or get a world-class massage at the spa. At night, the Caribbean ambiance comes alive with energetic music and entertaining shows.
There's nothing quite like the dining options at Iberostar Grand Hotel Bavaro. Seafoodand international cuisines ranging from Japanese to Mediterranean will satisfy all cravings. The resort is also home to five different bars to fit every mood. Stop by the 24-hour lobby bar to start your day with a cup of coffee or ease into the night with a cocktail. Sit back with a drink and enjoy a show at the theater bar, relax at the cigar bar, or relish in a lively atmosphere at the music bar. And don't forget about the swim-up bar where you can sip on your favorite beverage poolside. That's what we call paradise!
Book and SAVE on your vacation: Iberostar Grand Hotel Bavaro packages are available at All Inclusive Outlet.
Grand Palladium Palace Resort, Spa & Casino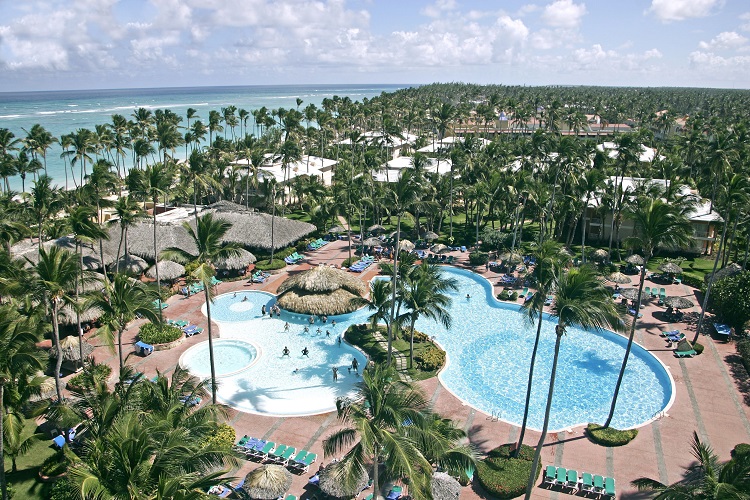 Once you catch just a glimpse of the pristine white sands of Bavaro Beach, you'll know that Grand Palladium Palace Resort, Spa & Casino is a fantasy destination for your Dominican Republic vacation. The resort's Infinite Indulgence® concept invites guests to enjoy all-ages fun combined with ultimate relaxation.
Ease into your stay poolside in the sun or stretched out on a beach chair. When action and adventure start calling, a variety of activities like tennis, water polo, kayaking, and much more are available. The resort features the Baby Club for ages 1-3, the Mini Club for ages 4-12, and the Black & White Junior Club for ages 13-19. Entertainment is offered day and night so all guests will always have something to look forward to. Adults will appreciate the casino and discotheque where the nighttime energy is high and the fun never stops!
In between all the excitement, you can sit down to savor delicious meals. Onsite restaurants serve world-class cuisines including Tex-Mex, Japanese, Italian, Mediterranean, Spanish, and Brazilian. Six bars, including a beach bar and a swim-up bar, have top-shelf drinks so can enjoy your favorite beverage whenever and wherever you please.
Your stay wouldn't be complete without beautiful accommodations. Rooms and suites have everything you could want and need, from a minibar and hydro massage tub to 24-hour room service and sweeping Caribbean views. For additional privacy and luxury, you can book a swim-up suite that gives you direct access to your own pool.
Book and SAVE on your vacation: Grand Palladium Palace Resort, Spa & Casino packages are available at All Inclusive Outlet.
Let's recap the top Dominican Republic resorts to visit in 2019
Don't let another year come and go without a visit to one (or maybe more) of these beautiful all inclusive resorts in the Dominican Republic. Head on over to All Inclusive Outlet for unbeatable rates so you can book your next tropical getaway today!