Barcelo Maya Riviera All Inclusive Vacations
Those seeking all inclusive vacations in Mexico may want to consider the brand-new Barcelo Riviera Maya. Opening in December of 2019, this adults-only resort is appealing thanks to its luxurious amenities, exceptional service, and the stunning beauty of its surroundings.
Barcelo Maya Riviera all inclusive vacations are also great because you get to experience the best of Mexico. The resort is south of Cancun on the Yucatan Peninsula. You'll enjoy beautiful beaches, warm climates, and a vibrant culture. There's always an opportunity for excitement, whether you're a romantic couple, adventurous single, or a group of friends who like traveling together.
Ready to jet off on your tropical getaway? Search through hundreds of discounted all inclusive packages and SAVE BIG at All Inclusive Outlet >>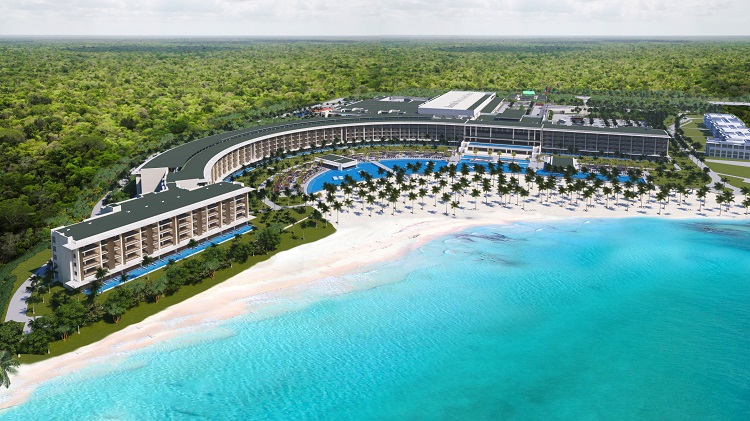 Let's explore the details of Barcelo Maya Riviera all inclusive vacations
What's Included?
Your Barcelo Riviera Maya vacation package includes everything you'll need for a memorable stay. Spacious accommodations, well-crafted cuisine, and daytime and evening entertainment promote fun and relaxation. You'll be greeted with a welcome cocktail, and there's towel and chair service at the pool and on the beach.
There's another huge benefit to your vacation experience Barcelo Maya Riviera. As a guest, you'll have access to other resorts within the Barcelo Maya Grand Resort complex. You'll be able to enjoy all the facilities and amenities at five additional properties. Guest transportation service is available from 8:00 a.m. to 2:30 a.m. so you can visit the different resorts whenever you please.
Accommodations
Barcelo Maya Riviera has 850 fully equipped rooms. Many offer views of the sea while the rest feature stunning garden views. 110 of the rooms are swim-up if you wish to have private access to the pool. Other amenities include hot tubs, fully stocked minibars, sofa beds, coffee machines, robes and slippers, and more.
Room sizes range from Junior Suites starting at 495 square feet all the way up to the Premium Level Ocean View Presidential Suite at 1,560 square feet. If you opt for a Premium Level room, you'll receive extra perks. Enjoy personalized check-in and check-out, aromatherapy menu, exclusive use of the Premium Level Lounge, concierge service, petit fours and a bottle of sparkling wine upon arrival, and more.
Restaurants and Bars
Barcelo Maya Riviera has five onsite restaurants. Feast on French, Italian, Mexican, and Japanese plates prepared by expert chefs. You can also dig into a buffet featuring international fare for breakfast, lunch, and dinner.
Additionally, the resort has five bars. Whether you're cooling off at the pool or simply enjoying downtime in the lobby, your favorite drink isn't far from reach.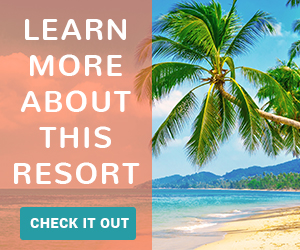 RELATED: Barcelo Bavaro Beach All Inclusive Vacations
Activities and Amenities
When you're at Barcelo Maya Riviera, there's no reason why you shouldn't vacation just the way you like it. The white-sand beach is as inviting as the sparkling pool for some relaxation. The resort features a fitness center and mini golf course, plus there's a wide selection of land sports and non-motorized water sports to try out. Guests will also love Venture Fly and Ride. This adventure park has thrilling attractions like zip lines, a rope course, go-karts, bungee swing, and more.
Off-property activities are also abundant. The city of Playa del Carmen is just 12 miles away for more beach time along with great restaurants and shops. Nature lovers can explore colorful coral reefs or the caves of the Rio Secreto. If you enjoy culture, you won't want to miss the Tulum archaeological site.
Destination Weddings in Riviera Maya
Barcelo Maya Riviera wants to help you create the destination wedding of your dreams. They provide top-notch service from a professional wedding planner to ensure you're working with someone who's committed to every detail of your big day.
Couples can choose from a selection of wedding packages. Each one is designed to match different styles, plus they come at various price points so you can stick to your budget. You'll also have the beautiful backdrop of Riviera Maya to set the mood for a romantic celebration. Additionally, the resort offers South Asian wedding packages and Catholic weddings.
Related to: Explore all inclusive vacations at Barcelo Maya Palace
Let's recap all inclusive vacations at Barcelo Maya Riviera
If you're ready to explore Barcelo Maya Riviera and all of its luxuries, start planning your trip today. Visit All Inclusive Outlet today and search through the best adults-only vacation packages to Mexico.