Best All Inclusive Vacations for Kids
The beach makes an excellent vacation destination for kids so they can splash around in the water or build sandcastles! But what about keeping them busy during those times they're not playing in the sand? Plenty of resorts make sure they offer kid-friendly activities and entertainment so everyone from your teens to the little ones has as much fun as their parents while away!
It will feel like Christmas when kids discover what's offered at these all inclusive beach resorts:
Generations Riviera Maya – Riviera Maya, Mexico
Hilton Rose Hall Resort & Spa – Montego Bay, Jamaica
Nickelodeon Hotels & Resorts Punta Cana– Punta Cana, Dominican Republic
Beaches Turks and Caicos Resort Villages & Spa – Turks and Caicos
Coconut Bay Beach Resort & Spa – St. Lucia
Royalton Negril – Negril, Jamaica
Grand Bahia Principe El Portillo – Samana, Dominican Republic
Hard Rock Hotel Vallarta – Puerto Vallarta, Mexico
Moon Palace Cancun – Cancun, Mexico
Ready to jet off on your beach vacation? Search through hundreds of discounted all inclusive packages and SAVE BIG at All Inclusive Outlet >>
More on the best all inclusive vacations for kids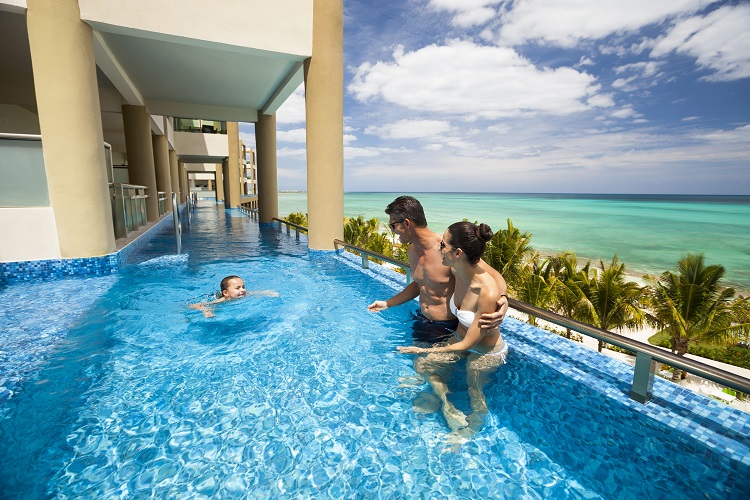 The family-friendly, all inclusive Generations Riviera Maya is equipped with all the right necessities to ensure even their youngest guests are entertained and taken care of 24/7. Baby amenities such as strollers, bottle warmers, Pack n' Plays and much more are available so parents can keep their babies comfortable and content at all times. For children ages 4-12, the Eko Kids Club™ offers activities from books and movies to crafts and video games to keep kids entertained for hours, all while being supervised by resort staff. The Little Eko Chefs™ program educates young ones on food preparation through a variety of interactive classes where they'll learn to make sushi, tortillas, ice cream, and more. Finally, the Teens Club is a laid-back setting where ages 13 and older can enjoy movies and games while socializing with their peers!
Suites at Generations Riviera Maya all feature ocean views that will even impress the youngest travelers. Spacious accommodations including two-bedroom and three-bedroom suites are ideal for families and allow enough room for the most energized kids to move around in. In-room Jacuzzis and smart TVs provide enough entertainment for those moments of downtime when you're not out exploring the surroundings. Four individually unique restaurants offer a range of international cuisine like Mexican and Asian to satisfy even the pickiest eater! Plus, numerous activities including an exclusive kid's pool, boogie boarding, and snorkeling guarantee a fun-filled vacation for all!
Book and SAVE on your vacation: Generations Riviera Maya packages are available at All Inclusive Outlet.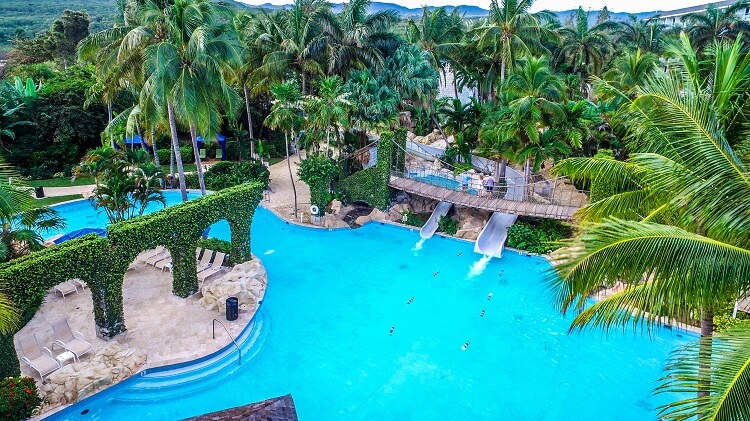 A beach vacation in Montego Bay offers the perfect amount of excitement, even for children! Hilton Rose Hall Resort & Spa is located only 7 minutes away from Sangster International Airport so kids won't have to wait long before jumping into a thrilling paradise! The resort sits on a vast sandy playground where kids of any age will enjoy endless sunshine. The Kids Club features daily supervised activities while teens can meet new friends and participate in a variety of games at the Teen Zone. As if things couldn't get any better, the resort is also home to the second largest water complex in the Caribbean, Sugar Mill Falls Water Park! Take a smooth ride in the lazy river, get a thrill down the 280-foot water slide, or have a splash in the free-form pool. It's guaranteed to be a memorable time for both kids and parents!
A whopping ten onsite restaurants give children plenty of options at meal time, whether it be a slice of pizza or Caribbean-style cuisine (this also includes the Sugar Mills Water Park restaurant, Mangoes, a swim-up bar that serves snacks and quick meals like hamburgers, and a coffee shop)! Rooms and suites are designed for comfort and convenience where even little ones will feel at home. Their eyes will pop at the beautiful views seen from your private balcony, or they can sprawl out on a large, cozy bed to watch a show from the satellite TV. At the end of the day, a vacation at Hilton Rose Hall Resort & Spa will leave kids wanting to return again and again!
Book and SAVE on your vacation: Hilton Rose Hall Resort & Spa packages are available at All Inclusive Outlet.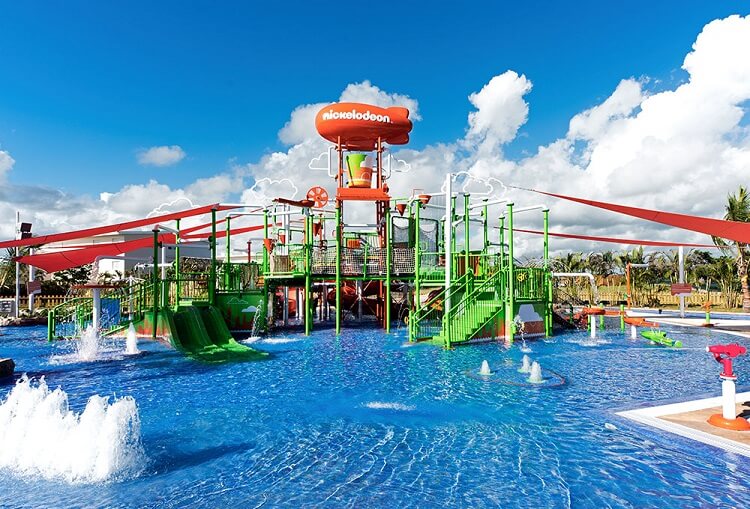 Nothing says kid-friendly fun than a beach vacation at Nickelodeon Hotels & Resorts Punta Cana! There's nothing at this resort that children won't love. Bright, spacious suites decorated with bursts of orange and statues of the Nickelodeon blimp set the tone for the rest of the vacation. There's even the option to stay in Spongebob's famous home under the sea! The Pineapple provides a one-of-a-kind experience with private butlers, your own infinity pool, sunbathing beds, unique Bikini Bottom-inspired décor, and so much more! Children will have a blast at Aqua Nick, the resort's colorful water park equipped with water slides, a lazy river, splash pads, and spray grounds. They can even take Mom and Dad with them to capture an amusing family photo while getting slimed under the Slimulator! Character Central is the place to be for interaction with some of Nick's beloved characters, and Just Kidding is an indoor clubhouse with a ball pit, two-story slide, Slime-making classes, and more. The resort's sports facility and clubhouse welcomes kids and their families to enjoy a range of activities like soccer, basketball, and ping-pong.
With plenty to do at Nickelodeon Hotels & Resorts Punta Cana, there's also plenty of dining options to choose from. Kids' jaws will drop when they see the size of the Machete Burger, made to feed an entire family, at BRGRS.PH, and they'll love an impromptu journey to outer space at Spacewalker. On certain mornings, they can also attend a Character Breakfast where they'll dig into a hearty meal while hanging out with their animated friends!
Find the perfect keepsake at Nickelodeon NICK kNACKS souvenir shop to take home with you at the end of your unforgettable beach vacation!
Book and SAVE on your vacation: Nickelodeon Hotels & Resorts Punta Cana packages are available at All Inclusive Outlet.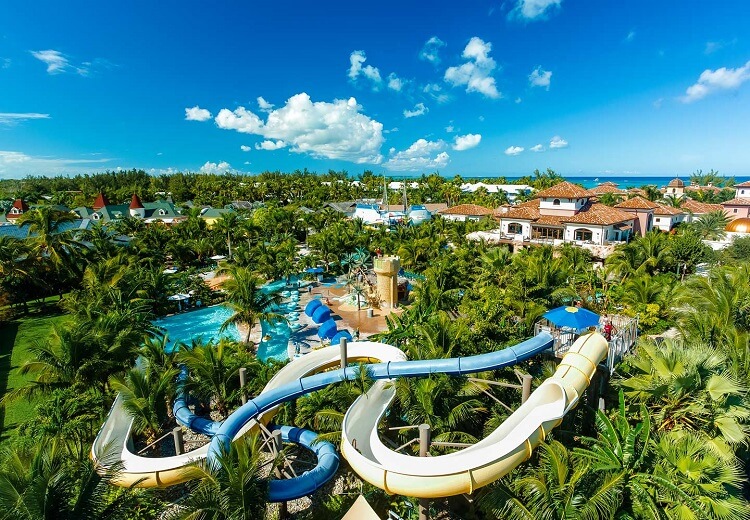 Children and teens of all ages won't be able to contain themselves when they arrive at Beaches Turks and Caicos Resort Villages & Spa! Pirates Island Water Park is bursting with water activities like massive waterslides, whirlpools, and a surf simulator. Soda swim-up bars offer refreshments in between swimming in the pool and floating in the lazy river. The resort's Kids Camp offers programs catered to different age groups, including a special needs program. Certified nannies and staff members will ensure young guests are safe and entertained throughout your stay as well. For children who love Sesame Street, they can meet and play with the show's popular characters like Elmo, Big Bird, and Cookie Monster! Plus, an Xbox Play Lounge, Trench Town, and a choo choo train enhance the experience so younger generations have the time of their lives!
Accommodations at Beaches Turks and Caicos are stylish yet roomy so kids feel right at home. Family suites featuring separate kid's rooms are even available so everyone has their own space. Youngsters won't be disappointed with the many dining options at the resort, either, ranging from burgers and fries at the 50s-style diner Jolly Paradise to exotic Indian cuisine at Bombay Club. At night, enjoy the perfect end to a playful day with family entertainment at VOILÁ. Kids will be left amazed and inspired from lively performances that they'll talk about long after their return home! It's no wonder that Beaches Turks and Caicos has won multiple awards as Caribbean's Leading All Inclusive Family Resort, World's Leading Family Resort, and more!
Book and SAVE on your vacation: Beaches Turks and Caicos Resort Villages & Spa packages are available at All Inclusive Outlet.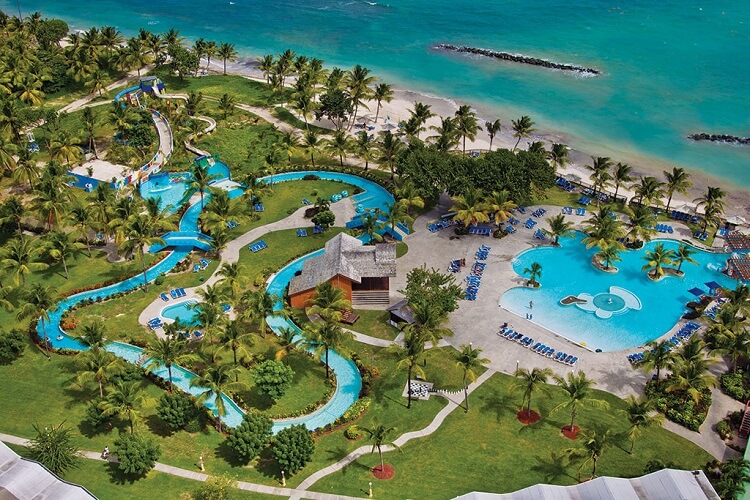 The award-winning Coconut Bay Beach Resort & Spa in St. Lucia knows how to please not just their older guests, but younger ones as well! Playtime begins at CocoLand where kids can dive into countless activities. They'll make new furry friends at the Coco Corral petting zoo and get a rush of adrenaline down the zip line at the Kidz Klub! WaterWorks is an aquatic wonderland featuring water cannons, spilling buckets, spraying fountains, and misting jets. Plus, St. Lucia's largest waterpark will induce deep belly laughs as children, teens, and even their parents fly down waterslides into a refreshing plunge pool. Offsite excursions like jeep safaris and island tours are also available, but the little guys might need Mom and Dad to spot them!
Kids will have zero complaints with Coconut Bay Beach Resort's dining, trust us! Each restaurant has its own unique setting and mouthwatering menu so they'll never be bored with their options. Rooms in the family-friendly wing of the resort provide a warm welcome to guests where young ones will appreciate the bright colors and open rooms for optimal comfort from day to night.
Book and SAVE on your vacation: Coconut Bay Beach Resort & Spa packages are available at All Inclusive Outlet.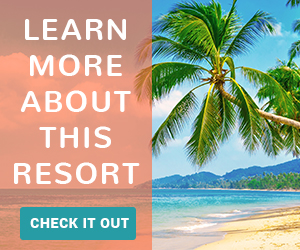 RELATED: Best All Inclusive Vacations for Families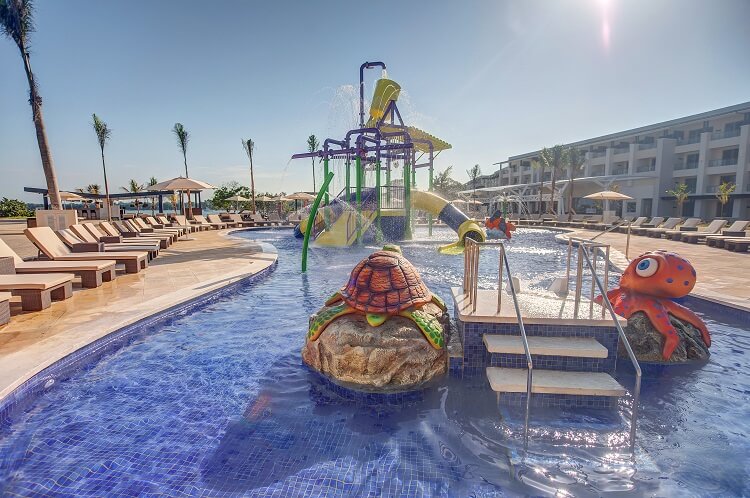 Luxury isn't just for the grown-ups; it's for kids too! A vacation at Royalton Negril in Jamaica will make even teenagers and their younger siblings feel like princes and princesses. Beautifully designed rooms and suites may come with 24-hour room service, a private balcony or terrace, and a relaxing Jacuzzi tub for everyone's convenience. Kids will also love multiple visits to any of the resort's restaurants for yummy fajitas, pasta dishes, and much more!
Along with luxury, Royalton Negril knows how to satisfy any level of excitement! Children ages 4-12 will be eager to explore the Clubhouse Kids Club for social interactions, games, and appearances from Max & Ruby. Teens can head to the Hangout Teens Club for a round of pool, outdoor activities, and PlayStation areas. Together with their parents, kids can go snorkeling, kayaking, or spend a day at Kool Runnings Water Park bobbin' in the wave pool or flying down one of ten water slides. During the evenings, vibrant and energetic nightlife will wow little ones to give them an extra memorable experience!
Book and SAVE on your vacation: Royalton Negril packages are available at All Inclusive Outlet.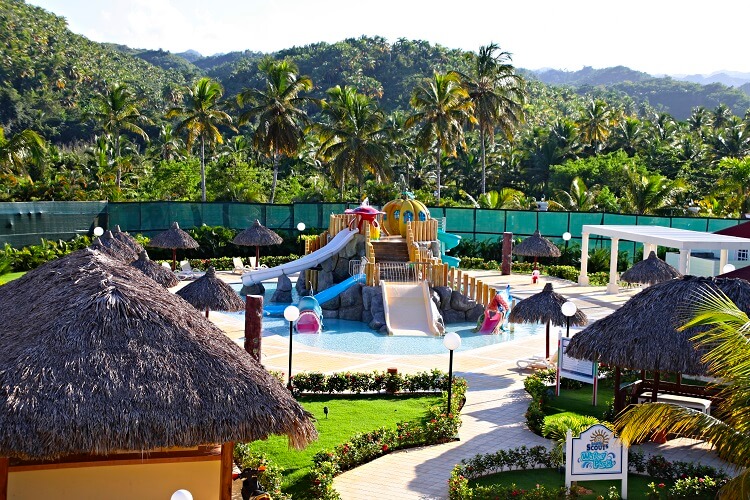 Fun in the sun takes on a whole new meaning at Grand Bahia Principe El Portillo in the Dominican Republic! Whether a growing teen or a curious preschooler, there's plenty to explore on and off property. A separate kid's club and teen's club are available so both age groups can partake in hours of socializing and activities with others closer in age. Children can also keep cool while they take turns on the colorful slides at the Bahia Scouts Water Park! Young ones of any age will be impressed with activities like catamaran rides or snorkeling in beautiful Caribbean waters. Additionally, they'll gain a cultural experience watching an enjoyable show full of local, Dominican Republic flair!
Included in the resort's accommodations are family suites designed to meet the needs of parents as well as their children. Boys and girls alike are welcomed with a kid's pack where they'll get bathroom amenities and a basket of sweets. They'll also be delighted with an in-room mini-bar containing milk, juice, soft drinks, and refreshing milkshakes! Even the smallest Grand Bahia guests receive the utmost care with a baby station and babysitting service. When it's time to eat, menus overflowing with delicious international cuisine will expose kids to new savory flavors that they'll want when you're back home cooking meals!
Book and SAVE on your vacation: Grand Bahia Principe El Portillo packages are available at All Inclusive Outlet.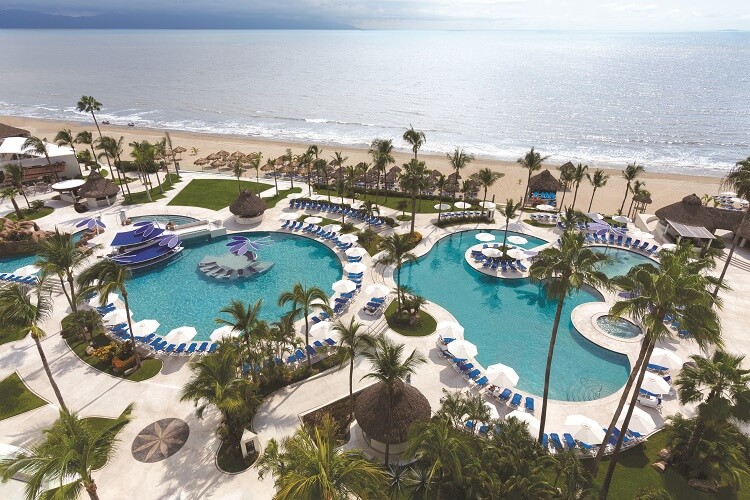 The world's future rock stars can get their start on a vacation to Hard Rock Hotel Vallarta on the west coast of Mexico! The excitement kicks off with endless entertainment at the Kids Club or themed activities at the Hard Rock Roxity Kids Club™. The Cavern Club is the perfect hang out spot for all ages, including parents, to have a good time and play a round of billiards, air hockey, and more. Plus, two large swimming pools, a kid's pool, and two hot tubs help to create fun memories for the entire family! At an extra cost, dolphin interactions will bring kids face-to-face with one of the ocean's most beloved creatures (definitely something to cross off the family bucket list)!
From brick-oven style pizza to exotic Brazilian cuisine, the culinary adventure at Hard Rock Hotel Vallarta is sure to take kids on an exciting ride! When it's time to relax after a full meal, they'll "ooo" and "ahh" at the stunning views seen from the balcony of your stylish suite. Amenities in the deluxe, 2-bedroom family suite will impress them the most, whether it's the hydro spa tub, beach toys, or the option to have an Xbox 360 in the room. Kids and teens are guaranteed a rockin' time when they're vacationing at Hard Rock Hotel Vallarta!
Book and SAVE on your vacation: Hard Rock Hotel Vallarta packages are available at All Inclusive Outlet.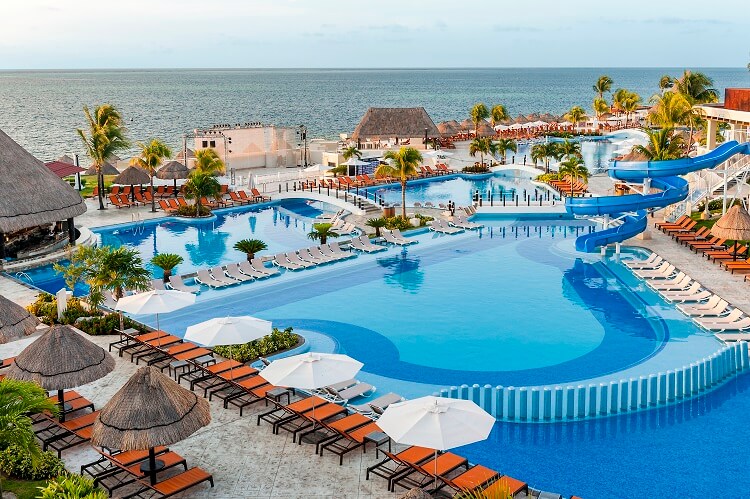 With infinite sunshine and something to do around every corner, kids will relish in everything offered at Moon Palace Cancun! The Playroom is open for ages 4-11 and features different game rooms, an arcade, indoor and outdoor playgrounds, a theatre, and so much more! The Wired Lounge provides a similar concept but for the bigger kids, aka teenagers. Here, they'll have access to games, television, the internet, and free ice cream! Outside, the resort's FlowRider Double Wave Stimulator creates powerful waves so kids can show up Mom and Dad with their surfing skills. Non-motorized water sports like paddle boarding and kayaking will bring the whole family together and for an additional price, offsite adventures to swim with dolphins or explore ancient temples take the excitement to a whole new level!
Most room categories at Moon Palace Cancun are suitable for both parents and children, but the Family Superior Deluxe provides special treatment for youth of all ages. An Xbox 360/DVD player, Fun in the Sun Bucket Kit, room service menu for kids, and a mini bar with sodas, bottled water, and juices will make the experience even more special! Throughout the resort, hungry bellies will be satisfied with delicious snacks offered at any lounge or snack bar. For bigger meals, even fussy eaters will be pleased with an assortment of savory cuisines like American and Italian. Nightlife is busy with vibrant, attention-grabbing shows that will have kids dancing in their seats. There's never a dull moment at Moon Palace Cancun!
Book and SAVE on your vacation: Moon Palace Cancun packages are available at All Inclusive Outlet.
Let's recap the best all inclusive vacations for kids
All inclusive beach resorts offer fun and exciting experiences so kids have the greatest vacation they've ever been on! Find the best prices at All Inclusive Outlet to start planning an out-of-this-world trip your little ones will always remember!