Nickelodeon Hotels & Resorts Punta Cana All Inclusive Vacations
You've chosen your next beach vacation destination: Punta Cana. Now it's time to pick a resort that's exciting but also luxurious. Lucky for you, we've found the perfect place! Whether you're a young child looking for a thrill or an adult in need of a break from your everyday routine, Nickelodeon Hotels & Resorts Punta Cana all inclusive vacations make for a truly unique experience!
Jump for joy no matter what your age at everything fabulous this resort offers:
Super suite accommodations
Endless activities and entertainment
Character encounters
International cuisines like Mediterranean and Italian
Wedding packages and romantic getaways
And much more!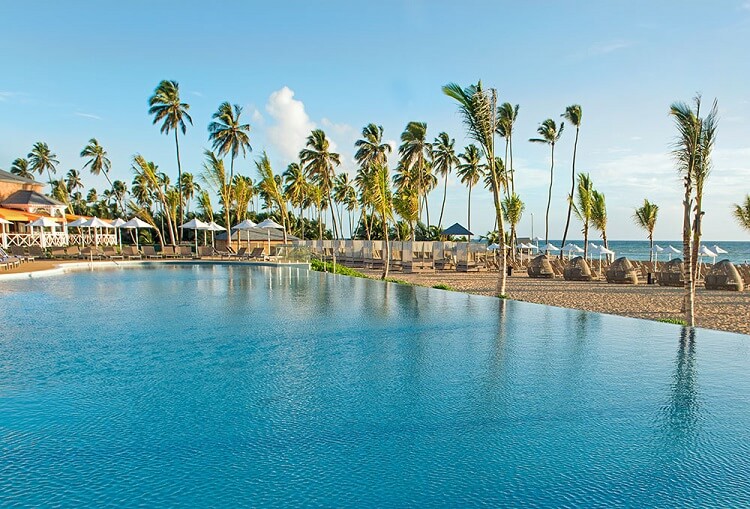 Ready to jet off on your beach vacation? Browse through hundreds of discounted all inclusive packages and SAVE BIG at All Inclusive Outlet >>
More on Nickelodeon Hotels & Resorts Punta Cana
Accommodations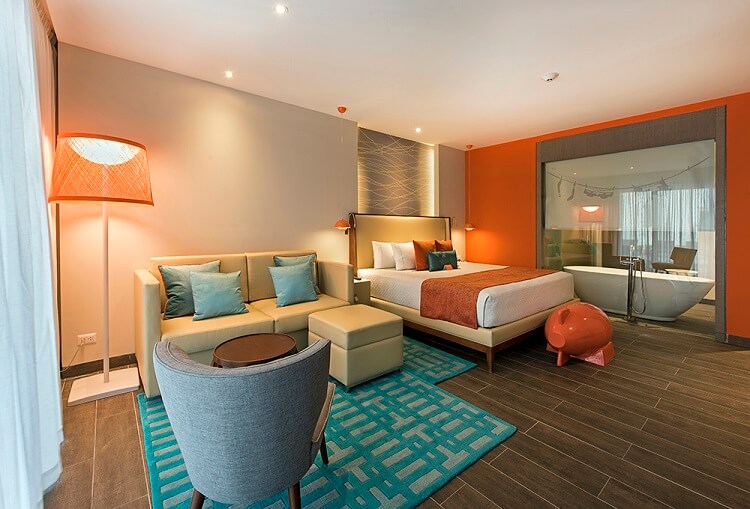 Wake up every morning of your vacation with a smile on your face in your bright, airy suite! Couples and families will be pleased with their comfortable accommodations adorned with touches of Nickelodeon's signature orange. Spacious balconies and sitting areas will make you feel right at home, and depending on which room you book, you may even have access to the pool. Enhance your experience by staying in the Pineapple, designed to mimic Spongebob's famous home under the sea! Inside you'll be welcomed by colorful Bikini Bottom-inspired decorations, an infinity pool, two bedrooms and three bathrooms, and much more. Your accommodations will be the perfect beginning and end to each day of your Dominican getaway!
Activities and Entertainment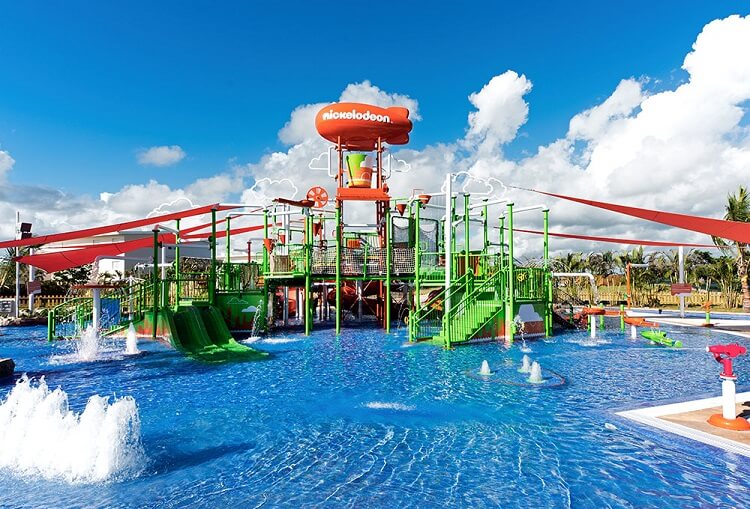 Boredom doesn't exist when you're at Nickelodeon Hotels & Resorts Punta Cana! The fun is nonstop and will bring out the little kid in any adult who dives into all the action. Slip and slide through the Aqua Nick water park or snap a selfie with some of your favorite Nickelodeon characters! Just Kidding is an indoor play area for kids ages 4-12 and features a ball pit, science experiments, and much more. At Plaza Orange, you'll find music, games, dance parties, and plenty of family-friendly fun. If you're not afraid to get a little messy, you can even have a slime-filled photo taken under the Slimulator! And don't forget, characters are bound to appear at any given time so you can say 'hello'!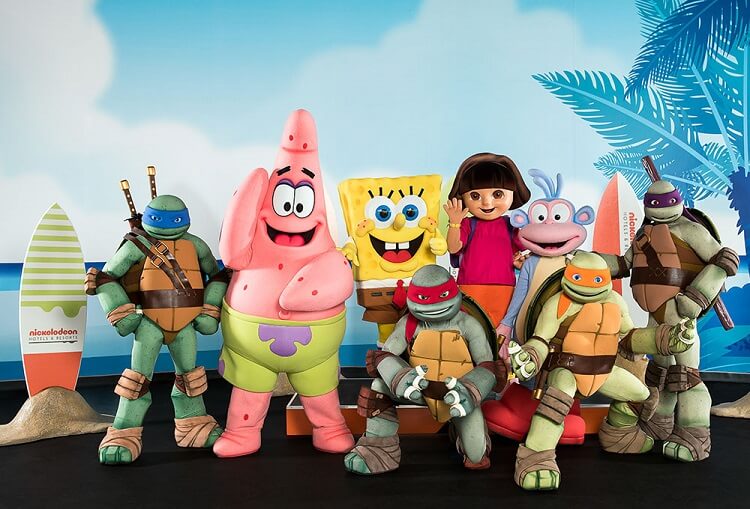 We warned you: it just doesn't stop! The energetic Sports Hub welcomes kids and adults for tennis, basketball, ping-pong, foosball, and more. A fitness center is open to anyone who wants to remain active during their vacation, and there's no better place to catch some Caribbean sun than at the infinity pool. For an extra charge, guests have the option to play a round of golf, get a soothing massage at the spa, or take an island tour to discover more of their Dominican surroundings!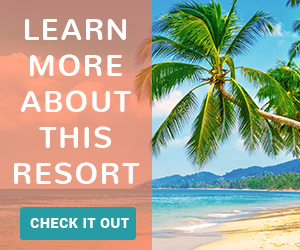 RELATED: Best Places to Stay in Punta Cana
Restaurants and Bars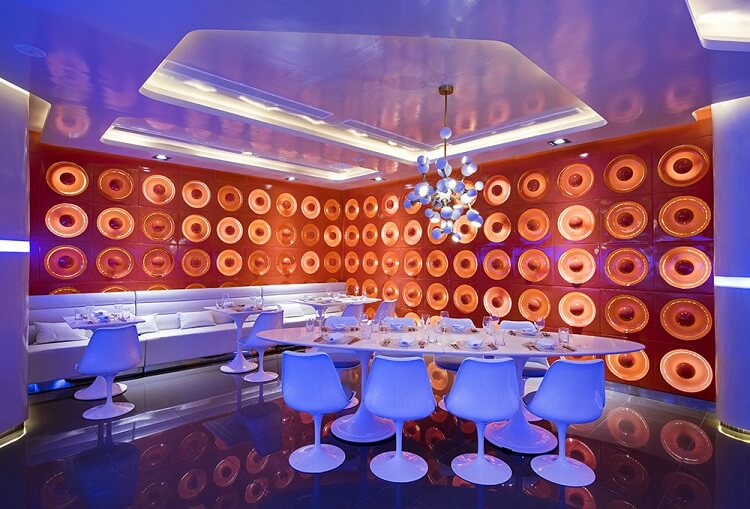 Let's begin in your suite because yes, the resort offers in-room dining! If you're ever looking to enjoy a relaxing, quiet meal, the option to wine and dine in bed is always available. At the pool, a refreshing beverage from the swim-up bar will go great with your new tan. Kids will wake up feeling like it's Christmas morning as they head to breakfast in their pajamas to hang out with characters! Keep in mind that these meals are only offered on Thursdays, Fridays, and Saturdays and come at an additional cost. Gather at BRGRS.PH and tackle the Machete Burger, made to feed the entire family, or have an out-of-this-world dining experience at Spacewalker. With a variety of international cuisines offered, there's a flavor for all tastes and cravings!
Weddings and Romance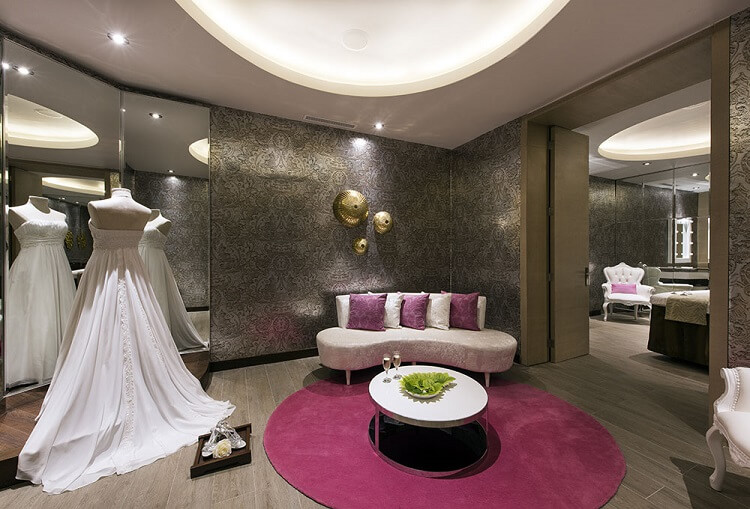 You heard it here first: Nickelodeon Hotels & Resorts Punta Cana is a wedding destination! Bride and grooms can choose from a beachfront gazebo or rooftop terrace to paint the picture for a stunning Caribbean ceremony. Four wedding packages, along with a vow renewal package, allow couples to pick the one that best suits their vision for a perfect day. Whether you're looking for a vintage flair or prefer the glitz and glam, different décor options are available to fit all styles. Plus, Signature Wedding Designers™ will assist throughout the planning process and onsite wedding coordinators make sure you're completely stress-free the day of!
In addition to weddings, couples are also welcomed to enjoy an unforgettable honeymoon or anniversary celebration! The Taste of Romance Honeymoon package includes offerings like late checkout and 15% off spa services so each moment of your stay is nothing short of luxurious. The Memorable Moments Honeymoon and Anniversary package exudes romance with complimentary perks such as a candlelit dinner on the beach, your own personal maître d, a beachfront massage, and more. You and your loved one will never want the celebration to end!
Let's recap vacations at Nickelodeon Hotels & Resorts Punta Cana
There's nothing this resort can't do! Be a part of the incredible experience found at Nickelodeon Hotels & Resorts Punta Cana by visiting All Inclusive Outlet to book your next fun-filled vacation under the sun!