Featured Resort of the Week: Grand Velas Riviera Maya
Awarded the prestigious Five Diamonds by AAA, Grand Velas Riviera Maya is a premier all inclusive resort perfect for all ages! Situated right on the Mexican Caribbean Coast in the Yucatan region, this idyllic resort offers guests access to the vast Mayan jungle along with incredible onsite amenities and adventures. Enjoy soft white sand as turquoise waves gently roll in, or make use of the perks which include kayaking tours, dolphin swims, and more! With Mayan artwork interspersed throughout the modern resort, Grand Velas Riviera Maya provides the perfect Caribbean escape!
Upon entering your uniquely designed room, you will instantly understand why Grand Velas Riviera Maya is one of the top resorts in the Caribbean today. With 539 suites in three distinct styles, you will feel at home in the modern and breathtaking rooms. The styles include Grand Class, Ambassador, and Zen Jungle. Each of these selections has their own ambiance and decor, and these suites feature King, Queen, and Presidential options.
The Grand Class suites contain an oceanfront view with a patio or deck, Jacuzzi, and modern decorations. The bathroom is your own personal spa with a rain shower, marble sinks, and light beige decor.

The Ambassador suites are large enough for families and feature all of the premium amenities. These rooms have brighter and more colorful decorations, and the spacious rooms are great for four or more guests.

The Zen Jungle suites are nearby but deeper in the trees making for a wonderfully secluded experience.
These suites are all large enough for families or multiple guests. All three suite-styles can be upgraded to include more space, exclusive VIP services, plus a private deep-plunge pool on your balcony.
Deluxe Activities, Spa Treatments, and a World of Culture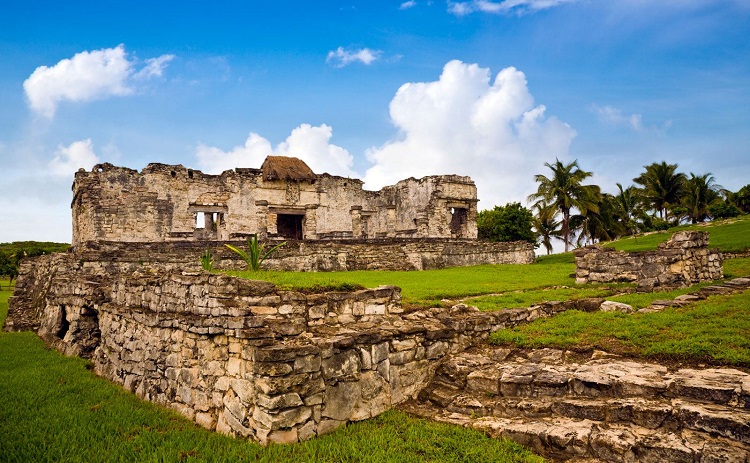 Grand Velas Riviera Maya is situated near some of the best cultural spots in the Caribbean. Nearby, you can take guided visits to ancient Mayan ruins, Yucatan pyramids, and beautiful lagoons, parks, and fortresses in the wide surrounding area. Of course, you can also take it easy and enjoy a host of deluxe inclusive activities onsite! Enjoy a kayak tour along the vast coastline or go for speed with kitesurfing lessons. If you're seeking some quiet time, yoga is taught daily on the beach. If dancing is more of your kind of activity, head to the Karaoke Bar at night. Swim with the dolphins for an unforgettable experience, and dry off with a round of golf at the two nearby courses. One of the most unique resort benefits is the Sea Trek. Put on a Sea Trek helmet and go deep underwater for a guided tour of the renowned local marine life. If you want to explore deeper into the breathtaking Caribbean Sea, go scuba diving with licensed instructors for an amazing adventure!
Adults and couples can enjoy a stay at the onsite spa boutique. Rated as one of the best Caribbean spas, this unique sanctuary offers a choice of private or couples massages along with full-body treatments. Facials, body wraps, and pools are also available to set you at ease. At night, plan a private dinner on the beach or enjoy a culinary tour in the theater. For kids and teens, there are special chaperoned areas full of games, movies, and daily events.
They say variety is the spice of life! Grand Velas Riviera Maya offers multiple all inclusive restaurants to choose from poolside bistros to artful restaurants and more! Enjoy fine local recipes at Frida, or try a French dish at the lavishly decorated Piaf. World-renowned chefs deliver the goods at the casual Azul with a wonderful international menu. Sen Lin provides Asian fusion meals in a subtle setting while the nearby Chaka hosts candlelit dinners by the water. For edible works of art, Cocina de Autor excites the senses with the latest molecular cuisine!
With numerous fine dining options and all inclusive activities, your stay at Grand Velas Riviera Maya is guaranteed to be unforgettable!