Specialist Series: Tracy Rosing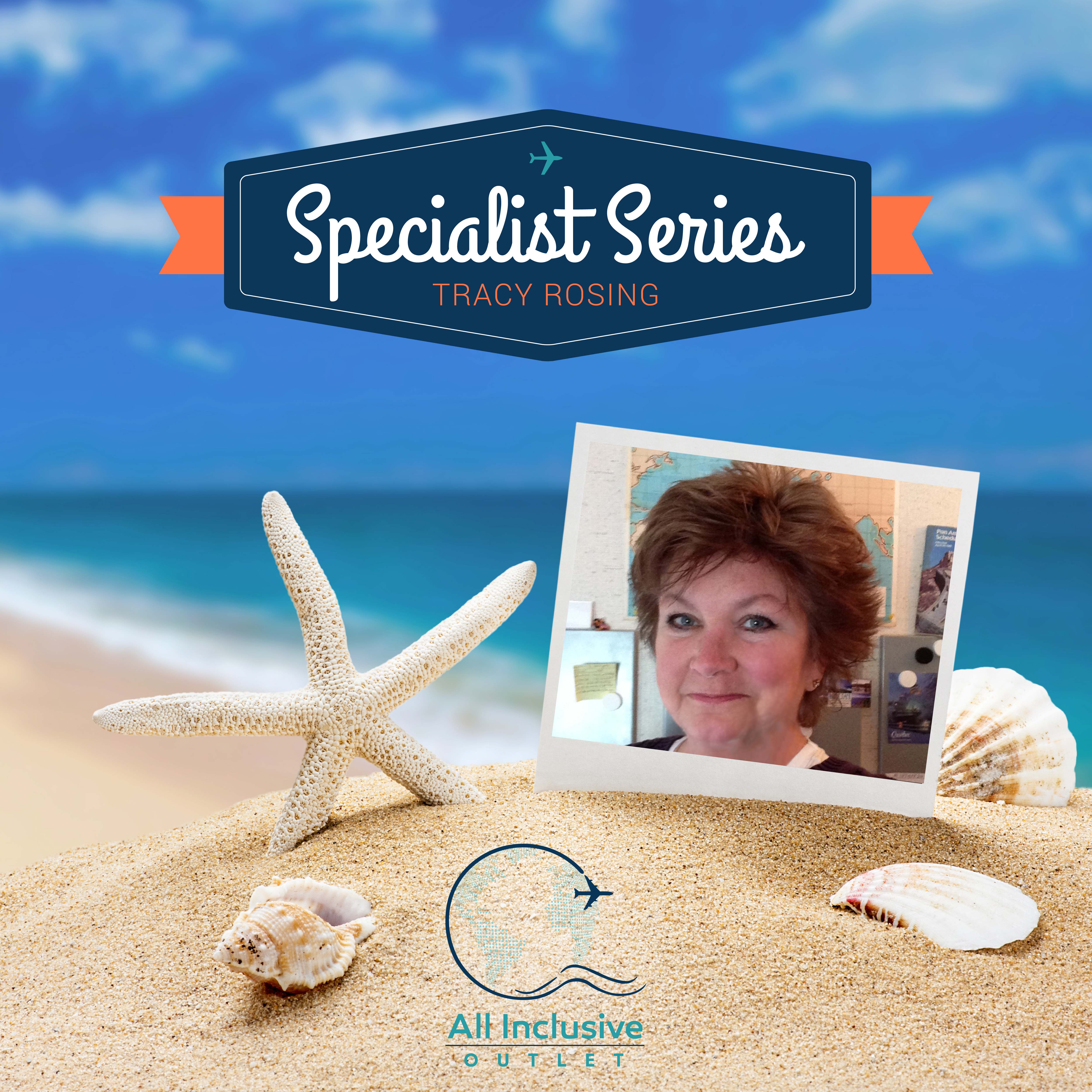 Where would you go if you had to pick up and leave tomorrow? Why?
As a trip, I would pick Santorini. With my background, I was an in-flight attendant for about 18 years and then I worked for TI after in reservations for 9 years, so I've been around the block a few times. One of the few places I haven't been to is Greece. I would love to experience the atmosphere and culture of Greece as well as the food! The blue rooms and white buildings and all the churches are gorgeous. It would be really cool to go to Santorini one day.
What is your favorite excursion or activity while traveling and what would you recommend to a couple or family/group?
My favorite excursion was when I took my family to Puerto Vallarta about two years ago w as Rhythm of the Night. You go down to the water and get on a catamaran and there's appetizers and drinks on the boat and it takes you across Honduras bay where they bring you to an isolated cove of another part of the island. It's about an hour ride, and as you approach the island you hear drums and see tiki torches all over the island and people in old fashioned native gear where they'll greet you. You have dinner outside on the beach and when it gets darker out, there's an outdoor pyramid shaped stage where they put on a tribunal show with songs, dancing, toches and fire eaters. It was a taste of everything. I would definitely recommend this to adults, families and couples.
What did you learn from your worst travel experience or best?
I'm always very laid back and I don't sweat the small stuff. If something is forgotten besides my passport or money, I can always make due. My whole life I've always got lost, but always make the best of it no matter where I end up. If my flight gets delayed it gives me more time to look around my destination. How bad can it be? You're on vacation! No vacation is a bad vacation.
What is your top recommendation of hotels?
My favorite hotel out of everything is the Grand Velas in Puerto Vallarta. It's a solid 5 star hotel. The service, food and everything about the place is outstanding. The rooms especially are gorgeous. I was really impressed with their kids programs. They brought in live seals for a show, donkeys to ride around the pool; just everything was first rate and first class. Once you go to the Grand Velas, there's nothing that can compare to it.
What are must haves in your carry on?
I always plan on my luggage getting lost. I would say it's always a bathing suit, a cover up, sun tan lotion, makeup and deodorant and probably a peanut butter and jelly sandwich.

If you would like Tracy to assist you with your vacation planning feel free to contact her at:
Email: tracy.rosing@allinclusiveoutlet.com